Choosing the best online ticketing platform for your venue is challenging. There's a lot to consider. To help make this decision easier, we've rounded up a few of the most notable ticketing platforms for you to compare below.
Our list covers each platform:
Features
Target audience, and
Unique selling points.
Let's get started!
What should you consider when searching for the best system for your venue?
Nowadays, systems offer a multitude of features. So think big! Even though you might only be searching for a ticketing system, an all-in-one venue management system might work better for your business. How? By saving you time AND money!
Either way, you first need to know which features you require from your systems.
Generally speaking, the features below are the most beneficial for a modern-day amusement park, so look out for them in your search!
Usability and customizability
A system that is hard to learn, use and teach will unnecessarily waste time. And a customizable interface is both advantageous and pleasing to use for your staff.
So ensure your ticketing system is both easy to use and customize!
Versatile ticketing
These days everyone is on the go. And on their phones. So if your venue offers more than just manual tickets (i.e., digital tickets), your guests will surely be thankful.
Your guests must also be able to book online through a secure checkout that is easy to navigate.
Powerful point of sale (POS) devices
You don't want your guests stuck in queues, waiting for your POS systems to process sales. If your systems are slow and clunky, it will significantly affect your guest experience right from the very beginning!
Price and support
Your chosen system must suit your budget, but also consider what kind of support your provider would offer. Is it 24/7? If not, are they in your time zone? Do you need a dedicated account manager or support person? Will this be offered?
Before searching for potential providers, it might be prudent to first compile a list of everything your venue would want from a provider. Then match the right provider to your list of requirements.
5 best amusement park online ticket systems
1. ROLLER
ROLLER was founded in 2010 and now has over 100 employees! ROLLER's mission is to help the leisure and attractions industry bring joy to the world by providing their customer's venues with an all-in-one venue management software system.
The ROLLER system is a cloud-based platform specifically designed for the attractions industry. It's an integrated system, and ticketing is a large part. And as ROLLER's product is cloud-based, everything can be done in real-time and from anywhere in the world!
Tickets can be sold both online and in-store on ROLLER's fast and efficient POS systems. Sell everything from tickets to food & beverage, merchandise, gift cards, packages, group bookings, memberships, and more, all from one place.
Last but not least, ROLLER's platform includes guest experience measuring tools that report back to you how your guests enjoyed your venue and also offer insights for future improvement.
So it truly is an all-in-one system!
Which types of venues use ROLLER?
Amusement parks, wildlife parks, trampoline parks, museums, zoos, galleries, water/wake parks, family entertainment centers, rock-climbing gyms, soft play and play centers, and more!
Core features
1. All-in-one venue management software
As ROLLER's platform is fully integrated and services all areas of venue management, it is the only system your venue will need!
Having one system that caters to all management areas will save you time and money looking for multiple providers for different business functions.
The system is intuitive for team members of all skill levels, (especially important for transient staff) meaning they can get up and running quickly without hours of training.
Additionally, all your information will be in one place and can be accessed remotely at any time!
2. Next-level online checkout experience
As we spoke about earlier, your guests are on the go, and the vast majority want to be able to purchase tickets online. So you will lose guests if your online checkout experience is suboptimal, clunky, takes too long, or doesn't seem very secure.
To increase conversion rates, you need to provide an online checkout experience that is NEXT level!
With ROLLER, the online checkout is seamlessly integrated into one view﹘beautiful on mobile, tablet, and desktop, guests can book easier and choose from multiple payment options, all with fewer clicks.
3. Sell tickets, food, and merchandise via POS
Guests and staff today expect fast and efficient POS systems. And with ROLLER, you can give this to them! Your staff will be delighted by the easy-to-use customizable interface, and your guests will LOVE how quickly the lines move!
And ROLLER's POS devices don't just sell tickets; you can also sell food, drink, gift cards, memberships, AND merchandise from them!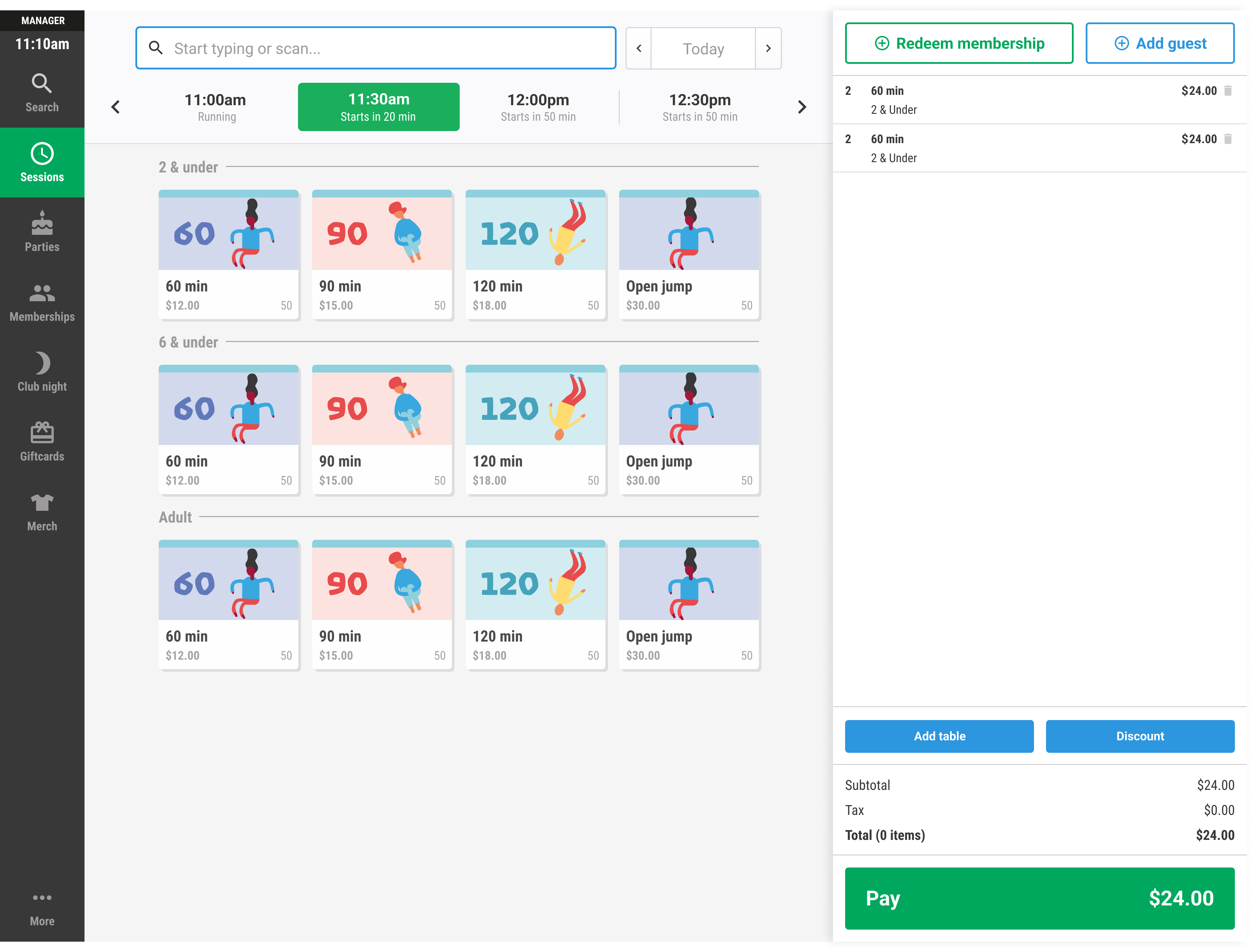 4. Mobile check-in app
ROLLER's mobile check-in app will allow your staff to bust lines! They will be able to get out from behind the counter and check-in guests faster than ever. It's easy to download and work, so your staff and guests will thank you!
5. Manage capacity and view redemptions.
From the ROLLER dashboard, you can see all capacity and redemption activity in your venue. And being cloud-based, you can check this information from anywhere, and any updates you make will be published in real time across all of your venues!
So you can view the capacity of every time slot, 'block' specific time slots if required and even view redemption data such as the number of tickets redeemed that day.
These functions = total control and no more miscommunication or overbooking EVER again!
6. The GX Score
The not-so-hidden gem at ROLLER is the Guest Experience Score (the GX Score).
This tool provides venues with an insight into how their guests felt about their in-venue experience. The feedback is collected in detail so the venue knows exactly what went well and what could've gone better.
For example, you can receive feedback on staff friendliness, venue cleanliness, or even how your guest felt about a specific party host. You will be notified instantly so that you can address any negative feedback before it has the chance to be posted publicly.
Benefits
ROLLER offers a product that can handle all areas of venue management to help ensure that running your venue is equally as fun as attending it!
And because ROLLER knows that the guest experience is at the heart of your operations, creating the GX Score sets ROLLER apart from the rest. An additional tool of this nature is instrumental in improving the guest experience and protecting your brand.
Read this next: Find new guests without lifting a finger using our automated GX Score tool (roller.software)
2. Accesso
Accesso was founded in 2000 and now has over 500 employees. They work with over 1000 venues across 30 countries.
Accesso provides powerful software to help businesses grow and aims to help them improve the guest experience through Accesso's smart solutions.
Which types of venues use Accesso?
Concert venues, sporting events, zoos, performing arts, attractions, fairs, and festivals.
Core features
1. Virtual Queuing System Technology
LoQueue virtual queuing was created by Accesso to make check-in and payments faster and more efficient.
The platform also offers Rides+, which allows your team to control guest ride frequency better, and Ride Check-in, which validates ride reservations from handheld checkpoints.
2. Online ticketing
Accesso's Passport online ticketing system allows guests to shop online from any device. ​
3. Box-office ticketing
Accesso ShoWare is a ticketing platform for 'white-label events.' ShoWare caters to concert venues, theaters, casinos, sports arenas, and fairs.
It is advantageous to these venues as it offers interactive seat maps, promoter access, and more.
4. POS ticketing
Accesso Siriusware is Accesso's point-of-sale ticketing system. It is an integrated system that provides customized POS solutions for venue operators.
Benefits
Accesso's box office ticketing option is handy for operators who host 'white label events' as it offers features such as interactive seat maps and promoter access to assist in running such events.
However, the corresponding weakness of this feature is that it is specific to 'box office' venues, so other attraction venues will likely not find this feature useful.
Read this next: Accesso Alternatives: Top 4 Venue Ticketing Platforms
3. Convious
Convious was founded in 2017 and has since worked with over 126 businesses across 16 countries.
Convious has been built for the attractions industry, and its mission is to enable venue operators to better manage their ticketing by providing multiple ticketing solutions.
Which types of venues use Convious?
Theme parks, zoos, museums and wellness centers, etc.
Core features
1. Ticketing and pass options
Via POS or online; guests can:
Purchase tickets
Add souvenirs and food and beverage items to their orders, and
Purchase dated or undated season passes.
2. Discounts and payment options
With Convious, you can offer a wide range of discounts, from item-specific discounts to buy-one, get-one-free options.
Guests can also pay via an eTicket Wallet option, removing the need for physical tickets.
3. Marketing support
Convious' 'Engage Tool' uses personalized messaging to keep guests on your page for longer, thereby assisting your marketing efforts.
Convious can also assist with email communication and ads.
Benefits
Convious' 'donations and adoptions' feature can help you ask for donations for a specific cause or the adoption of, for example, animals in need. Such features can help in your marketing efforts.
However, although Convious does provide marketing support, which will help you reach new guests, this platform lacks a tool to help you better understand your active guests.
4. CenterEdge
CenterEdge Software was founded in 2004 and is headquartered in North Carolina, United States.
CentreEdge is a venue management software system for amusement, entertainment, and Family Entertainment Centers (FECs). They provide a wide range of solutions, including ticketing, POS, access control, guest analytics, and self-serve kiosks.
Which types of venues use CentreEdge?
FECs, trampoline parks, amusement parks, waterparks, adventure parks, museums, aquariums, zoos, and arcades.
Core features
1. Ticketing and POS
CenterEdge ticketing helps you sell tickets, packages, and memberships online (on any device) or via POS.
From their Advantage POS software, you can book events and parties, sell tickets for timed and capacity-restricted sessions, and even include add-ons like waivers.
2. Access control
CenterEdge improves the guest check-in experience using:
Barcoded tickets and wristbands
A turnstile photo display to help process season pass holders faster, and
Fixed and handheld POS devices.
3. Marketing support
CenterEdge works to help you better understand your guests' preferences and bolster your marketing efforts by:
Segmenting your audience for targeted outreach
Surveying guests at the POS, and
Assisting with email marketing.
Benefits
CenterEdge's marketing insights are useful as they help you reach your audience more effectively.
However, when guests are surveyed about their in-venue experience, this happens at the POS upon checkout. At this point, your guests might be rushing to get somewhere else, or their kids might've just started getting cranky. So it's safe to say that this may not be the best time or way to ask for their feedback.
A survey sent to their phones afterward will reap better feedback as they will complete it when they are relaxed and feel most comfortable.
Additionally, the CenterEdge platform does not offer buy now, pay later payment options. And when a guest cannot pay using their preferred payment method, they are more likely to abandon their cart. So fewer payment options mean potential lost guests/ revenue.
5. Gateway ticketing systems
Gateway Ticketing Systems started 30 years ago and now serve a global community from its headquarters in Pennsylvania, United States.
Gateway offers a unified POS product﹘meaning a venue can sell tickets, passes, food and beverage, and retail items from their POS. The system also allows for the validation of physical or digital tickets.
Which types of venues use Gateway?
Water parks, theme parks, museums, zoos, aquariums, buses, and ferries.
Core features
1. Ticketing
Gateway's Galaxy Ticketing system allows guests to purchase in-store, online, or via self-serve kiosks. Guests can redeem tickets physically via RFID bands or other available media in-venue.
2. Admission control
Gateway's admission control solution validates tickets, passes, or memberships. It provides fast ticket validation and collects usage information in real time from any entrance or exit.
3. Memberships & reporting
Gateway helps your venue secure recurring revenue by including a memberships function. Additionally, your venue will benefit from the reporting function, which is also integrated into the system.
Benefits
Gateway ticketing systems is a robust ticketing system and is unique in the way they provide a unified POS solution.
Their POS solution is sound, but if you are looking for a complete venue management software solution, this may not be the platform for you. Gateway can handle all areas of ticketing; however if your venue requires features such as a guest sentiment analysis tool, access to API and integrations, digital waivers, etc., you may have to look elsewhere.
Evaluate your options, ask questions, and request a trial
Ensuring you have the right online ticketing system for your venue is imperative. It will affect both your staff and guests' experiences of your venue.
When deciding, keep in mind that if you opt for a system that is not a complete venue management system, you will have to use multiple platforms to run your business, which will be more costly and time-consuming. Managing multiple systems is also more onerous.
Take time to evaluate your options and ask questions of your potential providers before you make a decision. And finally, make sure to ask them for a free trial before you commit.