GUEST SATISFACTION FEEDBACK SOFTWARE
Grow your business with our guest feedback software
Collect, analyze and action your guests' feedback with our free sentiment analysis tool, Guest Experience Score. In a few clicks, unlock valuable insights from your guests to drive repeat visitation and grow your business.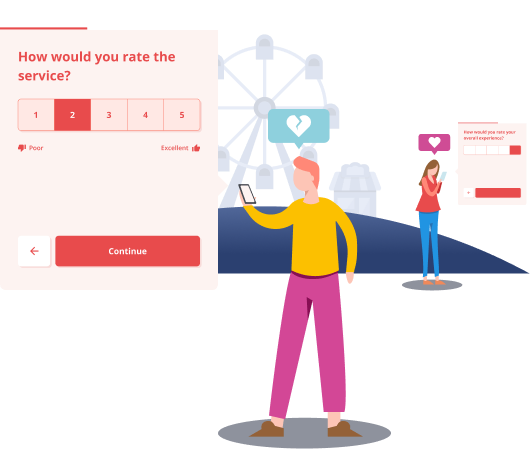 COMPLAINT RESOLUTION
Act quickly to turn critics into fans
Enable your team to action feedback quickly on areas that require improvement and prevent critics from giving negative ratings on public review sites. Your swift response can leave a lasting impression and encourage repeat visits.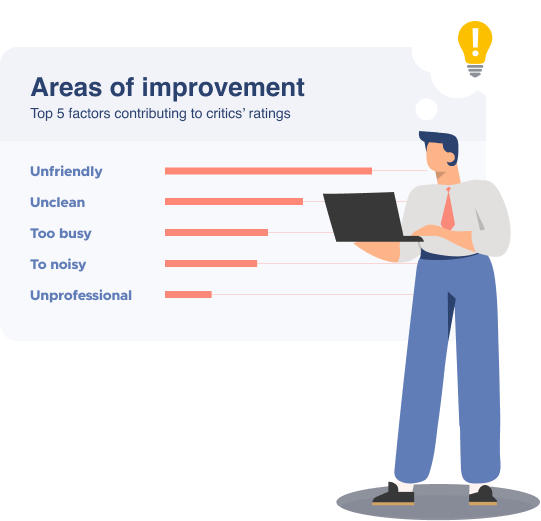 DATA-DRIVEN INSIGHTS
Guest insights you
can actually use
Run your business based on data, not instinct. Combined with specific experience criteria and booking data, our sentiment analysis tool empowers you to accurately:
Evaluate the performance of your service team
Increase staff on days with longer queue times
Pinpoint areas to enhance value for money
Improve your facilities & attract more guests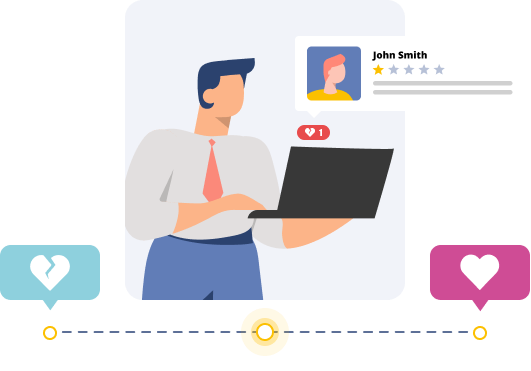 HOW IT WORKS
Reach your guests where and when it matters
The GX Score automatically sends guests surveys right after visiting your venue. Your guests' information is pre-loaded, so there's less to ask – all they have to do is share their experience.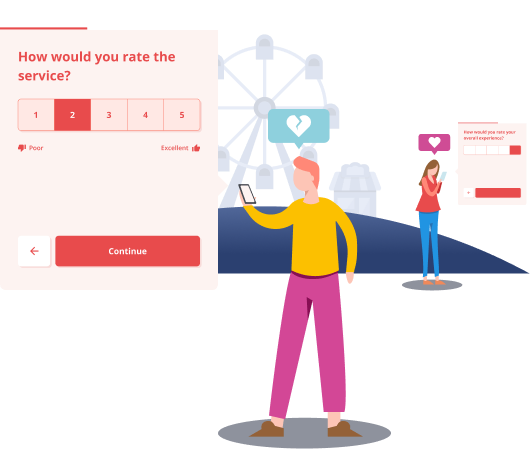 This isn't any old survey tool…
Actionable Insights
Obtain useful information from your survey responses with specific feedback criteria, booking data integration & daily summaries
Survey Alerts
Receive instant notifications when you receive a negative review to quickly resolve complaints
Trend Updates
Stay in the know with updates on trends, sent straight to your inbox that help uncover areas for improvement.
Data Integration
Integration with booking data means less to do for your guests, better responses & more completed surveys
Start using data to improve your guest experience
Choose to pay month-by-month or save 20% with an annual subscription.
$ USD

$ AUD

£ GBP

€ EUR

$ CAD

$ NZD
Free
20 completed surveys
per month
$0
$0
£0
€0
$0
$0
$0
$0
£0
€0
$0
$0
per month
Automatically send surveys to guests
Share survey via URL or QR code
Customize survey colors and your venue's logo
Incentivize your survey with discounts
Daily and monthly performance reports
Responses linked to guest and booking data
Compare your venues using our HQ feature
See how guest sentiment performs over time
Rank and compare booking host performance
Utilize GX Score data via our API
Manage survey response status
Store notes against each response
Instant alerts on negative responses
Get free access
Lite
200 completed surveys
per month
$80
$110
£60
€75
$105
$115
$65
$90
£50
€60
$85
$95
per month
Billed at: $960/yr

Billed at: $1,320/yr

Billed at: £720/yr

Billed at: €900/yr

Billed at: $1,260/yr

Billed at: $1,380/yr

Billed at: $960 $780/yr

Billed at: $1,320 $1,080/yr

Billed at: £720 £600/yr

Billed at: €900 €720/yr

Billed at: $1,260 $1,020/yr

Billed at: $1,380 $1,140/yr

You save $180 per year!
You save $240 per year!
You save £120 per year!
You save €180 per year!
You save $240 per year!
!You save $240 per year!
Everything in Free, plus:
Customize your survey with one additional question
Direct fans to post on public review sites
Export data
Get free access
Pro
500 completed surveys
per month
$135
$185
£105
€125
$170
$195
$110
$150
£85
€100
$140
$160
per month
Billed at: $1,620/yr
Billed at: $2,220/yr
Billed at: £1,260/yr
Billed at: €1,500/yr
Billed at: $2,040/yr
Billed at: $2,340/yr
Billed at: $1,620 $1,320/yr
Billed at: $2,220 $1,800/yr
Billed at: £1,260 £1,020/yr
Billed at: €1,500 €1,200/yr
Billed at: $2,040 $1,680/yr
Billed at: $2,340 $1,920/yr
You save $300 per year!
You save $420 per year!
You save £240 per year!
You save €300 per year!
You save $360 per year!
You save $420 per year!
Everything in Lite
Customize your survey with unlimited additional questions
Get free access
Ready to get started?
ROLLER customers
If you're a ROLLER customer, you can start collecting actionable guest insights for free in just a few clicks:
Login to your Venue Manager
Navigate to Guests > GX Score, then click Subscribe now for free.
Toggle the Auto-send surveys switch, and click save.
That's it! There's no need to build survey questions, or select whom to send it to – it's all done for you!
Not a ROLLER customer?
No problem! Leave your details below, and we can chat about using the GX Score with your existing systems.
The businesses we work with...
These are just some of the businesses in the leisure and attractions industry that use our ticketing and guest management software to run their business.
Frequently asked questions
What are some of the challenges with existing methods of guest feedback collection?
Many existing methods of feedback collection ask the wrong questions or solicit feedback at inappropriate times, leading to insights that may not accurately reflect guest experiences and resulting in low response rates. This makes it challenging for attractions to gain a comprehensive understanding of guest satisfaction and areas for improvement. As a result, attractions are seeking more efficient and timely ways to gather meaningful feedback that drives meaningful enhancements and enriches the guest experience
What is guest management software?
Guest management software streamlines attraction operations by efficiently handling reservations, check-ins, and personalized communication. It centralizes guest data, enhancing experiences from booking to post-visit interactions, and fostering satisfaction and loyalty. This tool optimizes operations, tailors services, and contributes to the attraction's overall success by delivering memorable guest experiences.
Why should I care about generating more online reviews from guests?
Generating more online reviews from guests is crucial as these reviews hold immense sway over potential guests. In today's digital landscape, online reviews carry significant trust and influence, often surpassing traditional marketing efforts or word-of-mouth referrals. Positive reviews enhance credibility, attracting new visitors and strengthening your attraction's reputation.
How can I work to improve my online guest reviews?
Actively encourage guests to leave reviews and respond promptly to both positive and negative feedback, showcasing your commitment to guest concerns and improvements. By consistently delivering quality and engaging with reviews, you can cultivate a positive online reputation that resonates with potential guests and drives higher guest satisfaction overall.
How can I make better-informed decisions based on guest feedback?
To make better-informed decisions from guest feedback, analyze trends and patterns in the data to identify areas for improvement. Prioritize actionable insights by addressing recurring issues and enhancing positive aspects highlighted by guests. Utilize feedback to fine-tune operations, optimize offerings, and tailor experiences to meet guest expectations.