Regardless of the type of attraction business you operate, once your venue is set up, your primary focus will be selling tickets.
And even if you have the hottest attraction in town, there are still some key areas of your business you want to focus on to help you to sell more tickets all year-'round.
So here are the ten things you can do to help drive more ticket sales:
1. Improve the online booking experience
This is number one for a reason! The online checkout experience is where the guest experience begins.
If you don't currently sell tickets online, then you are potentially missing out on what could be your most valuable guest acquisition channel.
Today online purchases have become second nature for most guests – from food deliveries and clothes shopping to movie tickets and flights – so selling tickets via your website with a mobile-friendly experience is expected.
And the easier and more intuitive you make it for your guests to purchase from you, the greater your likelihood of selling more tickets.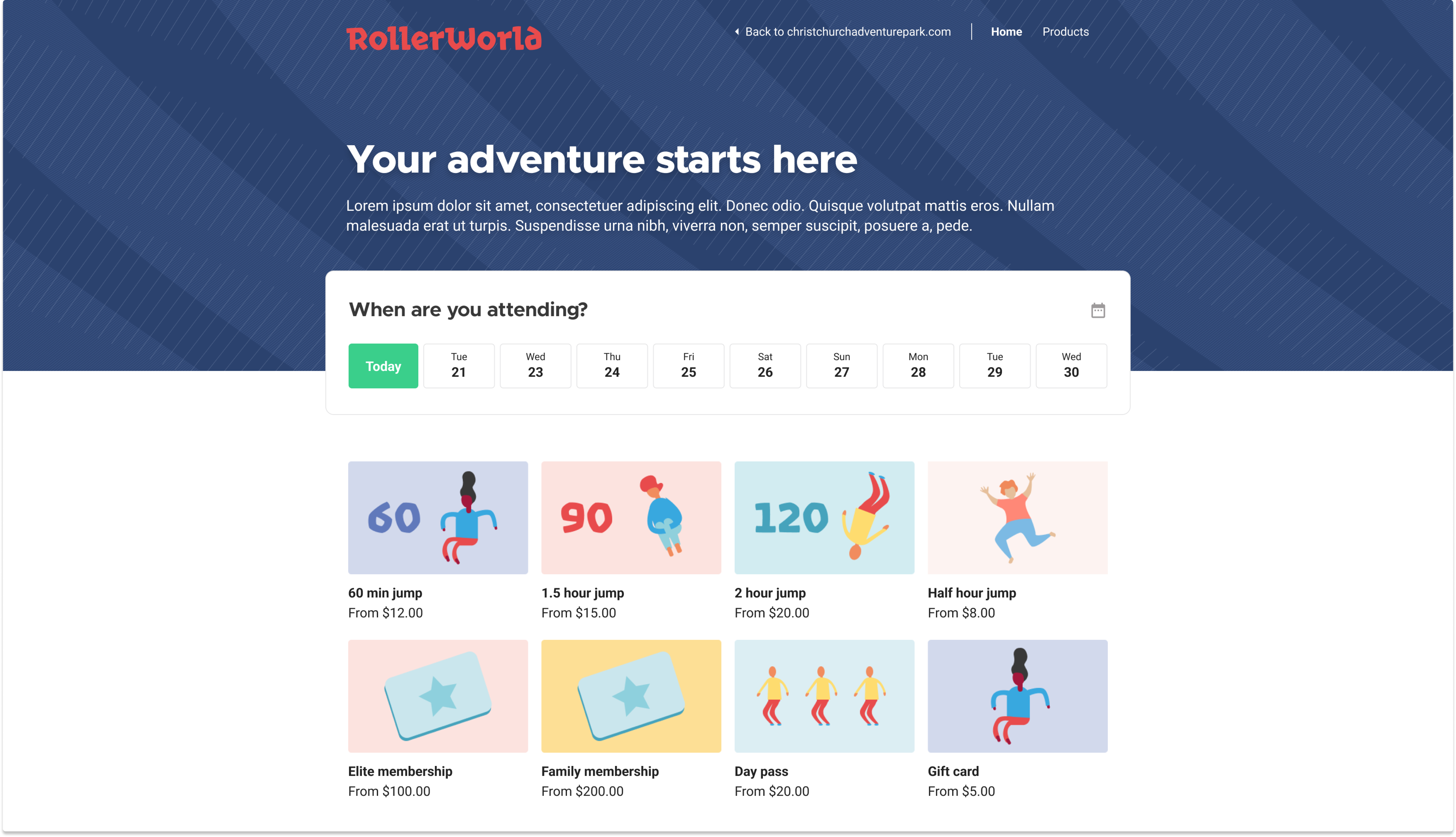 2. Reduce friction in the on-site ticketing experience
While having a great online booking process will always be one of the best ways to sell more tickets, you don't want to neglect your walk-in guests.
For some venues, foot traffic may still make up a significant amount of ticket sales, especially during certain times of the year.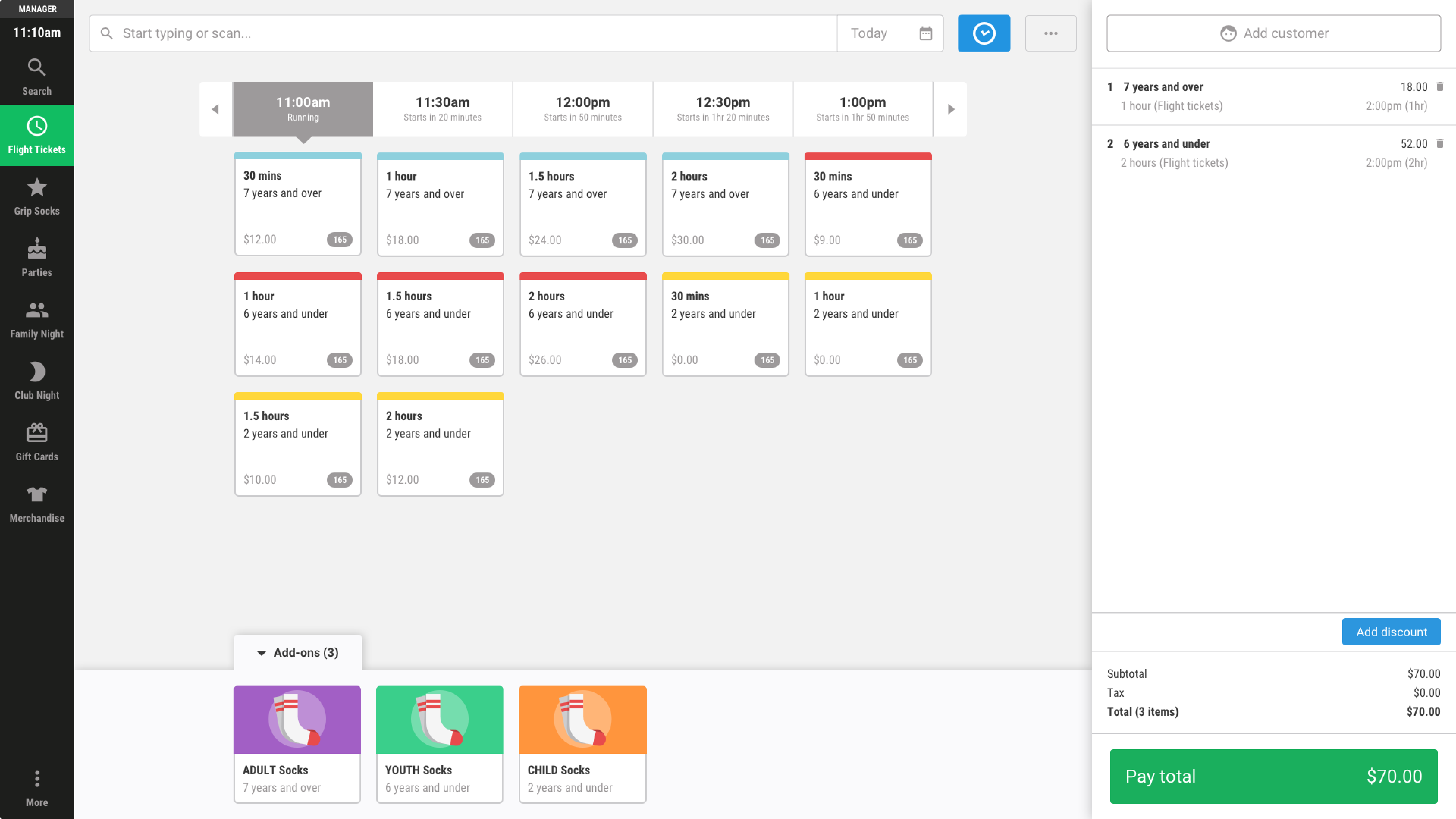 Similar to your online ticket experience, you'll want to be able to sell tickets in person as quickly and seamlessly as possible.
And by reducing the likelihood of physical queuing, you're also not allowing potential guests to rethink their commitment by having to wait in a long line to buy tickets.
The right POS makes it super easy to upsell food & beverage, and merchandise from one platform. Promoting specials or add-ons to ticket sales can significantly increase your over-the-counter sales quickly.
3. Automate purchasing with self-serve kiosks
Automating ticket purchasing and booking management upon entry through self-service kiosks can help your guests get everything they need and quickly move on to the fun part – experiencing your attraction!
Self-serve kiosks can also potentially provide other cost-savings to your business by lowering reliance on physical interaction with the staff so that your team can get out from behind the counter and interact more with guests.
4. Let customers pay for tickets how they want to
This one might seem obvious, but your guests expect to be able to pay in their preferred method – from contactless payments via mobile devices, with Apple Pay, or with buy now, pay later (BNPL) options.
Providing guests a choice in how they pay means they're less likely to abandon a booking at the point of the purchase.
Using ROLLER Payments, our integrated payment solution, you can easily choose the payment methods you want to accept and activate them on your platform.
Multiple payment options will help guests complete ticket purchases more quickly and reduce abandoned carts and missed sales opportunities on-site.
5. Promote your membership programs
What's better than selling a single ticket? Selling ongoing, recurring visits via a membership program. When you turn your guests into members, you can repeatedly keep them returning to your venue.
With ROLLER, you can easily add your membership program to your standard online ticketing products.
And simply showing the price difference between one standard ticket when compared to membership and its related perks could be enough to convince guests to buy a membership upfront.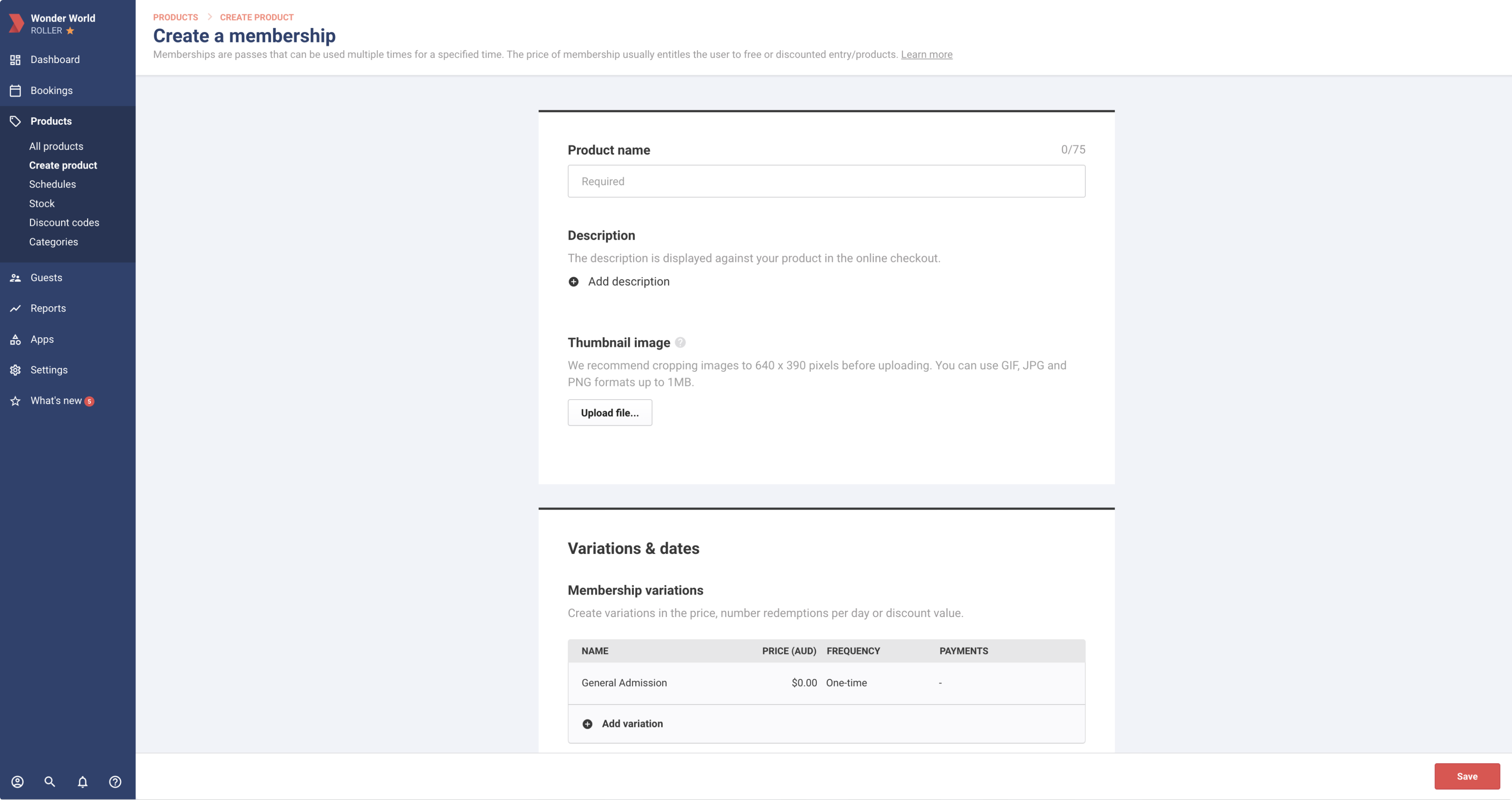 6. Engage with more guests through new channels
ROLLER offers a range of integrations with third-party online marketplaces to help you reach new audiences.
And when it comes to selling more tickets, it makes sense to integrate with a leading global customer marketplace such as Groupon. It enables venues to reach Groupon's global audience while delivering a seamless guest experience.
Another third-party reseller that integrates with ROLLER is Redeam, a channel management solution that helps venues manage the promotion and sales of tickets across several OTAs (online travel agents) such as Klook and Google Things to Do.
It's another great way to broaden your audience reach and potentially sell lots more tickets.
7. Use feedback to align your product offering
Do you really know what's resonating with your guests?
Direct feedback can be a valuable tool that can ultimately align to more ticket sales. Asking the right questions at the right time and in the right method can help drive more engagement from guests and give you insight into what can help your business grow.

ROLLER's Guest Experience Score is a free sentiment analysis tool that helps operators collect, analyze, and action guest feedback at scale, helping operators review feedback quickly and do more of what's working well.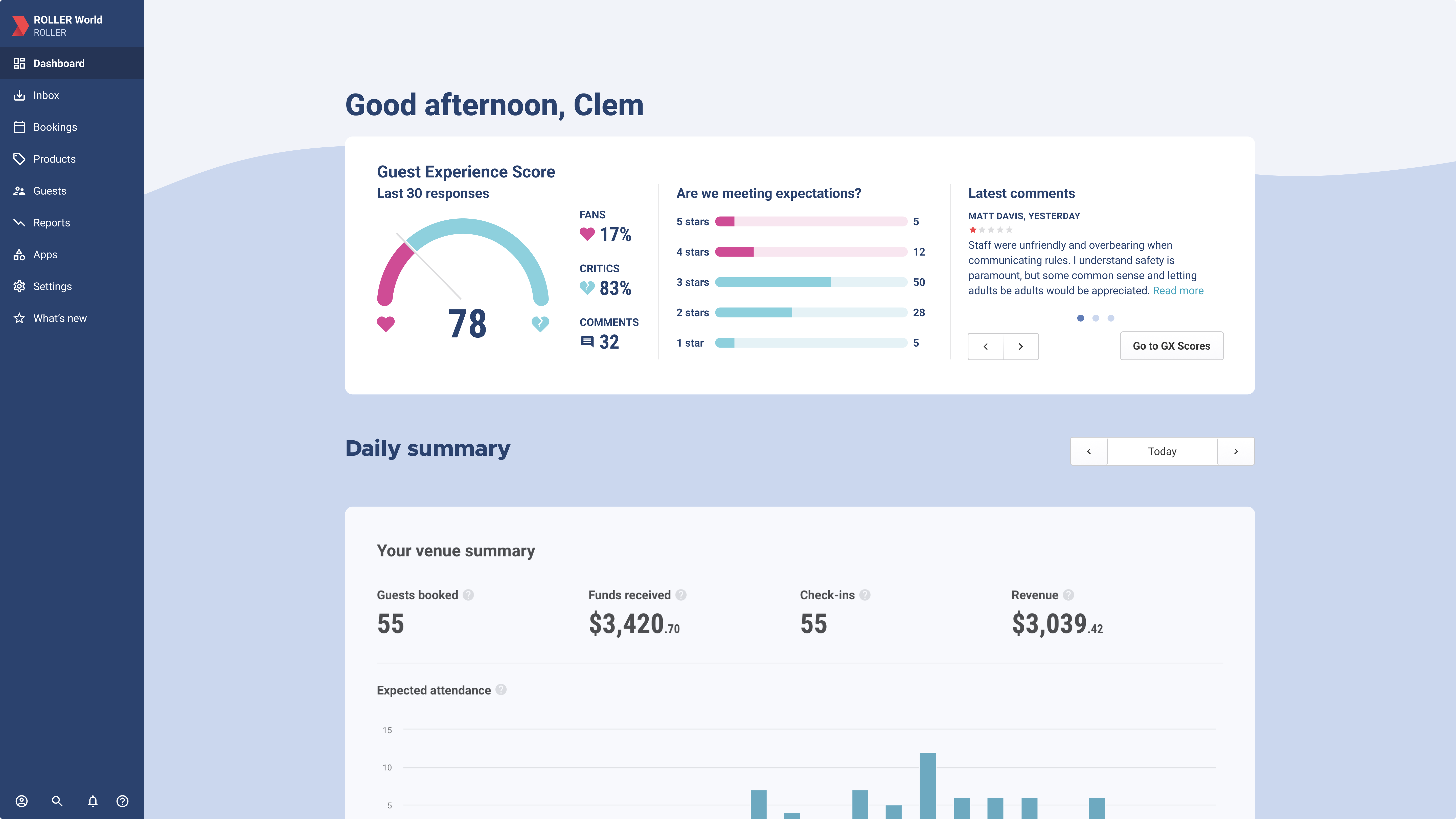 8. Create marketing campaigns with targeted offers
It's unlikely that all of your guests will like the same things, especially when you look at their demographics, such as age and household income.
A CRM (Customer Relationship Manager software) can help you better understand your guests, equipping you with the information you need to create more effective and personalized marketing campaigns through segmentation.
This can ultimately drive more ticket sales by appealing to different wants and needs.

ROLLER's CRM functionality lets you track member activity at key stages of the guest journey and helps you categorize interactions based on spend, visits, product purchases, and other data points.
Read this next: Point of Sale (POS) Marketing: 7 Tested Ways To Increase Sales
9. Use real-time reporting to stay on top of ticket sales
To help you sell more tickets, you'll want to access your guest activity and financial data to monitor sales activity, including your most profitable times.
Using a cloud-based platform with real-time reporting gives you much greater access to the data you need to review ticket sales performance on an hourly, daily, weekly and monthly basis. You can also see the information you need without always being on-site.
Read this next: Making Sense of Point of Sale (POS) Reports
10. Share the love with digital gift cards
With a digital gift card, your guests can give the gift of tickets to friends and family, and once redeemed, gift card recipients may even make more purchases on-site, either through additional tickets or food & beverage items.
And digital gift cards are a great referral tool for your business – acting as a great way to acquire new guests and sell tickets upfront.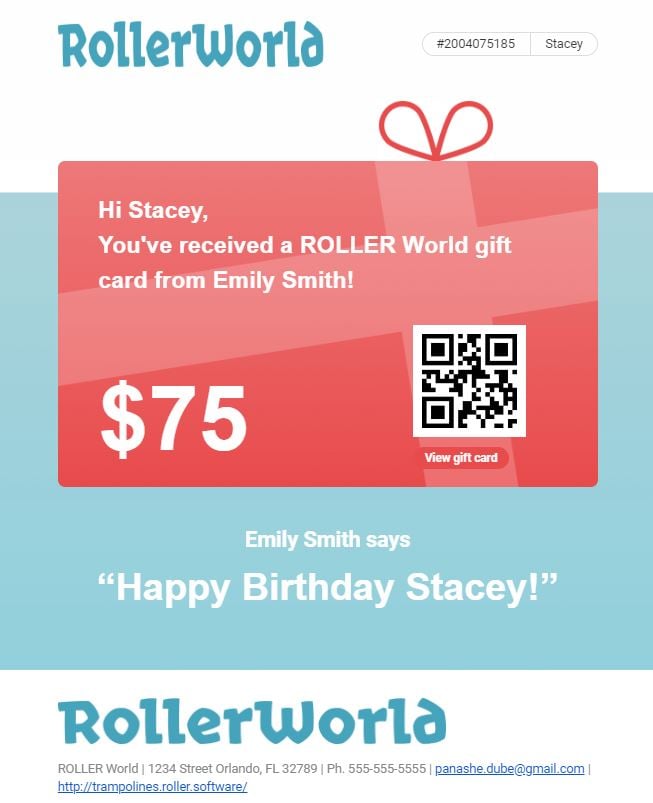 Focus on your most important channels first but keep reviewing all of your guest touchpoints
Selling tickets is unlikely to ever be via a single channel, but you first want to focus on your most important channels. As we've mentioned, first and foremost, pay attention to your online booking experience and make sure it is mobile-friendly.
Then keep looking at all your other online and offline channels and a regular review of your business activity to help refine and optimize those ticket sales at every guest touchpoint.
You'll ultimately be able to work out peak ticket sales times and periods and refine your marketing accordingly, hopefully watching your ticket sales increase.