You likely have powerful and valuable information sitting at your fingertips based on the guest and financial data you enter into your POS system daily.
But knowing how to best understand what's in these reports, and the insights you can pull from them to better grow your business can help you make better-informed decisions.
Here we're breaking down what information exactly you can extract from a POS report, why investing in reporting is important, and sharing examples of how to get the most out of the work you're already doing.
What is a point of sale (POS) report?
A point of sale (POS) report is a retail business report that can be generated from the data you're already entering into your POS system.
One of the most common examples of a POS report would be a 'Daily Sales Report' that gives you a daily rundown of product sales.
Think of a POS report as one of the best ways to help keep learning about the financial story of your business. It combines all of your sales data into the one platform that makes it easy to access and track the most accurate reporting across key areas of your business operations.
How does POS reporting work?
Because your POS system is collecting sales data automatically, you can quickly pull up reporting that will be much more accurate than any manual process.
Where the real reporting power comes into play is in the different types of reports you can create, and the insights it can offer venue operators through features such as custom filtering.
Think about reporting information like ticket sales, customer check-ins, staff activity or even guest feedback.
Access to real-time information from anywhere
These days most modern platforms use cloud based reporting, which means you can access POS reports from anywhere.
ROLLER customers find this to be a great benefit to their business operations because they don't have to be on-premise to check in on POS activity.
When you're working from the cloud, you can see what's selling, what's not, and then make business decisions in real time.
Want to check in on that "End of Summer" ticketing promotion but you're not close by? Not a problem! Pull up your 'Daily Summary Report' in ROLLER and you'll be able to see how many guests have booked and checked-in for the day, including payment methods.
Less reliance on spreadsheets
Because POS reporting data is automatically integrated into the POS system you can rely less on spreadsheets and other manual methods to report on your venue activity. ROLLER's POS reporting has been built with accrual accounting reporting to help you move away from cash accounting and more accurately report on business metrics.
Insights to make better-informed decisions
It's possible to take your POS reporting to the next level through the use of system integrations via APIs.
API stands for Application Programming Interface, which is a technical term for special software that helps different programs talk to each other.
One of the most common uses of an API would be sharing your POS reporting data with another reporting platform you might also be using, such as an external database or analytics platform, where you can use your POS reporting for even greater business insights.
Read this next: Point of sale (POS) marketing: 7 tested ways to increase sales
Why is POS reporting important?
Making decisions based on the most accurate, robust information available will help you find efficiencies and grow your business faster. Your ability to do that well really comes down to your reporting.
Get answers to your most common questions
If you're operating an attractions and entertainment business you'll want to know things like how many bookings you receive each day, week, month, or year.
And then digging a bit deeper you might want to know whether you're getting more bookings from online sales or via walk-in guests. All of these questions, and many more, can be answered using POS reporting.
Know what's really happening in your business
Your POS system moves your business away from manual reporting and standalone cash registers, so your sales information is going to be more accurate and faster to access.
Think of this as another way to get into the mindset of your guests! By reviewing daily activities consistently over time you can highlight positive trends, such as that new F&B line adding noticeable revenue, and just as importantly flag potential issues before they become big problems.
Is the real reason Saturday bookings are down over the last three months due to seasonal traffic, or perhaps a competitor has recently opened up nearby?
And when it comes to meeting business requirements such as tax, or even auditing, you can provide reports for specific date ranges with confidence.
POS report examples
The most common POS reports for any customer-facing business would include Sales reports, Customer Payment reports, and Staffing reports. Other popular reports might include food and beverage sales, online bookings vs. walk-in ticket sales, credit card payments, and staffing information.

When you're looking at POS reporting, you want to be able to quickly get insights into the key areas of your business, so think about specific information you would like to know.
What sort of reports could give you a competitive advantage or give you deeper insights into your industry or business type?
Can your sales reports drill down into things like gift card sales or show revenue from modifiers, which could be key in showing you top performing F&B items.

Let's take a look at some of the some most popular POS reports used by ROLLER customers, who operate businesses within the leisure and attractions space:
1. Bookings report
If ticketing is a part of your business then the Bookings report will likely be one of your most reviewed POS reports, showing detailed booking data including payment status, total booking value amount, where the booking was made, and even things like expected guest headcount based on the type of ticket sold.
Need to check on cancellations or plan for the most popular sessions times for next week? This is the report for that!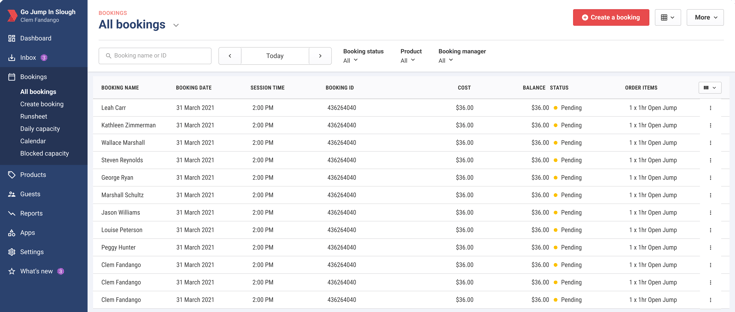 2. Daily Summary report
Summary style reports are great for getting a quick overview of performance and the Daily Summary report gives you a summary of your venue's daily sales and attendance.
Here you can also see sales data per payment type and per product, as well as Till summaries for each POS device.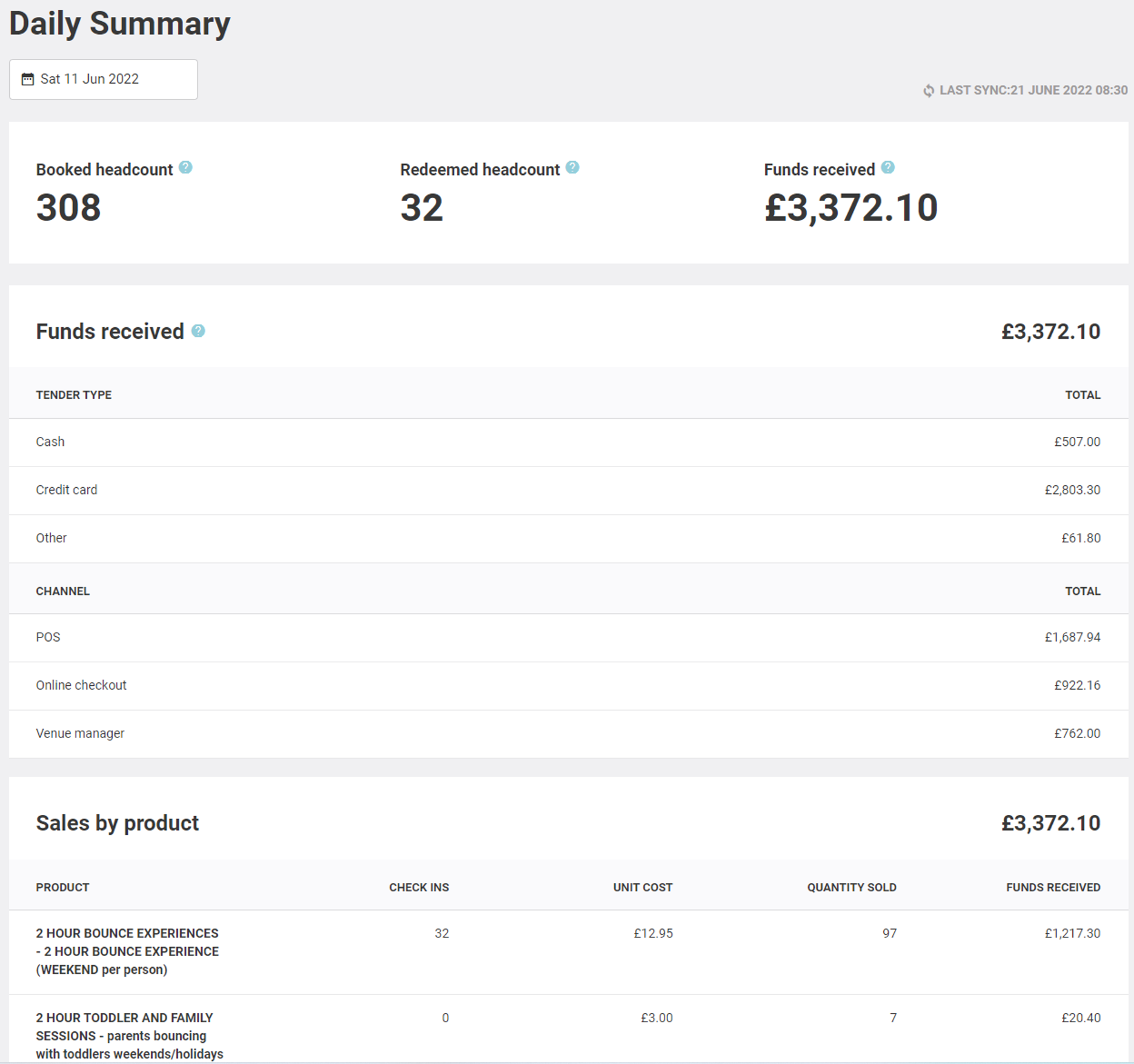 3. Detailed Product Sales report
Knowing your venue's financial position in terms of cash flow and accounting practices shows you how much money your business has actually received versus forecasting from sales activity while you're still waiting for payments to come in.
A Detailed Product Sales Report shows the value of all of the transactions your venue has processed over a selected date range, broken down per individual product you offer.
Using this report enables you to see how much money has been attributed to your products. The difference between this report and something like the Detailed Transaction Report is that instead of seeing each individual transaction, you see the sum of transactions broken down by product.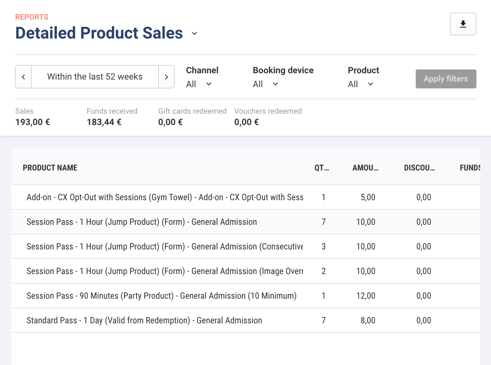 4. Invoices report
Perhaps your business issues invoices to guests for bigger ticket items such as birthday parties or other types of larger group bookings.
While these types of events can bring in greater revenue you may need to chase up payments from time to time.
Using the Invoices report you can find a list of all the invoices issued together with their payment status, making it easy to find and follow up on those with outstanding payments.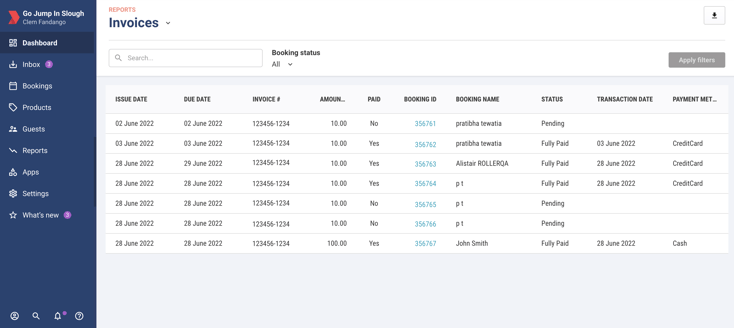 5. Gift Card Sales report
Gift cards can be a great revenue driver for businesses, bringing in new guests that can also potentially spend over the gift card limit.
The Gift Card Sales report shows the amount of gift card sales within a selected date range and aggregated total per gift card denomination per date to help highlight the best performing gift card types.
This helps venues to track gift card sales for specific periods for reporting and tax purposes.Summary information at the top of the report will display total value of gift cards and the total discounts applied.
6. Scheduled reports
While technically more a feature than a type of report, scheduling reports, like the Daily Summary report, is a great way to get automated reports sent directly to your email inbox.
Gone are the days when reports were only shared in boardrooms. People want to see them on the run, on their mobiles, in real time.
ROLLER can schedule reports to send to key people in your organization, direct to their phones, so everyone can keep their finger on the pulse.
To really help grow your revenue, you need to stay informed of what's happening in your business now, as well as looking at future and past activity. By taking advantage of the greater accuracy and convenience of POS reports, you'll ask deeper questions and uncover insights that help propel your growth. And remember, like with most things, understanding what's really happening in your reporting can take time and practice.
If you're unsure of how to interpret the information, make sure you ask for some help, whether that's from your POS system provider, your accountant or bookkeeper, or others in your business and you'll soon be on your way to reporting best practice!