The attractions industry has proved its resiliency as it has powered through world wars, depressions, recessions, and pandemics. As the industry continues to rebound from COVID-19, the message shared across the globe is that people want to have fun and create social experiences outside of their homes.
This means that the attractions industry is ripe for new development and entrepreneurship. North America's family entertainment center industry is expected to grow 142% between 2020 and 2030, with a projected valuation of more than $22 billion.
If now is the time that you have finally decided to jump into the industry, there are several key factors that you will need to consider. This article will cover the following:
Consider your financing options
Consider location
Consider whether your software solution can support multiple venues
Staffing
Guest experience
Read on to learn more on each topic.
1. Consider your financing options
Before looking at the logistics of opening your new venue, you must ensure that you have secured the funds for opening. It is highly advisable to conduct a feasibility study to determine a) if the new business is a viable option in your desired market and b) the total capital required to get it off the ground.
Once you know your number, you can determine how you will secure the funds. In a perfect world, you would have the cash to fund the entire project, but most brick-and-mortar businesses require either borrowing or seeking investors to make their dream reality.
If you don't have the cash in the bank, you'll need to determine the best option for raising funds. According to the Small Business Administration, loans exceeding $50,000 USD will carry a 10.25% interest rate when paid off over more than seven years, as of December 2022. The downsides of taking out a loan are the total amount of interest that you will pay over time, along with the burden of taking on debt that must be repaid regardless of how successful and profitable your venue is.
Alternatively, you can seek investors to fund the capital required to build your venue. If you opt to seek investment, your feasibility study will need to indicate the total estimated value of your business to determine how much equity your investors will own. While you don't need to pay back investor funds, they will own a portion of your business and be entitled to profits for as long as they own equity.
2. Consider location
They say that the three most important factors in real estate are location, location, location. In the world of location-based entertainment, your location plays such as a strong role in your level of success. The location also indicates the value of real estate; building in a small rural area is often the least expensive but also offers the smallest pool of potential guests, whereas high-traffic urban or suburban areas may enable you to have the biggest reach. Still, you'll be paying a premium for it.
The best location will be where you have the best opportunities for your guests to reach you. This includes foot traffic and drive-in traffic. Additionally, you must consider external factors as well, such as:
Is there a high population of my target demographic?
How will weather and seasonality affect my business?
Is there new construction occurring in the future, and if so, will it benefit or hinder my business?
What type of competition already exists that is serving my market?
How will gas prices and airfares impact my business?
In addition to current factors, you should be looking out toward the future as well as what your region might look like down the road. For instance, according to Rooftstock, the top three growing markets in the United States are Salt Lake City, Boise, and Spokane, which are all projected to see significant housing growth. If you build in a market that people are leaving, on the other hand, then you may be facing trouble in the future.
3. Consider whether your software solution can support multiple venues
You've got your financing. You've got your location. You've determined your attraction's mix, branding, and food and beverage offerings. Now, what's going to power all of this?
It is critical that, as part of the development of your center, you select the right technology partner that can help you run, grow, and expand your business. In particular, you will need a software platform that can do the following:
Sell admission (both online and onsite)
Manage bookings and reservations
Process payments
Manage waivers (if applicable)
Allow for efficient access control
Process food and beverage transactions
Process retail transactions
Manage inventory
Manage memberships (including upgrades)
Prompt guests for feedback
Provide CRM functionality
Manage multiple venues
If all goes well, perhaps you will consider opening subsequent locations upon proving the concept of your first. This is not without additional challenges, however, and many operators have said that opening their second location is more challenging than opening their first. When you think about your second location, you want to ensure that your venue management software can help make the expansion easier.
For example, ROLLER's HQ function takes much of the burden out of expanding your business. When it comes to updating pricing, adding or removing products, or adjusting availability, you can manage all of your venues in one clean interface, while keeping the look and feel of your brand consistent across all locations.
4. Staffing
As you get closer to your grand opening, you will need to bring on your team to deliver the experience to your guests. To make it as smooth as possible, plan to map out your entire organizational chart, including hierarchy and all levels of leadership, and then determine how far in advance each position needs to begin in anticipation of opening.
Then, add a comfortable amount of time before that to plan for the recruiting process for each position. As you bring on director and managerial-level positions, delegate the hiring duties to leverage the entire process.
Once your organizational chart is in place, you will need to create a clear vision of your employee journey so that all other pieces will fall into place more seamlessly. Here is an example of what your employee journey might look like:
Recruiting
This is the first phase of the employee journey, which involves creating job descriptions, duties, and wages and then advertising the available positions for hire. Ideally, you want to generate a much larger number of applicants than positions
Hiring
How you interview may depend on the job and the number of positions available for each job. In your more senior roles, you will want to focus on personal or 1:1 interviews, but for frontline team members, you may hold a recruitment event or auditions to review multiple applicants at once.
Onboarding
The process of onboarding is both administrative and culture-oriented. While there is a lot of paperwork required to process new employees, it is also the team member's first impression of what it's like to work for your business and should include company orientation to immerse them into your company culture.
Training
After orientation, each team member will need on-the-job training to ensure that they are proficient in their job duties before interacting with their first guest. This includes familiarizing themselves with any and all software that they will be required to use, safety training, as well as training on any heavy machinery that they will be operating. And don't forget about guest service training!
Management
Before you are up and running, you will need to determine your employee management processes to ensure an efficient operation. This includes policies for performance, such as attendance and disciplinary action, time off requests, and coaching and recognition for performance development.
Offboarding
While you hope that your employees will stay forever, the employee journey is a cycle, and the departure of staff members must be factored into the equation. This includes voluntary and involuntary, and what the exit process looks like when leaving your company.
Once your staffing model is in place, let's talk about the guest experience.
5. Guest experience
Everything in your business leads directly to the guest experience. How guests interact with your venue is what makes you unique and will be what allows you to stand out from your competitors.
Like the employee experience outlined above, the guest experience is a journey that should be mapped out in detail. Focusing on the granular elements of the guest experience, it sets you up to achieve the highest levels of satisfaction and loyalty, leading to your ongoing success.
Your guest journey can be represented as the flywheel, with the five following interconnected components.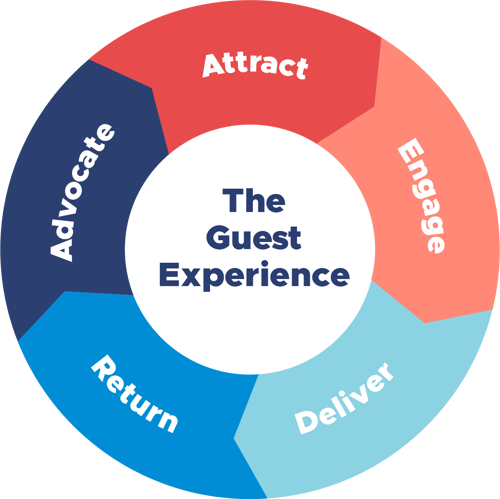 Attract
This is your initial marketing where you gain awareness. When preparing to open, you'll want to plan a buzz-worthy grand opening that piques the interest of your target demographic within your region. Once you've gained their interest, you can continue to the next step.
Engage
The second component of the flywheel is where you link to their interest in securing a commitment. When you engage your guests, you take them from interested to committed and then transition them from their commitment through arrival. The transaction happens in this phase.
Deliver
This is where the rubber meets the road. To attract guests, you must set a considerably high expectations, and when you deliver it, you must go above and beyond. When you map out everything that your guests expect when they visit, you must now go through each expectation to ensure that you can not only meet but also exceed their expectations at every juncture.
Return
The delivery of the experience must be so powerful that it generates the desire to return. To encourage your most satisfied guests to return, encourage them to upgrade to a membership to continue visiting while gaining significant value from being a member at your venue.
Advocate
The final component of the flywheel is when guests are so satisfied that not only do they return, but they influence others to visit as well. They post positive reviews online, share their experience on social media, and spread the word through positive word of mouth with their friends, family, neighbors, and coworkers. The strength of your advocates will determine how fast your flywheel spins, as it builds momentum that makes it easier to attract guests in the future.
As you embark on your journey to open your venue, ROLLER is prepared to ensure that 2023 is your year of success. Click here to schedule a demo today and learn how having the right technology partner should be embedded into your business long before your doors open.