From the karaoke to the cowboy hats — our team had the best time at the RSA Convention & Tradeshow in Las Vegas!
It was great to network with colleagues and peers, socialize with each other, and gain valuable insights from our Roller Skating community.
Join us as we recap this fantastic event and share our favorite highlights — including our meet and greets and one-on-one product demos.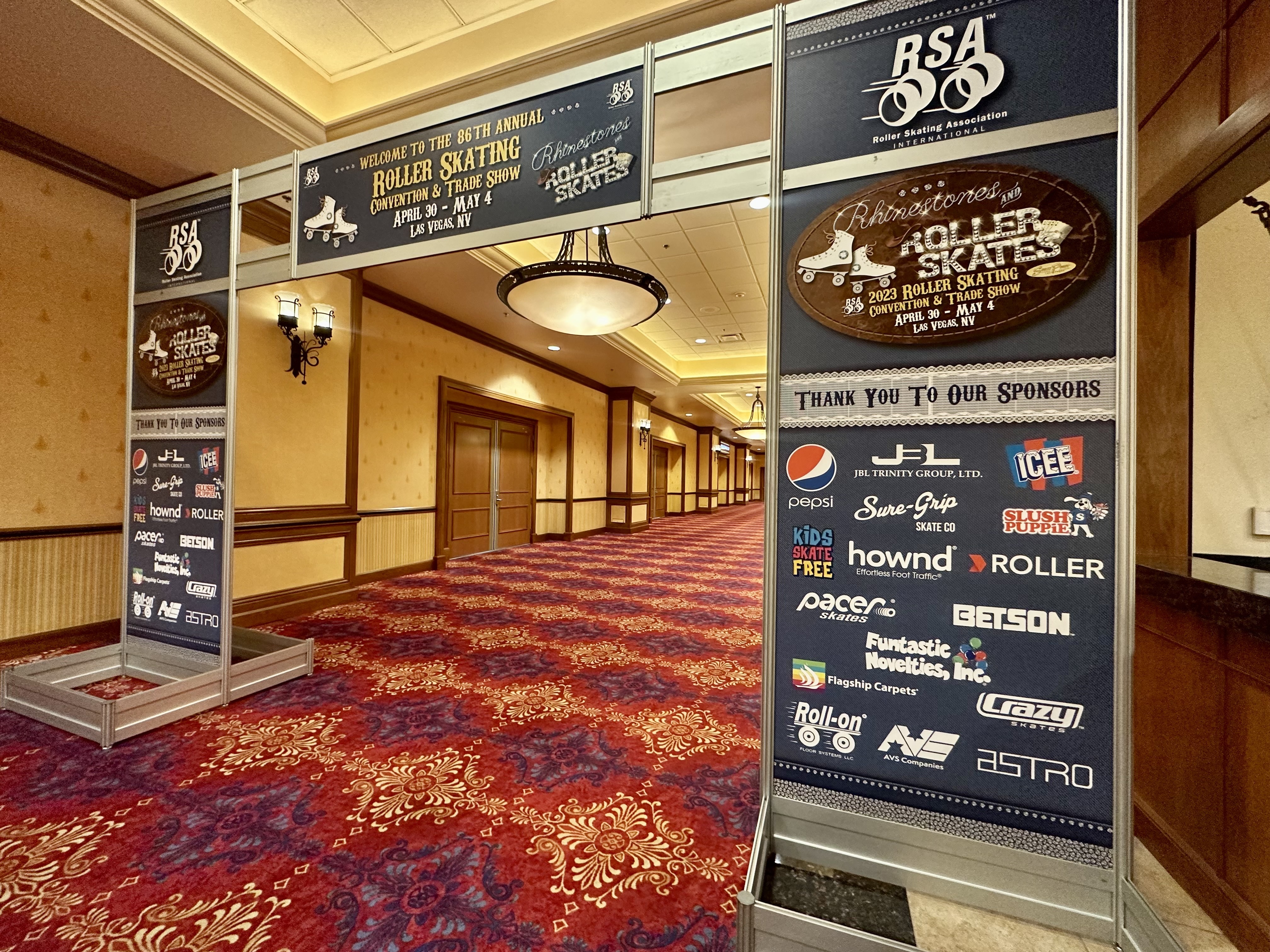 Meeting and greeting
It was incredible to have the opportunity to meet in person with so many customers, operators, and experts in the field. We got so much from our rich interactions — here are some of our biggest takeaways.
Change is a-comin', and it can be daunting
One of our biggest learnings from our time at the RSA convention was that operators knew that to keep up with the changing times, and guest preferences, they needed to upgrade their systems.
But for many, it seemed a daunting task. Overall, we heard that operators feel ready for this change but do not want overly intricate, pricey systems to help them do this — most just wanted an automated system that helps connect their websites with their POS system.
Operators want to improve the party booking and waiver experience
Party bookings
The operators we spoke to made it clear that party bookings are a crucial and dependable way for them to bring in revenue.
They talked about wanting to build momentum in this area and told us that they want to make booking parties more straightforward (with less manual admin work) and enjoyable for both guests and operators alike.
Read this next: Party Booking Software: Manage Parties & Bookings From End-to-End
Waivers
Many operators also expressed concern about their current waiver system. They spoke about how they still use paper waivers and were curious about the effectiveness of moving to digital waivers instead. They also wanted to understand the common benefits of using a single system for all their venue management needs instead of separate systems for waivers, venue management, and ticketing.
Read this next: What are Digital Waivers & Why Does Your Venue Need Them?
Operators want to offer guests more options
During our conversations with operators, many shared their intentions to broaden their venue offerings by incorporating more games and activities — the way an FEC would.
We heard this is because rinks often have the physical space to diversify their offerings. Adding a laser tag arena, owning and operating their own arcade rather than using a route operator for games, broadening food offerings, adding VR, etc., not only adds the opportunity to earn more revenue, but it also keeps the customer in their venue for a longer period of time and broadens the spectrum of guests they can appeal to beyond just those who are interested in roller skating.
On top of this, some operators realized that to attain these objectives, they required a robust venue management system to sustainably facilitate and maintain their desired growth.
Read this next: New Year, New Venue? What Operators Need To Grow in 2023
How ROLLER helps solve common venue management concerns
We were excited to share the ROLLER platform with everyone who stopped by our booth! If you didn't get to visit us, don't worry — we've put together a quick rundown of all the key features.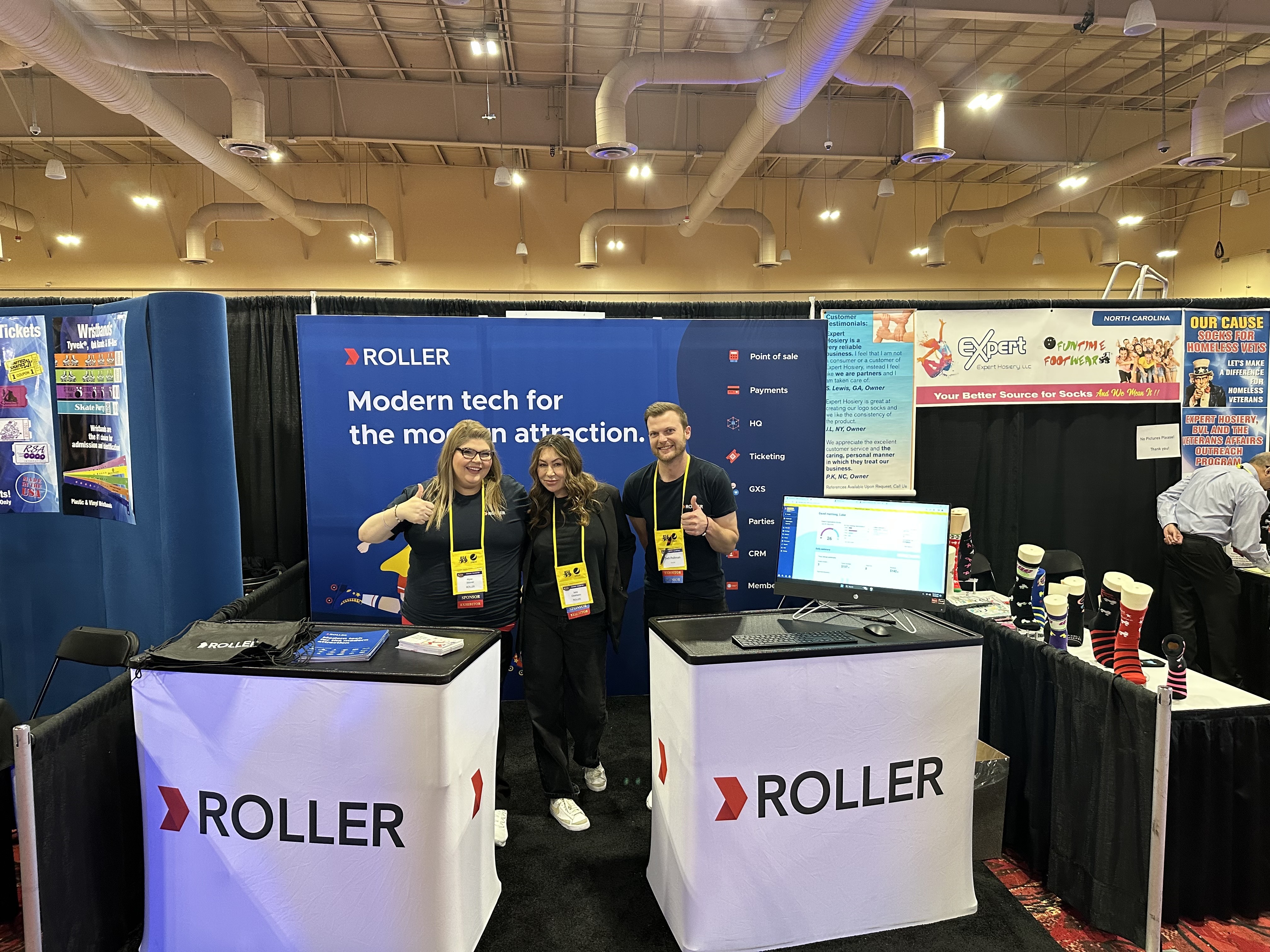 All-in-one venue management software built to help you grow
ROLLER is the all-in-one venue management platform for the modern, growing attraction, purpose-built to remove friction from the guest experience at every touchpoint. We help operators save time, boost revenue, and deliver superior guest experiences.
ROLLER provides our time-strapped operators with all the tools they need to sell their experiences, serve their guests, market their business, and manage their operations- all from one place. No wasted time, no stress!
Sell more, faster, and more efficiently online and in-venue with ROLLER
Selling tickets online has never been easier, thanks to ROLLER. With ROLLER, your venue can sell tickets as easily online as in-store.
ROLLER's Progressive Checkouts boasts a host of modern and intuitive features designed to optimize conversion rates and provide users with beautiful experiences.
The contextual add-on options and captivating visuals will keep your guests engaged and encourage them to spend more with you — increasing conversions and spend per guest.
Powerful POS to impress your staff and guests
Here at ROLLER, we prioritized top-notch performance when we created our POS systems. That's why we designed our POS system to be quick, easy to use, and highly responsive.
With ROLLER's POS, you'll also have access to various features, including ticketing, F&B, parties, and much more.
Read this next: Cloud POS: What Is It & How To Choose One
ROLLER Payments: a payments processor built for attractions
The ROLLER platform seamlessly integrates with our native payments processor, ROLLER Payments, making it effortless for you to sell your products both online and in-venue.
ROLLER Payments is a reliable and feature-rich payment processor with an impressive 94.5% authorization rate thanks to smart dunning and other functionalities.
Additionally, ROLLER Payments supports 38 different payment types, including digital wallets and Buy Now, Pay Later, while also offering integrated refunds and fraud protection.
Read this next: ROLLER: Streamlined platform payments, superior customer experiences - Adyen
Perfect your guest experience with our guest feedback tool
The Guest Experience Score (GX Score) helps operators gather guest feedback in an automated and efficient manner. It surveys guests at the right time and asks clear and useful questions to provide valuable insights that operators can use to improve their venues.
The surveys are sent out shortly after the guest visit to ensure operators can immediately address any negative feedback and prevent negative reviews from being publicly shared.
Read this next: How To Use Guest Feedback To Grow Your Business
Electronic waivers reduce your liability risk and are more convenient
With ROLLER's electronic waivers, guests can easily complete their waivers before arriving at your venue. So they can simply show up and enjoy themselves without delay or hassle!
In addition to reducing your liability risk, electronic waivers allow you to gather important customer data you can use for various other purposes, such as targeted marketing campaigns.
Thank you, RSA!
We had a fantastic time at the RSA Convention & Tradeshow and loved every minute of getting to know everyone and being a part of the vibrant community!
If we didn't get to connect with you at the event, we'd love to chat about how ROLLER can support your venue in 2023. Feel free to reach out and schedule a meeting with us here.