As countries and governments around the world work toward reopening their economy, adherence to social distancing measures will be key to protect against further widespread outbreaks.
For location based entertainment, hospitality and retail businesses, the principal near term challenge will be to operate efficiently within these social distancing constraints. Guidance provided by IAAPA, the leading global attractions association, provides that venue capacity should be limited to 1 person per four square meters (or 1 person per 36 square feet as an approximate rule of thumb). Similar guidance has also been provided by governments and health organisations globally.

Limit capacity to one person per 4 square meters / 36 square feet

Based on this guidance, the table below provides an indication of the number of people that should be allowed into a venue based on its size;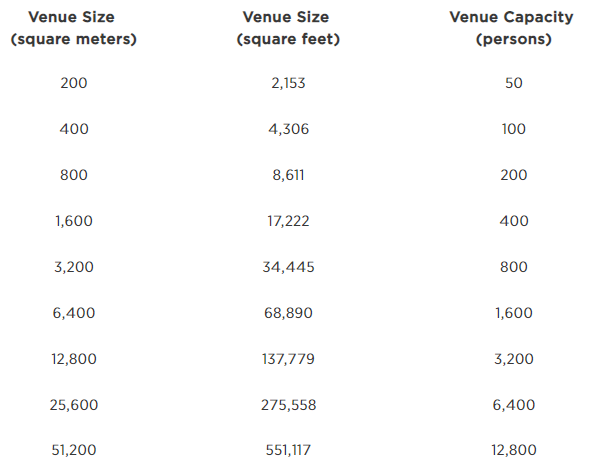 Whilst there are other considerations to take into account when controlling the number of people in your venue, store or location (such as treatment of families as single units, and also whether face masks are utilized), it is better to air on the side of caution and take a conservative approach with regard to capacity management.

Once you have determined the capacity of your venue, you should then consider what is the best way to safely maximise attendance over the course of a day. With regards to admission and entry, IAAPA advises that where possible it is best to "stagger arrival times to minimize queue lines or crowds at the attractions entrance." To assist facilitate this, they recommend venues;

"Consider a timed ticketing program that staggers arrivals."

The guidance not only helps guard against the possibility of having large queues form at your venue or store, but also allows you to unlock more demand by giving customers confidence that if they do visit, it will be safe (or safer) to do so.
To illustrate the logic, in pre Covid-19 times, venues would often experience peak hours around the middle of the day. As there was less of a (or no) capacity constraint, it was perfectly OK to have visitors wait in a queue until you were able to check them in or seat them. In short, you were able to accommodate the demand as it came, it just meant that customers may have had to wait until they were served.

The new environment however is different. To best accommodate (and unlock) demand, it is better to stagger it across the course of a day as it;

(1) assures customers that if they do come, they will not be faced with lengthy queues,

(2) reduces the drop-off of visitors that do come, but then decide not to enter because there is a crowded entry or long queue, and
(3) requires less staff to manage potential visitation bottlenecks.

In absence of the ability to check-in / let in visitors without constraint (ie: the status quo in the pre Covid-19 era), distributing arrivals over the course of a day will likely lead to more people attending overall, and in a way that is safe(r) and structured.

Pre-booking also provides you with an opportunity to allow customers to pre-purchase a bundle of products or experiences, further reducing payment related interactions and streamlining the entry process.

Disney push 'contactless guest interactions'
Disney have also recognised the benefits of pre-booking and have put in place similar measures for the opening of their Shanghai Disney, including;

Limited and pulsed attendance with an advanced reservation and entry system - their visitors are only able to buy admission tickets for selected dates, and annual pass holders are required to make reservations in advance.
Controlled guest density - lines are to be spaced out and ride vehicles are also loaded to meet social distancing guidelines.
Enable 'track & trace' capabilities
In addition to the benefits outlined above, utilizing pre-booking technology also enables you to capture visitors' contact details should you need to reach them in the event of an outbreak or you have a staff member that tests positive. Doing so will also allow you to engage with them after their visit so you can capture valuable information on their 'new' guest experience.

Summary
In-line with best practice guidance provided by IAAPA, Disney and Government authorities, ROLLER recommends managing capacity and controlling access with the use of time based booking systems. Flattening the 'visitation curve' will improve the ability of location based entertainment, hospitality and retail businesses to recover from the impact of the pandemic and do so in a way that responsibly contributes to 'stopping the spread'.

Commenting on their experience and plans for the future, Scenic World's IT Manager, Christopher Pike said that "we have used ROLLER's time ticketing functionality during our busiest times, and it has worked really well to create an even flow of guests. Utilisation of this capability will be key to the way we re-engage with our customers when we reopen."

Other Covid-19 materials