Travel is back on the agenda for many of us. That's great news, right? And with more people ready to plan and book their next trip, now is a great time to ensure you're marketing your business to key audiences, especially Millennials.
Millennials were born between 1981 and 1996 (currently between the ages of 26 and 41) and represent the largest population group in the US at over 73%. Many are now well into adulthood and reaching their prime spending years.
And just like their younger Gen-Z counterparts, Millennials' number one reason for travel is seeing friends and family, with a desire to visit new US cities also important, which after the last few years can be welcome news for local attractions.
Read this next: Gen Z Travel Trends & Statistics in 2023
Millennial travel trends & statistics (Editors picks)
Millennial characteristics: have a high level of engagement with social issues such as climate change and climate-related impacts, which can affect their purchasing decisions.
Millennial purchasing behavior: 90% said authenticity is crucial when dealing with a brand, so be genuine in how you communicate across all of your guests' touchpoints.
Millennial money habits: 36% said the cost of living is their number one concern, so demonstrate value wherever you can.
Millennial leisure behavior: Spending almost $7 billion a year to stay fit, wellness is big business and great news for fitness or activity-based attractions.
What are Millennial characteristics?
Unlike older generations, Millennials are more likely to have put off buying a home, getting married, and having children. More Millennials are also living at home with their parents than ever before.
And for them technology has defined a new way of communicating, which extends into every area of their lives, including key social and purchasing decisions.
More engaged with social issues
Millennials have a high level of engagement with social issues such as climate change and climate-related impacts, especially in the public and private sectors. This can affect purchasing decisions, as Millennials are more likely to make sure the organizations they do business with are aligned with their beliefs.
Price sensitive
A new study by Deloitte found that the Millennials put the cost of living as their number one concern (36%), above climate change (25%) and health care (20%).
Various factors may have made Millennials more financially conscious – from paying off student debt to breaking into a challenging housing market and living through the Global Financial Crisis (GFC).
This also extends to some reluctance to jump into big purchases, such as a house or new car, and has helped create demand for the sharing economy.
Experiences are valued
Like Gen Z, Millennials place huge importance on experiences and remain open-minded to new opportunities and activities.
They are also more willing to pay more for travel, with many prioritizing an important experience over the purchase of material goods.
Active holidays, outdoor experiences, and more sustainable travel will remain popular for Millennials, so promoting attractions that can be aligned with any of these preferences can drive greater engagement.
Sharing the good and the bad
Millennials grew up with the evolution of digital communities. They embrace sharing their experiences – on social media, review sites, blogs, and messaging apps – and this social currency can also be hugely beneficial for businesses.
Millennials' travel photos drive huge engagement on social media sites such as Instagram and Facebook and provide significant business exposure.
Think of ways you can get your guests to promote their experiences on social media channels; offering prizes or other incentives for sharing posts can also help create more positive buzz for your business.
Comfortable with digital technology
Millennials have seen technology transform everything – from how they work to shopping and fitness. Many use multiple apps and devices daily, and 90% of Millennials use their phone to make at least one purchase per month.
What is common Millennial consumer behavior?
We know Millennials are tech-savvy, remain active on social media, and will spend time researching their purchasing decisions, with their considerable buying power estimated to be over a trillion dollars annually. Let's take a look at how this translates into spending behavior:
90% say authenticity is important when choosing a brand to support and will put a lot of their trust into the opinions of those who have already experienced a product or service, so look for authentic conversations in how your brand interacts across all of your guests' touchpoints.
92% look for the best deal as part of their 'travel personality, according to a recent survey, so make sure your pricing is transparent and accessible. Millennials also put a lot of importance on user reviews, so keeping on top of your guest feedback is a must.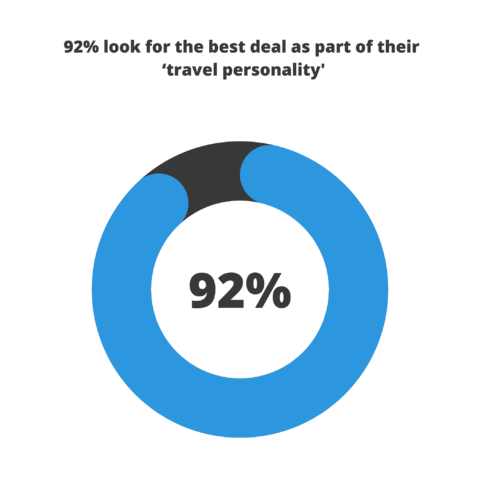 Millennials will consume multiple content channels and are most engaged with content-driven media. Think websites, blogs, podcasts, and videos on social media channels, including YouTube, with 54% of Millennials reported to check the platform daily.
What do Millennials like to do for fun?
Career-minded and busy, Millennials often seek out new experiences on their own terms. And while not always achieved, balance is important with wellness top of mind.
Traveling
Millennials place huge importance on travel, even preferring to prioritize trips over paying off debt. More millennials are prioritizing travel to visit family, which may account for more local travel opportunities, and finding authentic experiences along the way are part of the journey.
More than 55% of Millennials say they spend more time planning for vacations than for their retirement. If you're a destination-based attraction, then make sure you are promoting yourself as a 'must see' venue, to help travelers make the most of their itinerary.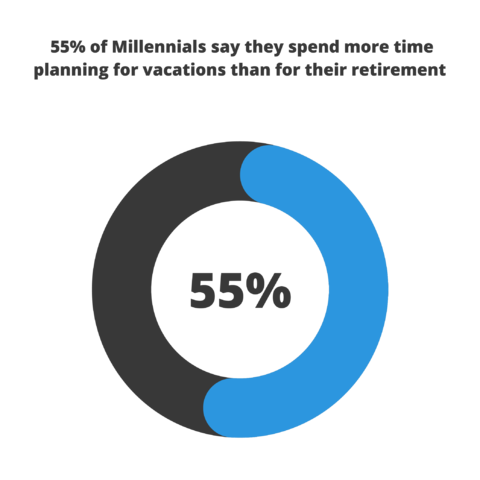 Food and coffee
With more focus on healthier and plant-based food options, Millennials enjoy eating out but will be more particular in their choices.
They also drink lots of coffee, accounting for 44% of coffee demand in the US, and will source specialty products and boutique roasters. Capturing some of this demand could be a great way to maximize your food & beverage sales, so consider the types of products your venue offers.
Wellness
Millennials know the importance of physical and mental health and embrace apps and fitness devices to track their every move.
Millennials are also the biggest spenders regarding gym memberships, paying almost $7 Billion a year to stay fit but favoring more boutique fitness options and group exercise. Do you have a fitness or activity-based attraction you could market as a great new way to keep fit?
What do Millennials want to do on their travels?
Who spends the most on leisure travel in the United States?
Millennials are helping to drive the demand for travel during 2023 and beyond. Not only do they take the most average number of trips but also the most average number of days, making them extremely valuable to the travel and attractions market:
70% of Millennial travelers are looking to spend big on leisure travel this year, as found in a recent survey by a car-sharing company. They are planning to spend more, or the same, in 2022 than pre-COVID-19, putting them ahead of other affluent generations such as Gen X-ers (67%) and Baby Boomers (61%).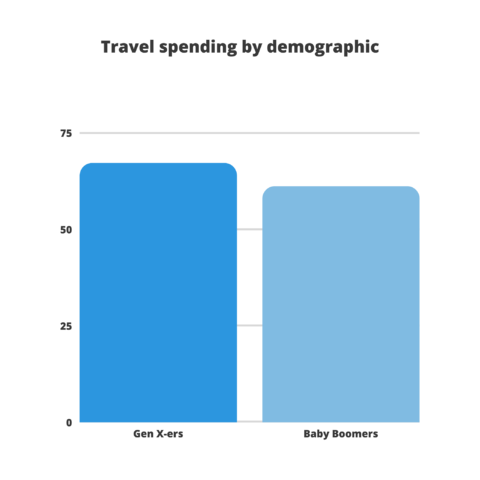 What are the top places to travel in the US?
So, where are Millennials potentially traveling within the US? While certainly not an exhaustive list, Expedia has found the top five destinations in the US based on hotel trip searches to be:
Orlando, Florida
Destin, Florida
Gatlinburg and Pigeon Forge, Tennessee
Panama City, Florida
Maui, Hawaii
How to target Millennials guests
Your business can better resonate with Millennial preferences with the right marketing mix and messaging.
And while we know Millennials want to spend money on memorable experiences, the way they research their choices online and the information you provide is going to be key to more visits, so here are our top tips for your business:
1. Include valuable content on your website and social channels
Millennials will take the time to research travel spending and use price comparison sites and apps. It's also been reported that more than half the time Millennials spend online is looking at user-generated content on blogs and review sites.
So make sure you have the right content that's authentic and easily accessible. And if you can showcase reviews directly on your own site, this can help to reinforce the quality Millennials are looking for. Instagram, Facebook, and Youtube are good platforms to promote any video content you have.
2. Keep your booking process mobile friendly
Millennials embrace digital technology in all aspects of their life, so don't add friction to that crucial purchasing stage.
And while Millennials might have grown up with more traditional booking methods such as phone and emails, they're likely to be too tech savvy to waste time booking through more manual channels.
With a great mobile booking experience, you can be the considered choice for more Millennials.
3. Demonstrate value and make pricing information easy to find
We've touched on the fact that Millennials are price sensitive and will also research their purchasing decisions, so use that to your advantage by highlighting deals wherever you can.
One way to do this could be by promoting your membership options, which can often demonstrate value.
The good news for businesses is that Millennials make up the largest segment of different generations in US history. So think of them as your biggest customer base because they are!
Growing up with digital technology and the internet, they are used to having untold information at their fingertips, so they will shop armed with price comparisons, reviews, and word-of-mouth recommendations.
Be prepared, and you'll be rewarded with more and more guests through your doors!