While we don't need another reminder that the last few years have wreaked havoc on travel and leisure plans, good news is ahead. Skeptical? Don't be!
There's a ton of pent-up demand from people looking to make up for lost time, missed birthdays, holidays, and other milestones with fun, new experiences.
With US travel and tourism spending rising in 2022 and looking to surpass pre-pandemic levels by 11.3%, it's an excellent time to target different audiences, especially those looking for more meaningful experiences.
One group you may consider trying to attract and engage so that they become a paying guest at your venue is Gen Z, those born between 1997 and early 2012 (ages 10 through 25 in 2022).
Why?
They likely think differently about travel, especially regarding safety and the experiences they are after. While they are primarily interested in leisure travel to see friends and family, they are also hungry to visit new US cities, which is excellent news for local attractions!
Gen Z travel trends & statistics (Editors picks)
Gen Z characteristics: 82% said they trust a company more if it uses images of actual customers in advertising, so it's important to keep your marketing as authentic as possible.
Gen Z purchasing behavior: 68% read multiple reviews before making a purchase; make sure you're staying on top of guest feedback.
Gen Z money habits: 65% of Gen Z respondents said they would rather take a dream vacation than purchase a new car. Experiences matter!
Gen Z leisure behavior: And 97% use social media as their primary source of inspiration. Can your business be found on the right channels?
What are Gen Z characteristics
Gen Z is motivated by meaningful experiences, which are often aligned with their values so speaking with an authentic voice via suitable types of marketing channels is important. Here are some of the most common behavioral characteristics of Gen Z:
Experiences are important
Gen Z is eager to experience new things and places. They're tired of 'been there, done that type of offerings and are attracted by new, different, and exciting opportunities.
Our tip?
Look at your unique selling points – the essence of any experiences you're marketing – and how you deliver that message (think short-form video content, opportunities for user engagement, and even creating a sense of FOMO with time-sensitive events).
Authenticity is key
Regarding advertising, 82% said they trust a company more if it uses images of actual customers in advertising.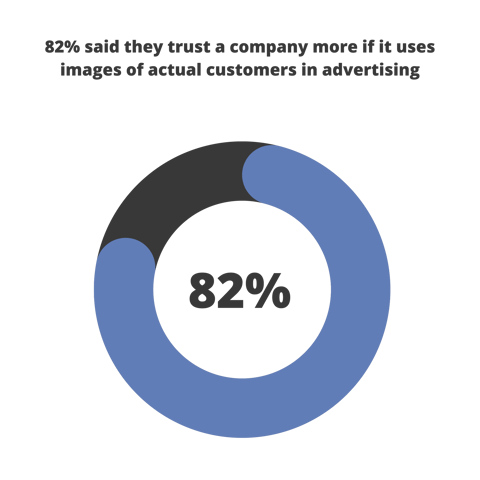 Think of your marketing as a chance for Gen Z travelers to see a new place through the eyes of locals. Promote your venue or location's most appealing features and hone in on what sets you apart.
Traveling with a social conscience
Gen Z is more likely to give back to a community or a purpose. They're more concerned with volunteering, eco-tourism, or attractions that partner with local causes than other demographics.
Why?
One theory is that Gen Z grew up with an awareness of climate change, so they are likely to focus more on sustainability, ethics, inclusivity, and responsible travel. And 72% said they're more likely to buy from a company that contributes to social causes.
Always connected
Having been born into a world of 24/7 access to the internet, Gen Z is the most digital-savvy generation, with physical and digital world experiences equally appealing.
Gen Z is likely to be more aware of new events and attractions. They'll also share these experiences with their peers via social media.
What is common Gen Z consumer behavior?
As a true digital-first generation, Gen Z was raised with the internet, and social media like other generations grew up with radio and television.
So it's probably not surprising these digital natives constantly want new ways to connect with attractions that focus on new technology, including augmented reality and the metaverse.
90% say social media influences international travel decisions, but the same principles apply to local attractions. If you're not actively promoting on social media, you're potentially missing out on reaching a growing market with disposable income. Gen Z's favorite social media network is TikTok, which is helping to drive more content-driven experiences. The hashtag #tiktokmademebuyit has had 2.3 billion views!
The smartphone is essential for Gen Z when researching, booking, or canceling trips. Can your guests seamlessly book online through a mobile device? If not, you're potentially turning away many new guests ready to book their next great experience.
Reviews are critical to Gen Z. 68% of Gen Z read at least three reviews

before making a first-time purchase online, so

keeping on top of your guest feedback

is critical to helping grow your business. Does your team know how or have the right tools to quickly action guest feedback and prevent negative ratings on public review sites?
A

recent UK study

found that 97% of Gen Z visit city centers, large towns, and shopping malls and are likely to participate in various activities, with attractions venues the second most popular at 30%, second only to restaurants and dining venues (34%).
What does Gen Z do for fun?
While it's undoubtedly true Gen Z spends lots of time on social media, they also love traveling to new places, getting outdoors, and focusing on well-being in addition to discovering new modes of digital entertainment. Let's take a closer look at some of Gen Z's favorite things:
Engaging on social media
97% of Gen Z consumers use social media as their primary source for purchasing inspiration and spend most of their time on TikTok, Instagram, Snapchat, and YouTube. You want to be where your audience hangs out, so think about how you can reach Gen Z on their favorite social media channels.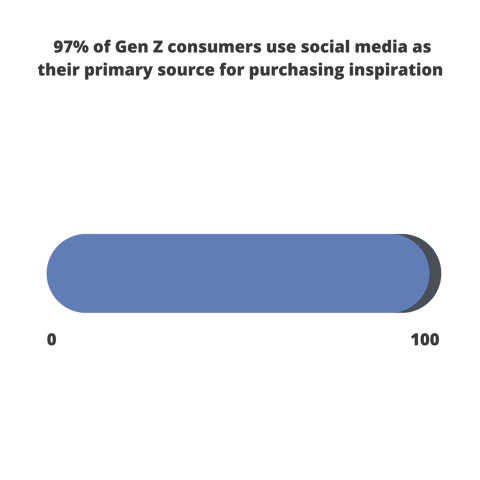 Streaming music, tv, and movies
Whether listening to music or watching movies, Gen Z likes to access their entertainment from online platforms like Spotify and Netflix. Could you capitalize on popular culture references by organizing themed nights or special events that talk to Gen Z's favorite bands, movies, or tv shows?
Traveling
Finding new experiences is a massive part of the Gen Z travel experience. And with more Gen Z ready to explore their own country again, there's never been a better time to promote 'staying local'.
Getting outdoors
Even though Gen Z spend lots of time online, they still like to get outdoors for activities such as hiking and camping. If you offer outdoor-based attractions or events, promote them, especially as an alternative to indoor activities.
Wellbeing
Gen Z is big on physical and mental health. While the traditional gym is still popular, other activities like meditation, yoga, walking and even rollerskating help keep this generation on the right track.
Make sure your on-site food and beverage options include some healthy choices, and think about how you could market more healthy activities or challenges. How about a trampoline park jumpathon for the ultimate test of fitness?
Which age group spends the most on leisure travel in the United States?
While Gen Z is more likely to return and add more value to destinations over time and, and right now, are primed to discover new and exciting attractions:
A recent survey by car-sharing company Avail found that 72% of Gen Z travelers are looking to spend big on leisure travel this year – with this generation planning to spend more, or the same, in 2022 than pre-COVID-19 times. This puts them ahead of Millennials (70%), Gen X-ers (67%), and Baby Boomers (61%).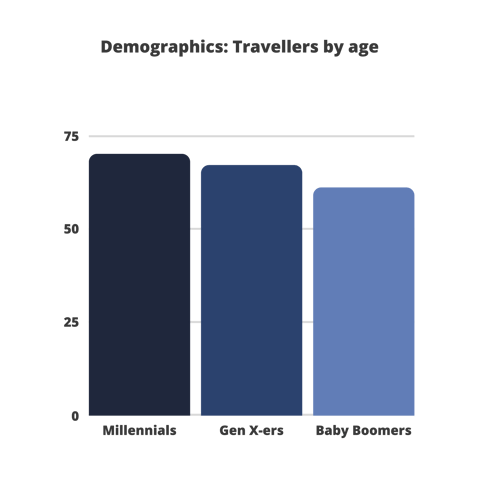 Gen Z travels an average of 29 days per year; that's nearly an entire month!
A trend survey from American Express Travel found that 65% of Gen Z respondents said they would rather take a dream vacation than purchase a new car. This is a crucial insight into the mindset of Gen Z, highlighting their preference to spend more on entertainment and attractions to have fun with friends and family over purchasing big-ticket items.
How much is spent on domestic leisure travel in the US?
Recent economic modeling by the World Travel & Tourism Council shows strong growth in 2022 for the US travel & tourism sector, which is excellent news for attractions venues.
How to target Gen Z guests
Now that we understand a bit more about Gen Z think about what your business could be doing to target Gen Z guests better.
We know Gen Z unique experiences, spends a huge amount of time online, and are ready to spend time and money in new places, so here are our top three tips for your business:
1. Be active on social media
To attract and retain Gen Z guests, you need to promote your attractions through the right digital channels: TikTok, Snapchat, Instagram, and Youtube.
Look at some popular accounts to see what content resonates best, then test different platforms and content types to see what works best for you. Hint: video content tends to have the most engagement.
2. Make sure your bookings are mobile-friendly
It's not only Gen Z guests that expect mobile-friendly booking, but they may not be as forgiving as other guests who grew up with more traditional booking methods such as phone and emails.
A great mobile booking experience will help you see more Gen Z guests arriving through your doors.
3. Tailor your product offerings to your Gen Z audience
With Gen Z chasing new experiences, it's your chance to have some fun and think about creating special theme nights, exclusive events, and other one-off activities that will help put your business on the map.
And if you're unsure where to start, think about running a simple poll on your social channels to help get the conversation started.
By better understanding Gen Z's needs and wants, you can more effectively tailor your marketing with the right voice and channels, resulting in more Gen Z guests, hopefully promoting the experiences you're offering to their peers.