Generation Z (Gen Z) is the generation referred to as being born with a phone in their hands.
How does this matter to your venue, you ask? Well, Gen Z has grown up! They are the largest generation ever, comprising around 20% of Australia's population and almost 30% of the world's population.
And they are currently the generation that is most interested in shopping. Couple this with being at the age where they have started generating disposable incomes. You have a very eager and ready-to-spend generation﹘looking for the next attraction or experience to invest in.
As we will discuss in this article, while Gen Z is only one portion of your audience, this portion has the power to have a larger impact than you might realize.
The future of buying and selling is based largely on this generation, as they are our future consumers, so understanding their buying habits and tendencies could give your business a real leg-up.
In this piece, we will go through who Gen Z is and how their buying ideas and habits are affecting the marketplace today, and how you can best adapt to make the most out of this section of your audience.
Read this next: Gen Z Travel Trends & Statistics in 2023
Who is Gen Z?
There is no exact date range, but Gen Z generally includes those born from around 1995 to the early 2010s.
For their entire lives, they have had some form of technology around them. Because of this, and of how rapidly technology advanced during their growing years – they are very technologically-savvy.
It has become second-nature for this generation to turn to technology when making decisions: to find all the options and cross reference them.
Being the unlimited source of information that the internet is, this generation is exposed to a whole new level of information and influence as opposed to previous generations.
Why you should consider Gen Z shopping habits
The aforementioned factors have created a new type of shopper and consumer, and these shoppers are the most active and engaged group of your audience.
Gen Z are shoppers that have a huge number of options at their fingertips - and catering to this generation will mean that your in-store and online experiences will have to be equally as engaging. And more engaging than your competitors.
Perhaps contrary to some commonly presumed Gen Z personal traits (such as radical inclusivity, etc.,), they are actually quite pragmatic buyers.
They want to buy, but they are cautious. They saw their parents weather the GFC, and then experienced the coronavirus pandemic first-hand - with 70% saying that they are now more cautious with spending post-pandemic.
So as a venue, it is really important to ensure that your entire guest experience is optimized and frictionless - from when guests discover you/ purchase from you online, to when they enter your doors, and even after they leave (with surveys, etc.,). If not, you run the risk of losing this generation's attention and recommendations.
5 Gen Z marketing strategies to implement in 2022
1. Develop your product offering with sustainability in mind
Generation Z views shopping in a completely different way than previous generations. Shopping for this generation is about more than just owning an item. They care about what's happening behind the scenes.
Perhaps because they will be the ones to inherit the planet eventually, generation Z are critical shoppers. They care about where their products are sourced, how they are made and who they are made by.
They care about the planet and sustainability and are more likely to purchase from places who adopt these same ideals. In fact, 73% of Gen Z shoppers said that they would be willing to pay 10% more for sustainable products.
In the leisure and attractions industry, this might mean perhaps going paperless when it comes to tickets and wristbands, or switching to more eco-friendly food packaging.
Some interesting statistics about Generation Z and their online shopping habits:
Gen Z is a passionate generation, so it's important to ensure that your business recognizes this and how you might be able to implement correlating change within your operations.
2. Offer guests the ability to pay as they want - BNPL and digital wallets included!
Since the beginning of the pandemic, 123 per cent more Gen Zs have used BNPL than before, the strongest uptake of any generation.
[And] in April 2021, one-third of Gen Z said they are likely to use BNPL solutions in the future.
So it's safe to say that these types of payment solutions are the way of the future. In order to process these kinds of payments though, you need a payment processing system which supports these options.
How to set up BNPL in ROLLER
ROLLER Payments is a fully integrated, unified payment processing software. It allows for online and in-store payments, and empowers leisure and attractions businesses to unlock real value in every merchant transaction, and deliver a frictionless guest experience.
ROLLER Payments lets your customers pay in the way that they want to. You can pick and choose which payment methods you want to accept, and activate them on your platform, all with just the flick of a switch. BNPL and digital wallets included!
All you need to do to add this option to your checkout via Venue Manager is:
Select Allow 'pay later' method
Enter the payment method name e.g., "Pay in the park"
Add Payment instructions e.g., "Payment required in park at time of entry"
Click Save.
Read this next: Point of Sale (POS) Marketing: 7 Tested Ways To Increase Sales
3. Advertise on social media and apps
So it might be worth investing some of your resources into marketing on social media. Perhaps even consider influencer marketing, and have a think about which kind of influencer could help your brand.
If your business isn't utilizing social media and apps to their fullest potential, you could really be missing out!
4. Provide access over ownership
The term 'consumption' means something different to Gen Z than it does to other generations - although these generations also appear to be following suit.
Consumption for Z is increasingly meaning access over ownership. Access is becoming the new form of consumption. They want access to ongoing subscriptions, deals, memberships, etc., and they want control, but they don't necessarily want full ownership all the time.
For example: Uber over car ownership - or even long-term car rental over purchasing the car; leaving room for change of mind and removing the extra stress that comes with total ownership.
Counterintuitive as it may seem - merchants can actually benefit from this. A car manufacturer, for example, can put a larger emphasis on renting out their cars as opposed to always trying to sell them.
In this way, they will 'sell' one car for a short period 200 times, rather than just selling 100 cars once. It's all about choice and providing flexibility for this generation.
As an operator, you could adopt more flexible membership policies, and allow guests to pay for these memberships as they feel most comfortable - for example, offering BNPL and digital wallets options.
5. Measure and understand your guest feedback
Gen Z wants to ensure that they're not wasting their time and money on products and experiences which are lacking - because there are so many other options to choose from.
That's why 63% attest to recommendations from friends as being their most trusted source when it comes to discovering new brands.
Without a recommendation or a review, this generation is unlikely to come your way. And with publicly visible bad reviews, these chances are even slimer﹘no matter how good your marketing campaigns are.
That's why measuring and understanding guest insights and feedback is invaluable.
How to utilize guest feedback to enhance the guest experience
At ROLLER, we offer a sentiment analysis tool, Guest Experience Score (GXS). In a few clicks, you can unlock valuable insights from your guests to drive repeat visitation and grow your business.
This tool can enable your team to action feedback quickly on areas that require improvement and prevent critics from giving negative ratings on public review sites. Your swift response can leave a lasting impression and encourage repeat visits. You can then use these actionable guest insights to help adjust your operations and maximize guest satisfaction and revenue.
How to collect guest feedback with the GXS
Activate the GXS by following the below steps:
1. Venue Manager > Guests > GX Scores.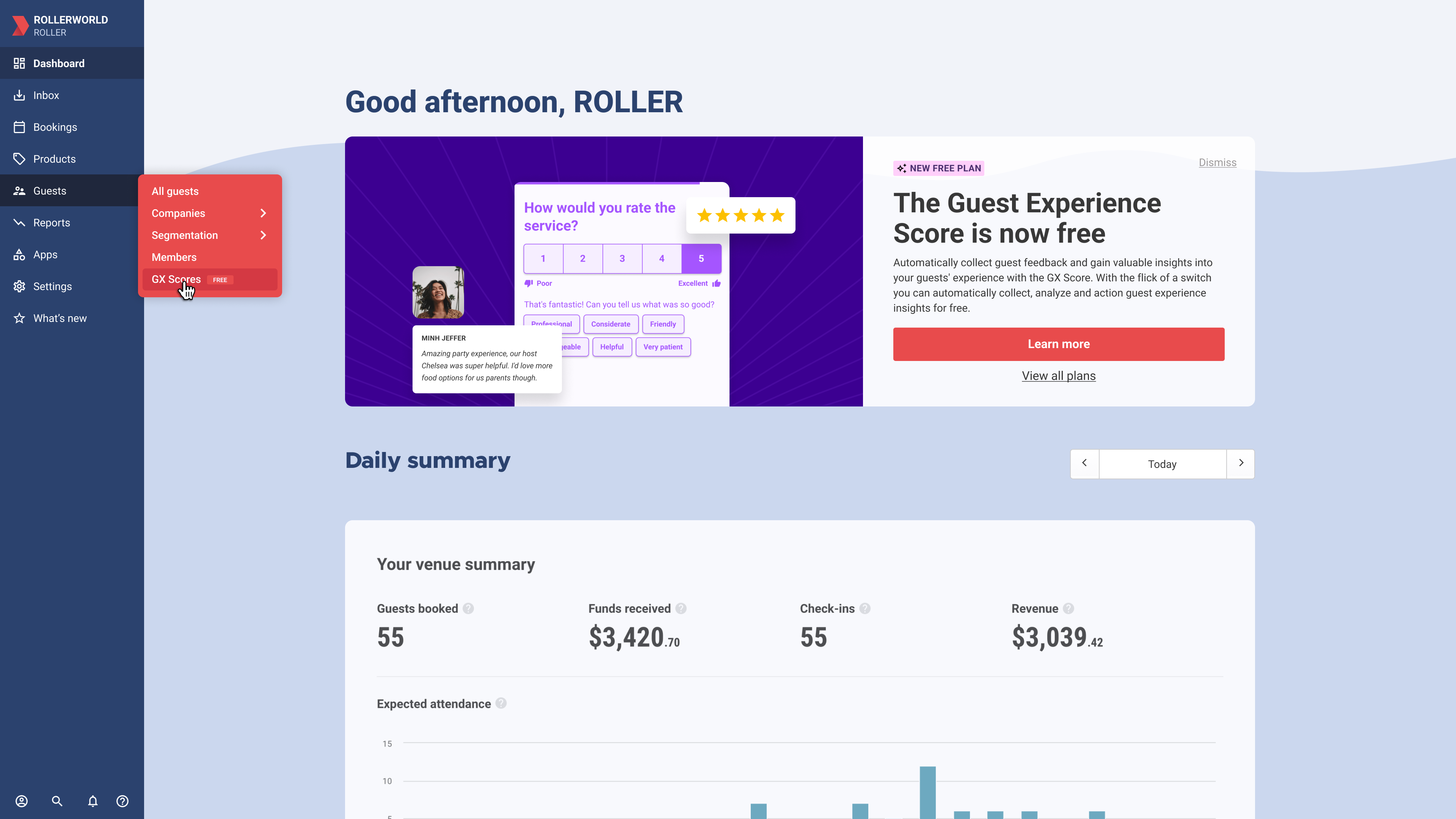 2. Proceed to enter your guest survey preferences, then click save.
Your survey is now set up! This is how your survey will appear to guests: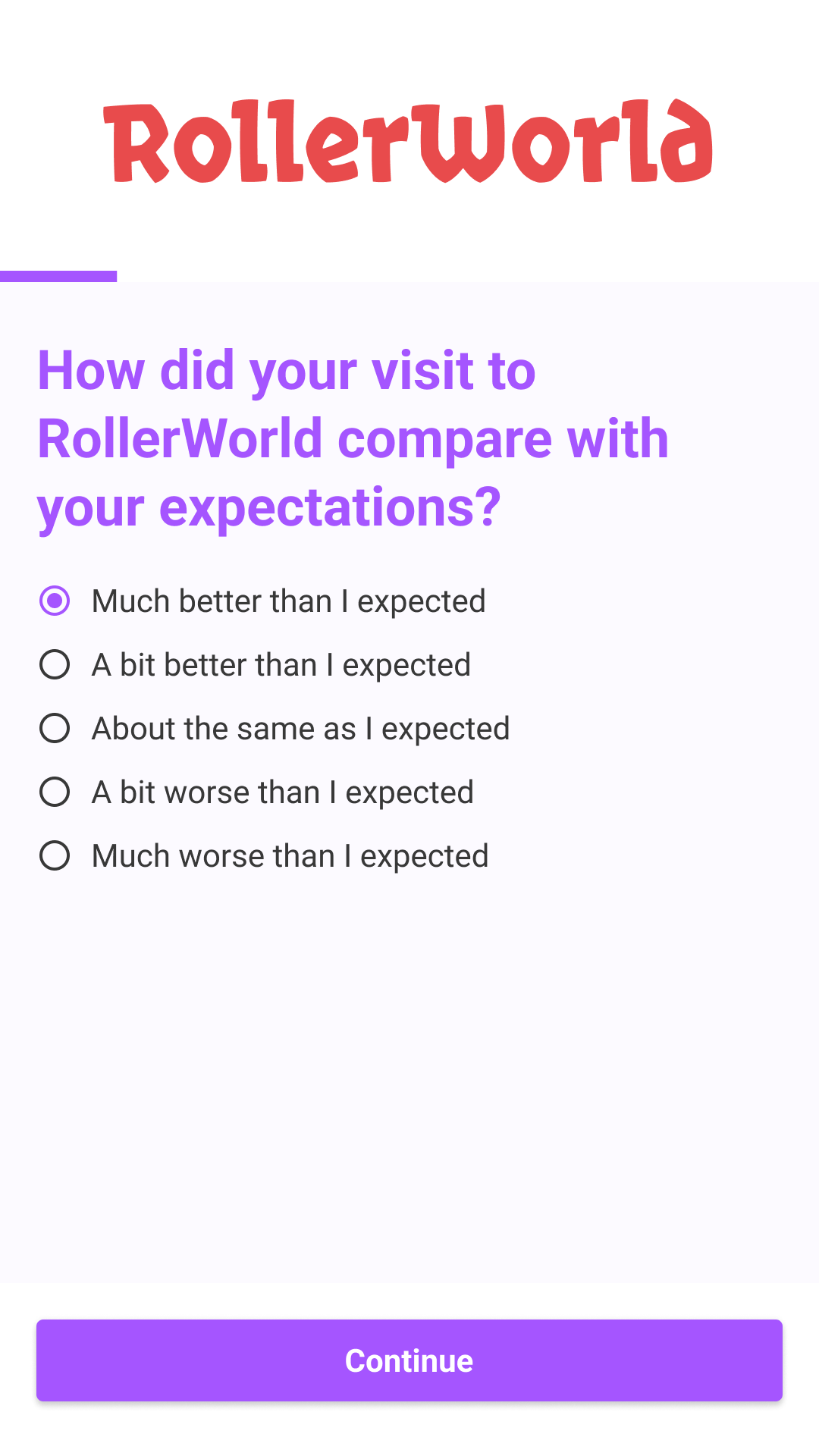 Learn more about collecting guest feedback here.
How to analyze guest data with ROLLER
After your guests have completed their surveys, you can view all of their insights and responses in Venue Manager.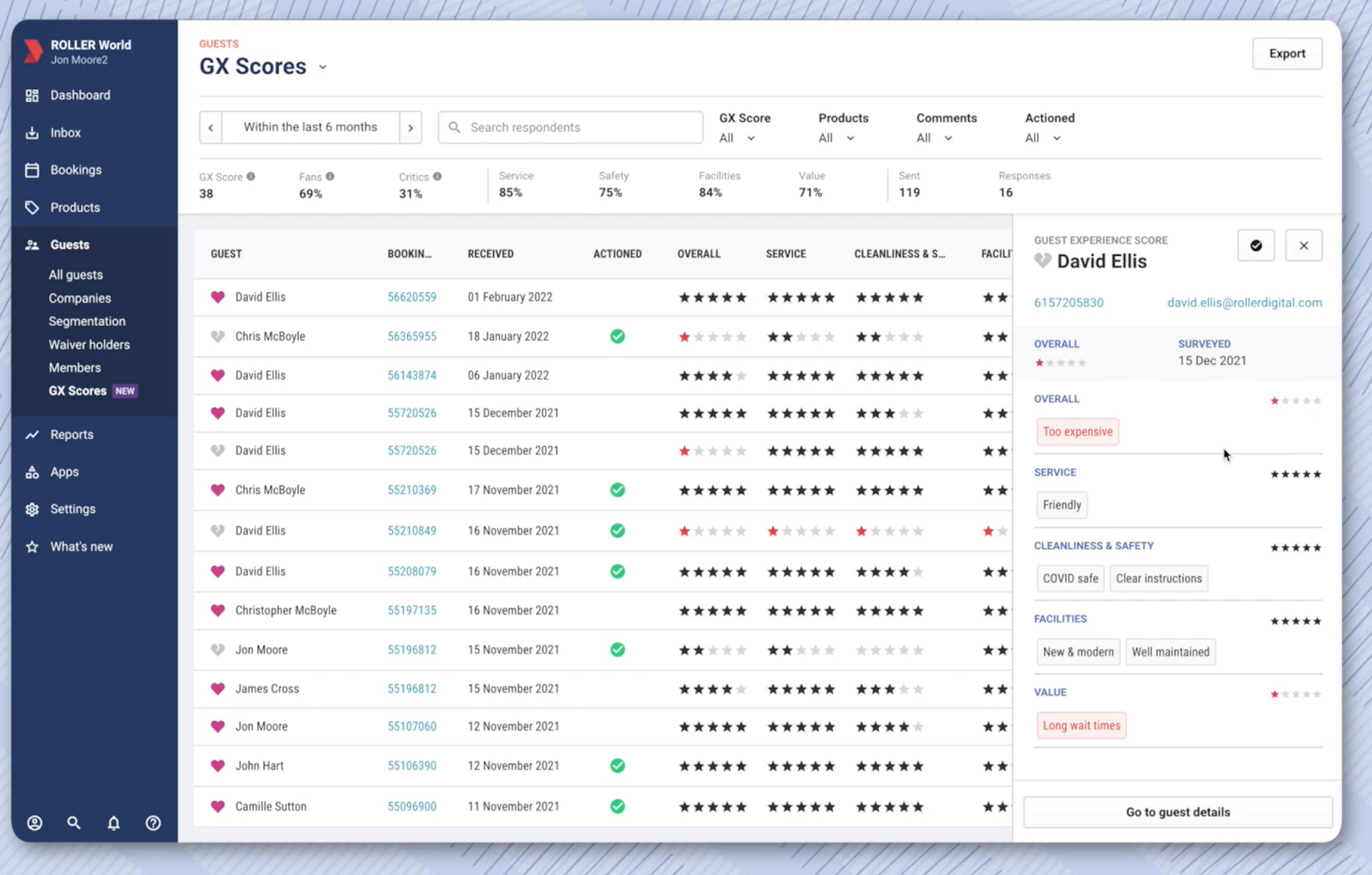 Learn more about analyzing your guest insights here.
How to action guest insights with ROLLER
You will also receive updates such as the below, alerting you to the reviews you've received.
With this information, you will have the opportunity to address any shortcomings before reviews have time to go public.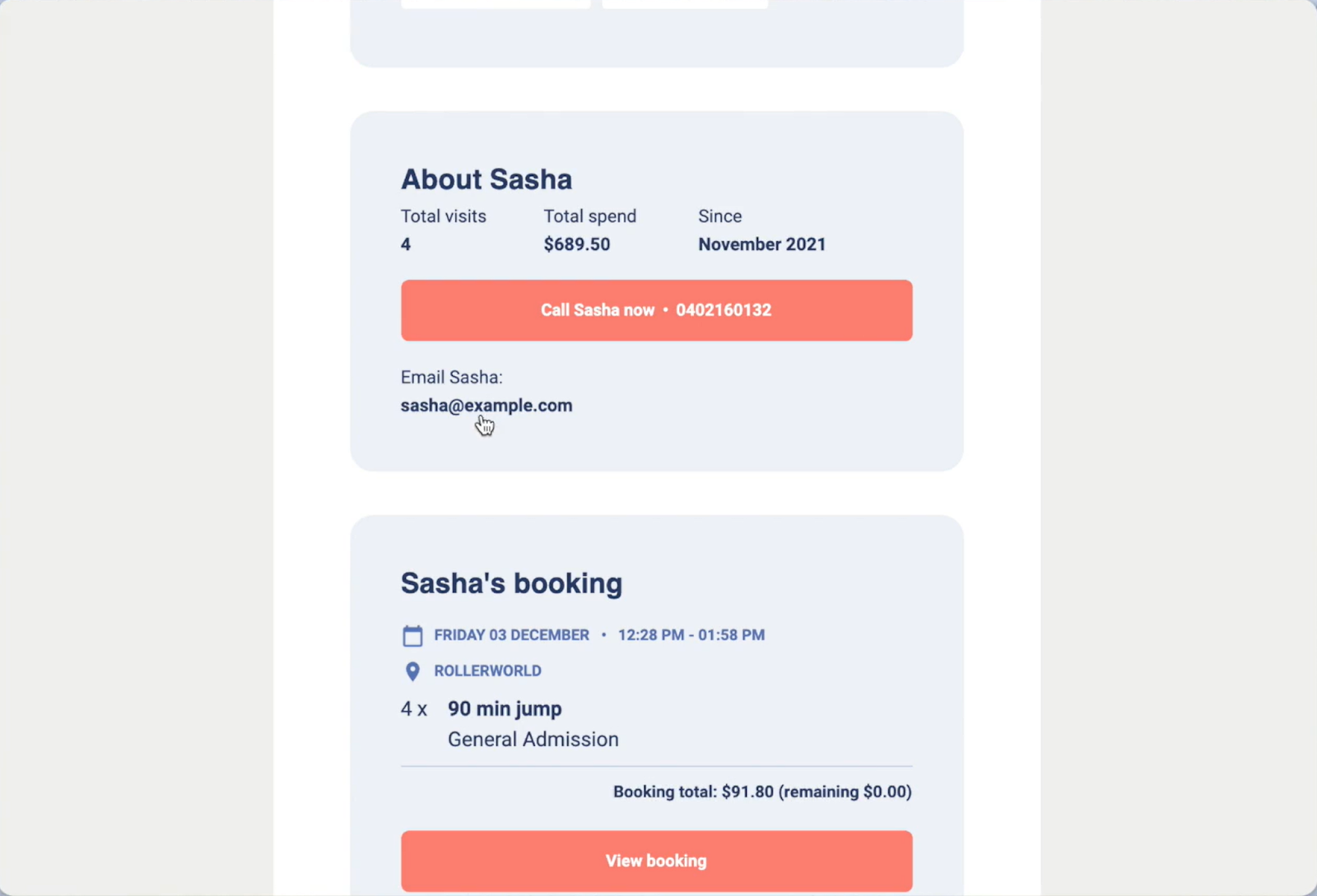 Learn more about actioning your guest insights here. Learn more about the Guest Experience Score here.
How to use our new Guest Insights feature
We have an exciting new Guest Insights feature that has recently been released! It can help you understand and action guest sentiment better by enabling you to:
View what guests love about their experience
See which aspects of your guest experience can be improved
Identify how guest sentiment is trending over time
Eliminate the guesswork out of delivering exceptional guest experiences
Here's how!
Venue Manager > Dashboard > Guest Insights.
From here, you can use the filters at the top of the page to select the time period you'd like to report on. From the Timeline charts, you can visually track the real-time performance of your GX Score and Rating categories: Service, Cleanliness & Safety, Facilities and Value.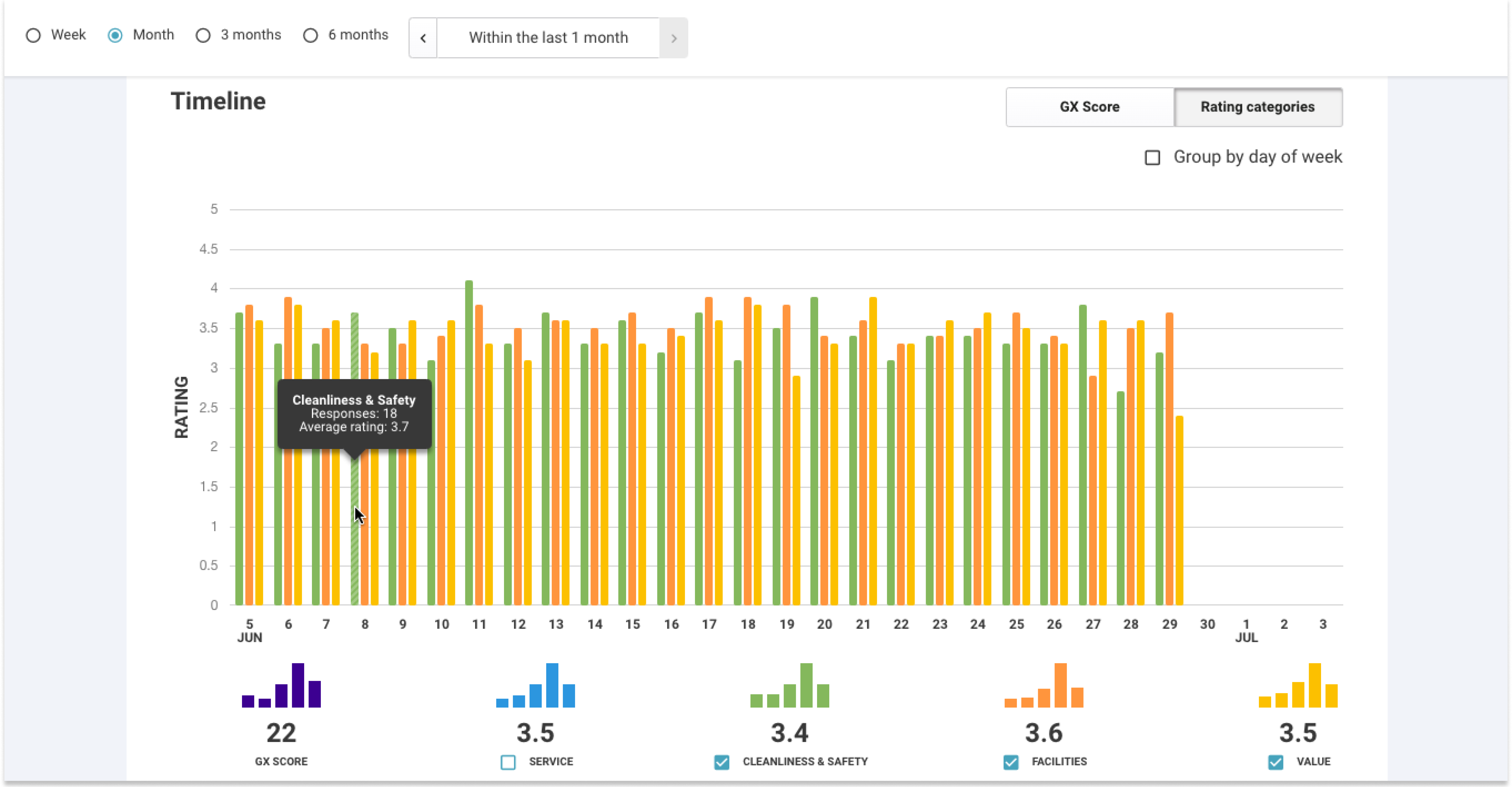 Learn more about the Guest Insights feature here. Here, you can find the Product Release update regarding the Guest Insights feature (and more!).
Adapting to increase engagement and conversions
Gen Z is the generation of options when it comes to shopping. They are comfortable comparing multiple options online until they land upon the one that feels best to them. They want to shop wherever, whenever, on any device, and they want to pay as they like.
To get the most out of this new generation of guests, ensure that you have taken the time to understand their needs and how and why they make certain purchasing decisions.
Make sure that the systems you adopt to assist you in running your business provide a seamless and engaging experience﹘all the way from discovery to afterward when your guests happily fill out your post-attendance guest satisfaction survey.