Having the right amusement park software at your venue can help you operate more effectively, ultimately delivering a much better guest experience. How?
When you make it easier, and quicker, for guests to make an online booking you'll see an increase in sales. And when you greet them at your venue with no excessive queue in sight and are responsive to their feedback, you'll leave them wanting more.
That turns one-time visitors into raving fans who just can't wait to come back. Not a bad way to manage the guest lifecycle, right?
And like with most software, it's fair to say not all solutions are created equally, despite appearing to be similar in a feature by feature comparison.
When it comes to choosing the right amusement park software for your venue, you'll make a much better choice if you know the right types of questions to be asking when you're shopping around.
To help you feel more empowered in your decision making, we'll review what features the operators we speak to find most critical, the questions you should be asking solution providers and how to know when you've found the right fit.
What is amusement park software?
Amusement park software, also referred to as venue management software, helps leisure and attractions industry businesses to run their venue.
Often positioned as an all-in-one solution, amusement park software helps to manage the main areas of an attractions business like ticketing, point of sale (POS) and group bookings. It may also include other marketing and accounting based features like CRM, reporting and integrations with other software platforms.
Most amusement park software is also made up of a 'back-office' platform – which only the business operators see and interact with – as well as a customer-facing interface, which may also integrate with a venue's website for things like bookings.
10 features your amusement park software must have
We get it. You're busy running a business. And a great one at that. That's why it's important to have the right tools at your fingertips so that you can take confidence in knowing that your systems function seamlessly and that your staff finds them easy to use in your absence. Here's what to look out for:
1. Online ticketing
The online checkout experience is where your guest experience begins. To make this as frictionless as possible you'll need a simple and easy-to-use ticketing system; especially one that lets you sell tickets quickly and helps guests into your venue with ease.
Guests also want to be able to purchase tickets from their mobile devices, so it's important the software you use is going to be mobile-friendly.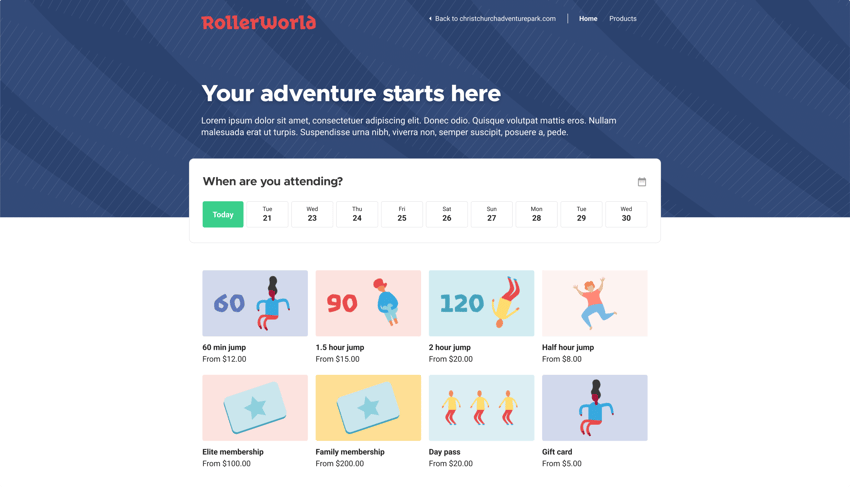 2. Digital waivers
Many leisure and attractions businesses require the use of waivers before a guest can participate in activities. And while this is important, the experience of managing manual waivers for guests and staff is one of friction, often causing excessive administration and bottlenecks upon arrival.
With a digital waiver feature your guests can sign waivers in advance, either using their smartphone or a self-serve kiosk helping to keep lines flowing and guests happy. You can also potentially capture more guest information and use this data for more insights into your day-to-day marketing.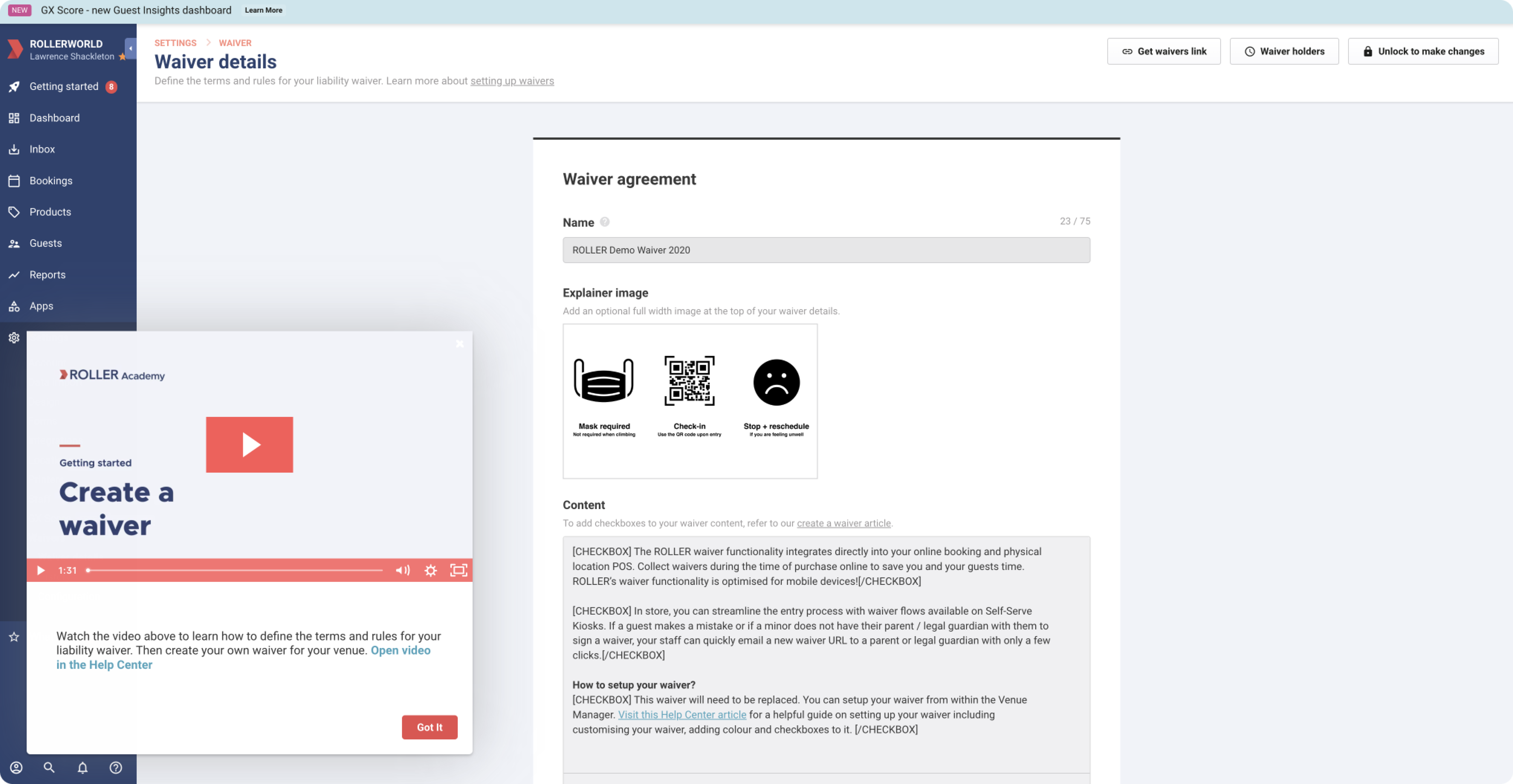 3. POS (point of sale)
An integrated POS (point of sale) tool helps you to manage your on-site purchases and bookings, including food & beverage items and other items your venue might sell.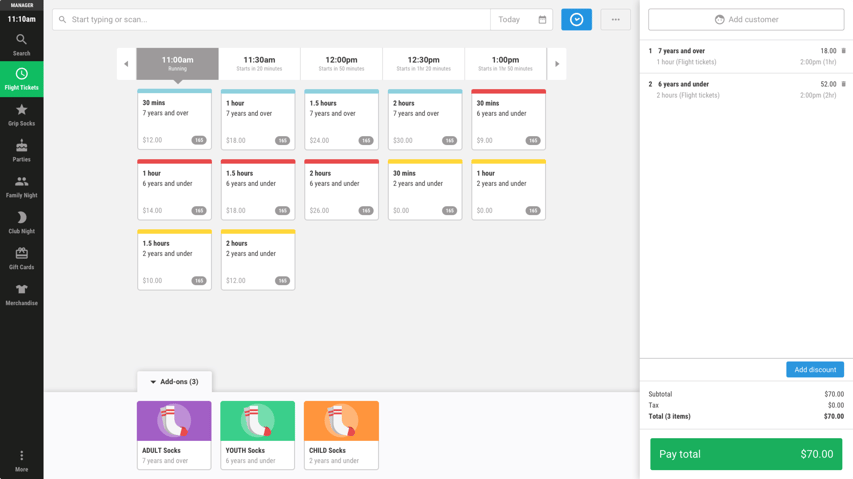 The right amusement park software includes POS functionality so you can manage walk-in ticket sales and online bookings, sell merchandise, food and drink and other products such as memberships.
It should also work well with your hardware, to help process transactions quickly.
4. Party and group bookings
Group bookings add significant value to your sales, so make sure you can manage larger bookings with ease. Minimize unnecessary admin through calls or emails and empower your guests to book their party or other group booking requirements online, at a time that suits them.
5. Membership management
Memberships are a great way to generate more predictable, recurring revenue! So the software you use should make it as easy as possible to set up and manage memberships.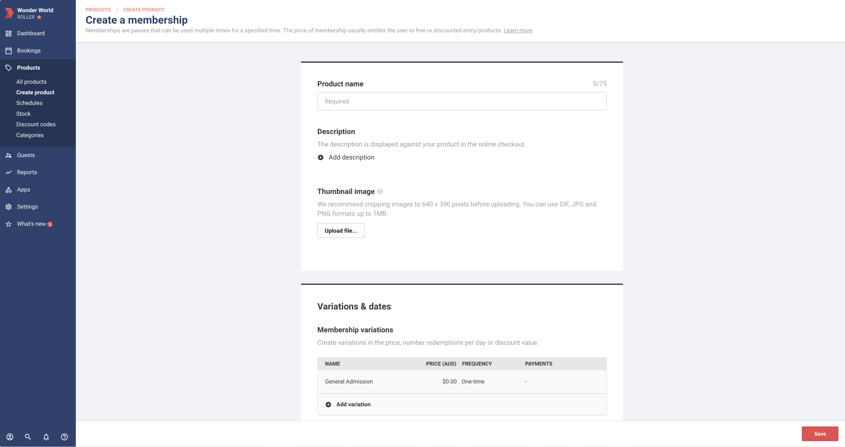 Ideally these membership management features allow guests to easily purchase memberships online or in-venue, automatically apply discounts and other benefits at checkout and manage recurring monthly or annual membership payments.
6. A way to collect guest feedback
Collecting guest feedback is more important than ever, with online reviews having huge influence over a guest's decision to interact with your business. And while there are some standalone feedback tools out there, you really want an integrated option that works from within your amusement park software.
A guest sentiment analysis tool like Guest Experience Score, will make it easy to collect, analyze and action your guests' feedback. Not only does this deliver valuable feedback to help drive repeat visitation, but you can quickly act on any negative guest experiences thanks to instant alerts.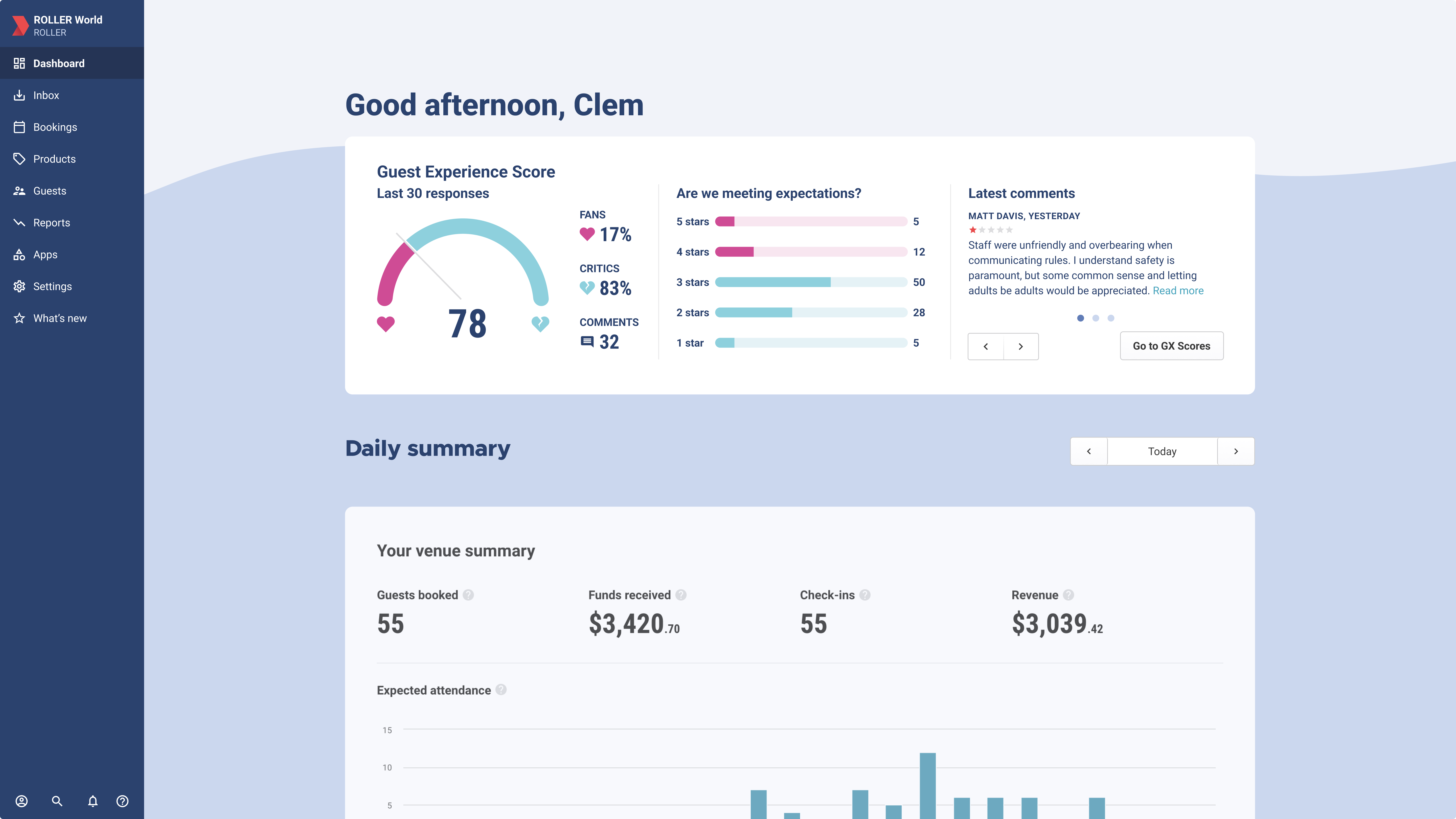 7. CRM functionality
Understanding your guests is everything. And with a CRM, or Customer Relationship Management, function you can get a much better understanding of who your guests are – with detailed insights into purchasing information across your website and in-venue.
A CRM also gives you the tools to segment your customer base so you can create more effective and personalized marketing campaigns. For example, you could categorize your guests based on spend, number of visits, their top product purchases as well as other helpful data points.
Read this next: Point of Sale (POS) Marketing: 7 Tested Ways To Increase Sales
8. Integrations
Most software platforms will reach a natural limitation based on standard product features and resourcing capacity, but the good news is that many will offer integrations with other popular platforms, helping to increase overall functionality. Integrations can unlock additional opportunities especially when it comes to more advanced financial reporting and working with other third party platforms such as experiences marketplace, Groupon.
9. Integrated payments
These days there seems to be more ways to pay for goods and services than ever before – from new contactless payment methods through to buy now, pay later (BNPL). And if your guests want to pay via a specific payment method, for example Apple Pay, then you shouldn't have to turn them away. The right amusement park software will let you pick and choose your payment methods, and also let you easily manage them from within the software platform.
10. Reporting
Having access to your customer and financial data is key to more effectively managing your business. And while reporting might not be something you think you need initially, it will ultimately be one of the more valuable features you use.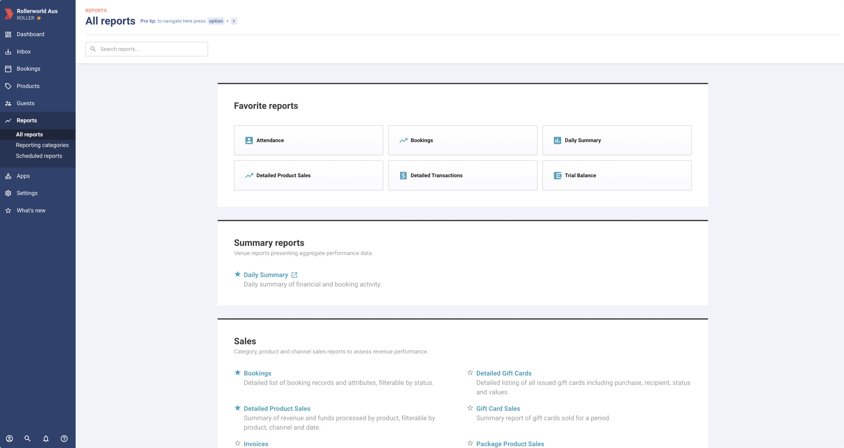 Having reporting as part of an all-in-one platform also means you are not managing multiple systems and can potentially access data from anywhere.
It's also likely that different people within your business will want to access and read reports, so some sort of automated reporting feature will also make this much easier for everyone.
How to choose an amusement park software vendor: 7 questions to ask
While it's important to look closely at the product information an amusement park software vendor provides, you don't just want to rely on this.
Another great resource is looking at software review sites such as G2, Capterra, where you can find unbiased customer reviews and comparison information on the more popular platforms.
There might also be industry organizations or networking groups that can also offer recommendations.
Have a look at the types of customers an amusement park software vendor has, often these are promoted on a company website, and see if they align to your business, and may also offer some great use cases into how others are using the same software.
1. Is support available?
It's one thing to have the software you need, but have a think about what happens if and when you need a little bit of help. Is the provider you're looking to work with simply selling you a tool or are they interested in building a long-term relationship?
Many platforms, while feature-packed, can also be tricky to get up-to-speed on, especially if you have standalone use cases. And as new product features get released you'll also want to ensure you have the support you need to be able to use them properly.
You'll also want to consider the types of support channels available to you as a customer. Is it just via email or chat? Is there phone support available? Do you need dedicated support through the services of an Account Manager?
Also where are support team members located? Are they in the same timezone as you? Is 24/7 support available? Another consideration is to look at the quality of self-help materials, usually located on the software vendor's website.
2. What is the pricing and are there hidden or ongoing costs?
Most software pricing falls under a recurring monthly or annual subscription cost. But there may be additional costs you're unaware of such as setup fees, transactions fees and costs for add-ons such as additional features or additional onboarding. It's a good idea to think about the way you will use the product and then ask as many questions as you can around ongoing costs.
There may also be discounts for paying an annual subscription fee upfront.
3. Is there training and implementation support?
Unless you have previous experience with the software then you'll usually need some training and implementation support to help you get up and running. There may also be specific requirements your business has in the way you want to use certain features, for example with different ticketed products you offer.
4. Is there a free trial?
Free trials are a popular way for new users to become familiar with software, giving you the chance to evaluate if something is right for your needs.
When undertaking a free trial, consider things like is the software easy to use on a day-to-day basis?
Do you have access to all of the platform features, or are you limited to a basic version, which might not be indicative of a real-life experience.
Of course it may take longer than the free trial period to fully get up to speed on all the features, so take advantage of any demos or product support available too.
5. How safe is my data?
If your business data is stored in the cloud, you'll want to know whether the software provider meets certain compliance certifications and standards related to data integrity and security.
Especially if you need to meet certain data privacy requirements based on where your business operates, for example the GDPR (General Data Protection Regulation) data protection laws for the EU.
If you're also using payments that integrate with the software then this should also meet certain requirements for encryption and security.
6. How do you manage multi-venue sites?
You might operate a single venue now, but think about your requirements as you grow. Can your amusement park software manage multiple venues with the same ease? Think about what you might need if you decide to scale your business in the future. Ideally your software can still give you the same consistency and control over multiple sites than it does with a single venue.
7. Will I be locked into a multi-year contract?
While hopefully the amusement park software you choose will be a good fit for your business, you also want to make sure you aren't locked in long, multi-year contracts. Can you upgrade or downgrade pricing tiers with ease? Are there cancellation fees if you decide to change vendors? What's the minimum commitment for new customers?
Finding the right amusement park software will likely be a combination of finding the right features, support and pricing – and of course, asking the right questions. When investing in software, consider the bigger picture too.
Aside from any specific features, it should be bringing multiple benefits to your business operations – saving time, streamlining processes, delivering business insights and perhaps most importantly giving your guests an even better experience. And all of this together will be a surefire way to grow your business.