ROLLER's all-in-one platform is purpose-built for growing attractions to save you time, increase your revenue and deliver a seamless experience to your guests.

This month we have several new and upcoming features to help you achieve these goals. Check out our Product Spotlight webinar below, or keep scrolling for a summary.
At ROLLER, we continue to invest in our platform to help you:
SELL your experiences
SERVE your guests
MARKET your business; and
MANAGE your operations.
Let's explore the latest updates in each of these categories.
SELL
What's New
Progressive Checkout
Last year we released our Progressive Checkout, designed to help you optimize conversion rates by providing your guests with an engaging, mobile-friendly online checkout experience.

Since launch, we've introduced enhancements to help you increase average transaction value:
Charge upfront for mandatory fees or extras, like membership admin fees or jump socks
Give guests the flexibility to purchase custom-value gift cards and wallets Available for all ROLLER Payments customers.
Party Packages
Parties make up over 20% of our customers' revenue but can be time-consuming and stressful to sell. Our new party packages will reduce average checkout time by 30% by automatically calculating party inclusions like food and beverage without requiring guests to complete any forms.

Available on all plans.
Coming Soon
Online Accounts
Reduce pressure on staff during busy periods by giving your guests control over their own bookings. Guests can view purchases, cancel memberships and add payment methods by creating an online account.

Coming soon to all plans.
Online Food and Beverage
Set up a QR code for guest food and beverage orders to reduce pressure on staff at the POS terminal. Not only will this improve the guest experience by eliminating queues, but it could increase revenue, as spend per order is typically 29% higher online.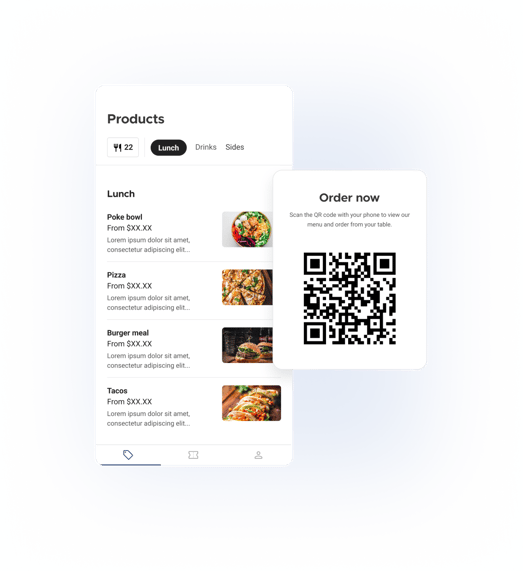 Coming soon to Premium and Enterprise plans.
SERVE
What's New
Guest Experience Score Industry Benchmarks
See how your Guest Experience Score compares against other venues in your industry – either in your region or globally – to identify areas for improvement and where you excel against the competition.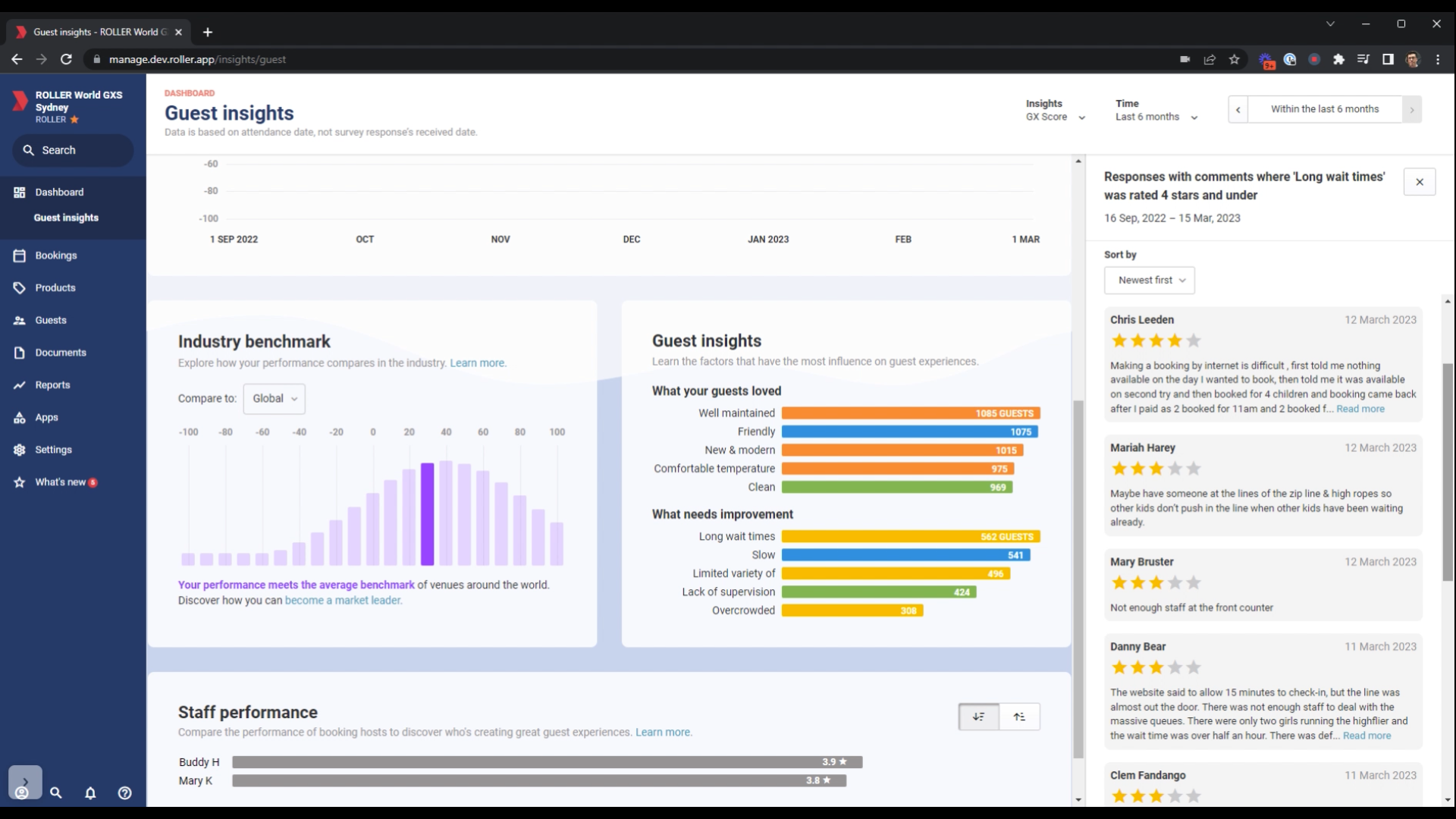 Australian Sports Museum has already applied these benchmarks to provide recommendations to its board about leveling up its guest experience. "Because we have the data to back it up, it's become a lot easier to get help and support," says Training and Services Coordinator Tom Reed.

Available on Guest Experience Score Lite and Pro plans.
Guest Flags & Bans
Flags and bans help your team share personalized guest information and customize your service accordingly. Use flags to provide a VIP experience to high-spending guests, adjust levels of care for guests with medical considerations, or ban difficult guests from your venue.

Available on Pro, Premium and Enterprise plans.
Coming Soon
Wristband Management
Configure your venue's wristband options to automatically identify which color wristbands need to be allocated to your guests when they arrive, so you can speed up queues and better manage the flow of guests.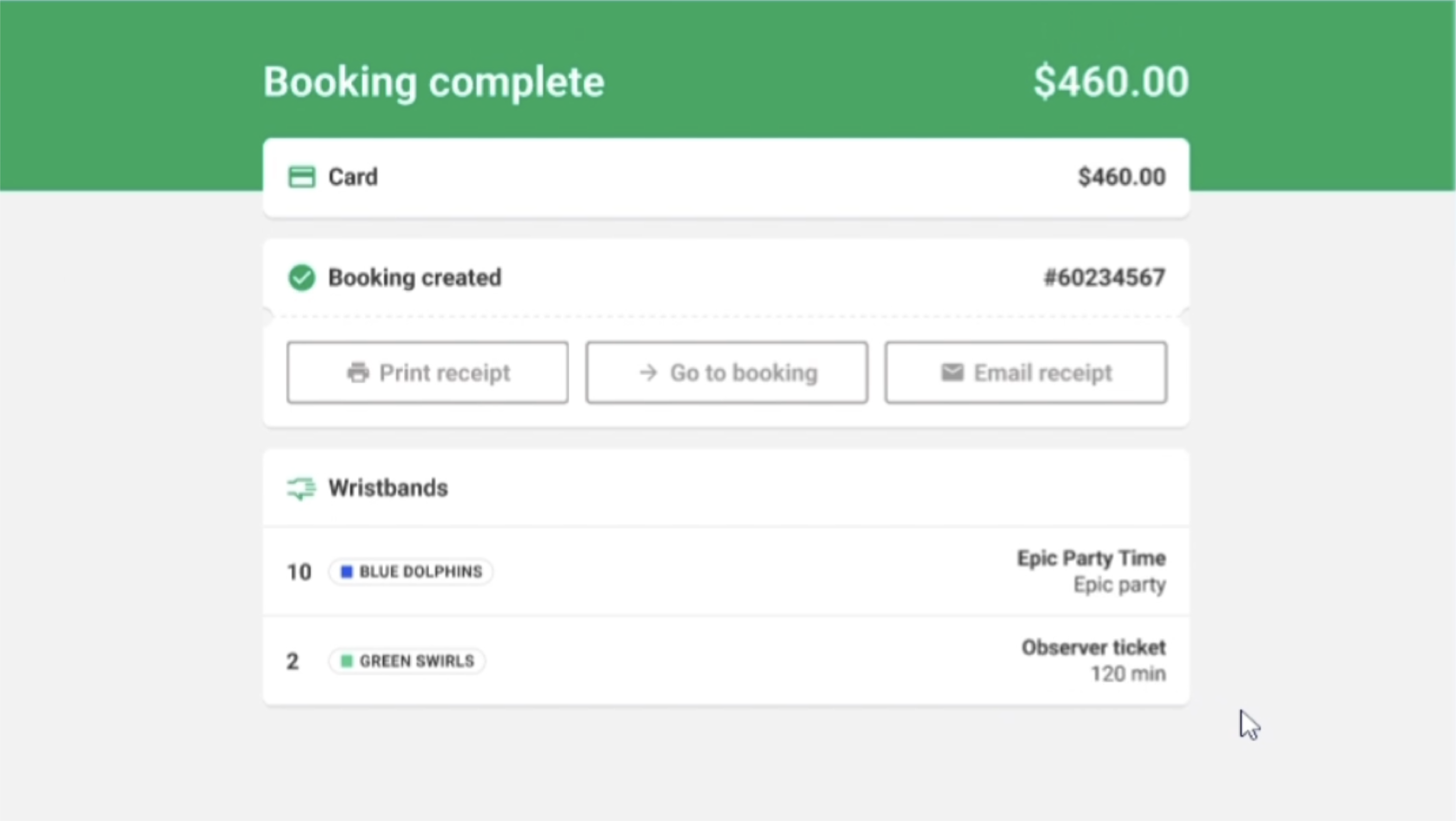 Coming soon to Pro, Premium and Enterprise plans.
Guest Party Invitations
It's critical to get large parties through the door on time, but it can be stressful when groups show up without waivers completed. We're working on a way to ensure party guests complete waivers ahead of time to maximize group booking efficiency - stay tuned for more info.
MARKET
Coming Soon
Custom Email Domains
Customize your domain for emails sent from ROLLER, improving brand recognition and ensuring your emails stand out in your guests' inboxes.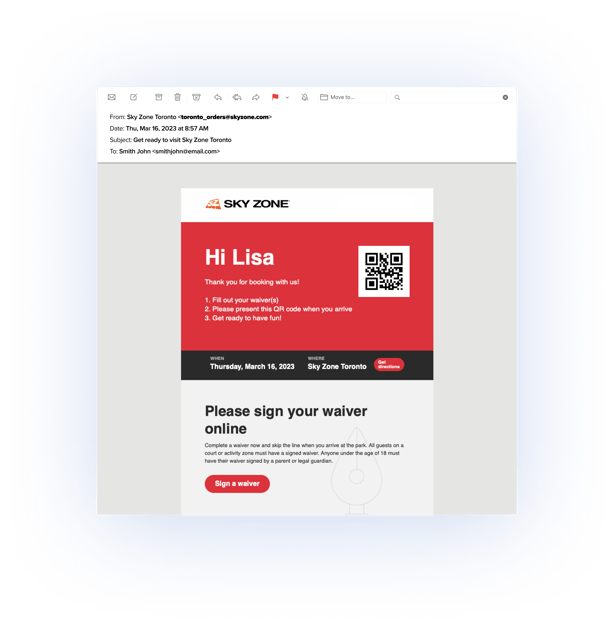 Coming soon to Premium and Enterprise plans.
Mailchimp Integration
Send tailored marketing campaigns to increase guest engagement and spend. ROLLER will automatically send all of your guest data to Mailchimp, allowing you to trigger automated campaigns like welcome emails and birthday discounts. This is the first of many integrations we'll release in our app marketplace.

Coming soon to all plans.
MANAGE
What's New
Booking Agreements
Protect membership revenue with our new booking agreement solution. You can prompt guests to complete a membership agreement when they purchase online or in-venue, making it faster to acquire new members and easier to resolve membership disputes.

Jaime Martino, VP of Programs at Sky Zone says this is a "game-changing enhancement" for them, especially on busy weekends. "It used to take us almost two minutes to sign up a new member; now it takes about thirty seconds."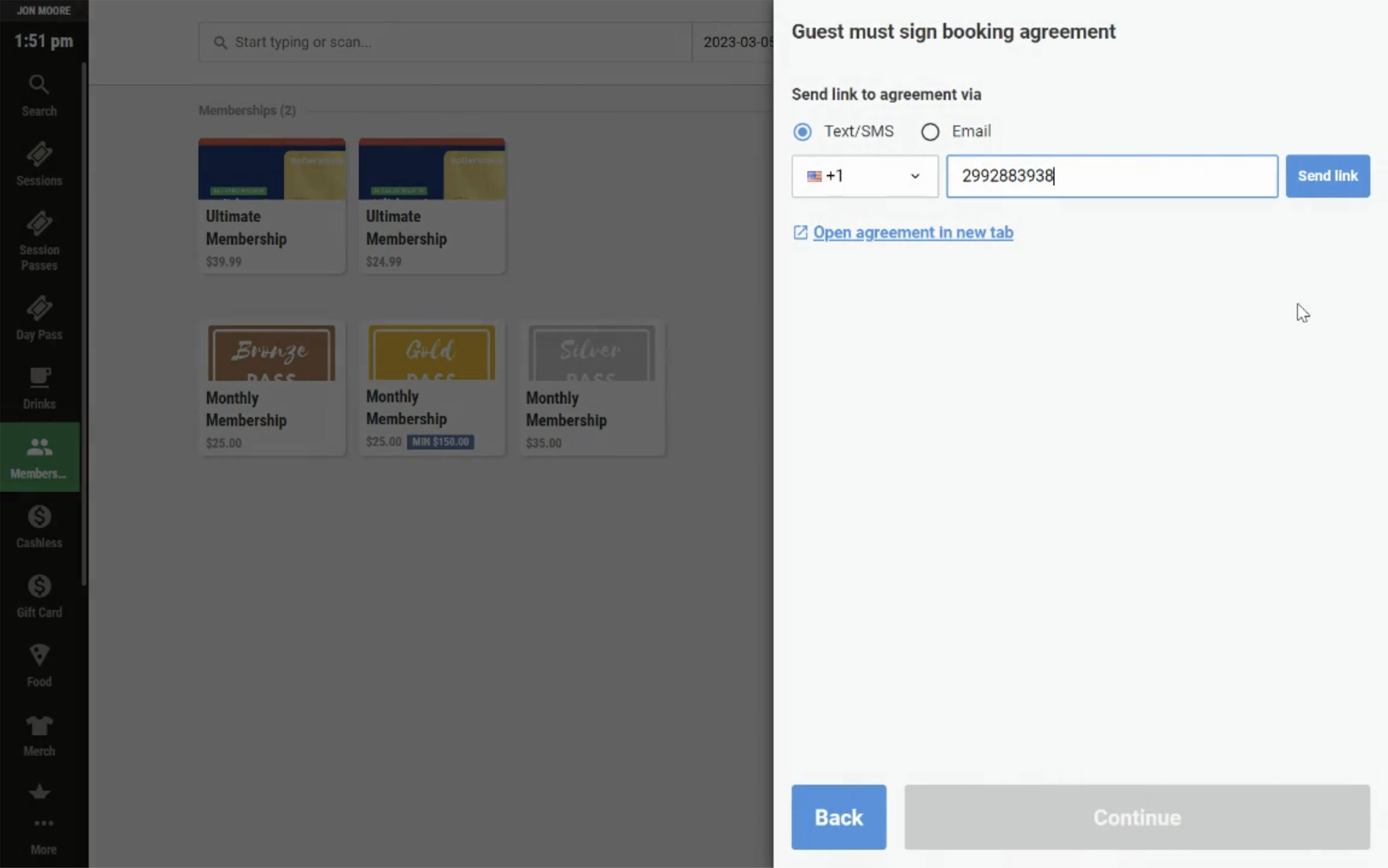 Available on Premium and Enterprise plans.
POS and SSK Templates
We've reduced device set-up time by making it easier to apply a template to a POS or Self-Serve Kiosk device. Plus, you can now apply a template to an existing device at any time, avoiding manual edits if you need to repurpose a device.

Available on Pro, Premium and Enterprise plans.
Admin Staff Alerts
We've added alerts to notify owners and management when a staff member is granted administrator access to your ROLLER account to help keep your account secure.

Available on all plans.
Centralized HQ role management
With centralized HQ role management, you no longer need to create custom user roles at the individual venue level. You can now save time by instantly updating staff permissions across all locations to ensure permissions are always up-to-date.

Available on the HQ Pro plan.
HQ Reports
Reduce the time you spend on reporting with these improvements to HQ reports. It's now quicker to access the same report across multiple locations and easier for the head office to identify manual errors or outdated details across venues.

Available on the HQ Pro plan.
Fraud Protection
We're utilizing machine learning to notify you of any suspicious staff behavior regarding refunds and discounts, so you can identify and address problems early.

This is currently in a free trial beta for all customers and will be sent to you via email if an anomaly is detected.
Coming soon
HQ Device Templates
POS and Self-Serve Kiosk templates can be applied from HQ level, ensuring consistency across locations and saving time when product menus inevitably need updating.
Coming soon to the HQ Pro plan.
Share Your Feedback
Customers can submit feature requests and vote for product ideas via our ROLLER roadmap. You'll also see which features have been selected for development and what progress is being made on them.

Click the Help icon at the bottom of the left-side menu from Venue Manager, then select What we're working on.

For more information on these product updates, visit our Help Center.