When we speak with owners and operators of multiple venues, they typically battle one thing: time.
Growing an attractions venue to multiple locations is an exciting endeavor that catapults you into a new world of business management.
After all, you're now juggling additional staff, locations, equipment, and other requirements to
help your business run effectively. And while there's double as much work to be done there's still only one of you.
How do you take the time to oversee the operations of multiple venues – making sure you're enabling them to be equally successful?
To help you better understand how you can increase operational efficiency when managing multiple venues, we're breaking down strategies to solve some of the most common challenges we see.
1. Avoid silo syndrome
While opening up new locations can be exciting, if not properly managed, these venues risk falling victim to 'silo syndrome.'
Silo syndrome is where each location interacts mainly within its own 'silo' rather than with all of the other locations. Although this can mean that the venue functions well on its own, it does not contribute to the overall growth of the business. This is because operating in this isolation can be damaging to further expansion.
Issues such as duplication of cost and effort, insufficient/ incorrect knowledge transfer and lack of synergy are all dangerous traps operators who run their venues in silos face.
2. Adopt systems designed to help your business grow and enhance the guest experience
Imagine being a guest at your venue and seeing staff using out-of-date, slow technology to check in, and organize their experience. Think about the queues your guests will have to wait in, and then the actual wait at the counter while their order is processing. These irritations can all add up and significantly take away from the enjoyment of attending your venue.
Think about if you had to go through all of the above﹘would you come back?
Having old, and out of date venue management systems can really hold your business back from growing in a meaningful capacity. Remember all the times you've spent tending to tasks thinking 'there's got to be a better way'? Fortunately, there is.
With advanced, modern (optimally, cloud-based) systems, you will be able to operate your business with ease and provide the kind of guest experience that you've always wanted. One of the great benefits of having the right tools at your disposal, is that you can get a holistic view of how your venue is operating.
With the right tools in place you can:
More effectively manage and maximize your capacity
Optimize your checkout experience to increase conversions, and
Measure guest sentiment data to identify areas that are going well and where improvement may be required
Additionally, a cloud-based system allows you to make real-time adjustments to tickets, session times, inventory, stock, etc.! Plus, having one instead of multiple systems to manage your business requirements can infinitely uncomplicate your operations.
3. Use great queue management systems
What is this, you ask? Queue management systems use software and hardware technology to help manage guest capacity, admissions, and movements within your venue.
Specific functionality might include self-service check-in, appointment scheduling, on-site self-serve kiosks, customer feedback surveys, and reporting analysis.
These systems are GREAT for removing the friction from the guest experience of waiting in line for any number of things, from tickets to food and beverage items.
Less friction = happier guests.
Happier guests stay longer, and spend more.
Then they come back, and they tell their friends and family to come too.
4. Try digital concierge software
Digital concierge software is a type of guest experience technology that uses artificial intelligence to assist guests while engaging with a physical location or venue.
It is accessed by a guest's smartphone or tablet device and delivers conversational and contextual assistance to better meet guest needs.
Many will direct message the guest in real-time, making answering guests' questions smooth and much more convenient. The result? Increased guest satisfaction!
In some cases, digital concierge software can manage bookings, sell tickets, upsell products, and look after food and beverage orders﹘allowing you to better promote your own products and services with ease!
5. Use reporting data to make better-informed decisions
Your reporting data holds real value when it comes to gaining insights into where things are going well in your business and where they could improve.
Your reporting data can show you how your guests behave and interact with your business and trends in the guest experience.
These can all come together to help uncover new opportunities or address problem areas. For example, this data can help you identify any seasonal or location-based trends that can assist you in future business planning regarding allocating resources, inventory, etc.
You can find some other interesting ways to improve your guest experience here.
6. Set up bulk updates and bulk discount codes
As an operator who manages multiple locations, does it sometimes feel like a waste of time to manually input the same operational change across all of your venues, over and over again?
We heard our customers' frustrations on this issue, and so we set about creating a simple and effective solution.
There's no need to recreate products for each venue manually anymore; with Bulk Updates, you can simply create and edit products from a single HQ account and choose which items should be available at each venue.
You can also set up staff permissions and control exactly what you want each team member to have access to on the platform.
Additionally, thanks to Tag Manager, you can apply tags to venues for easier product catalog management.
How to set up bulk updates in ROLLER HQ
It's easy! Log in to Venue Manager > Products. Then select the product you want to edit, and press the Bulk edit button in the top right-hand corner.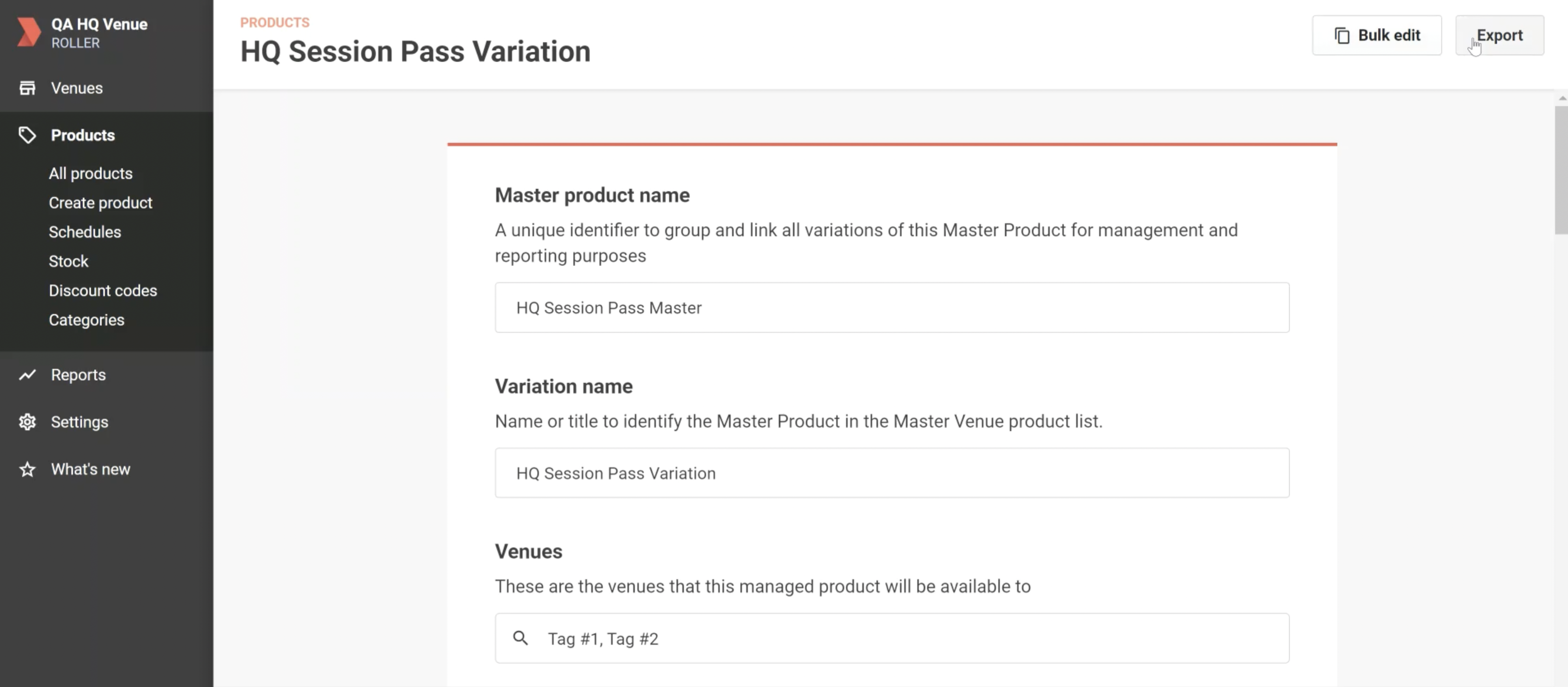 How to set up bulk discounts in ROLLER HQ
Simply follow the below pathway!
Venue Manager > Products > Discount codes > Create a discount code
Then select your desired HQ product and follow the prompts!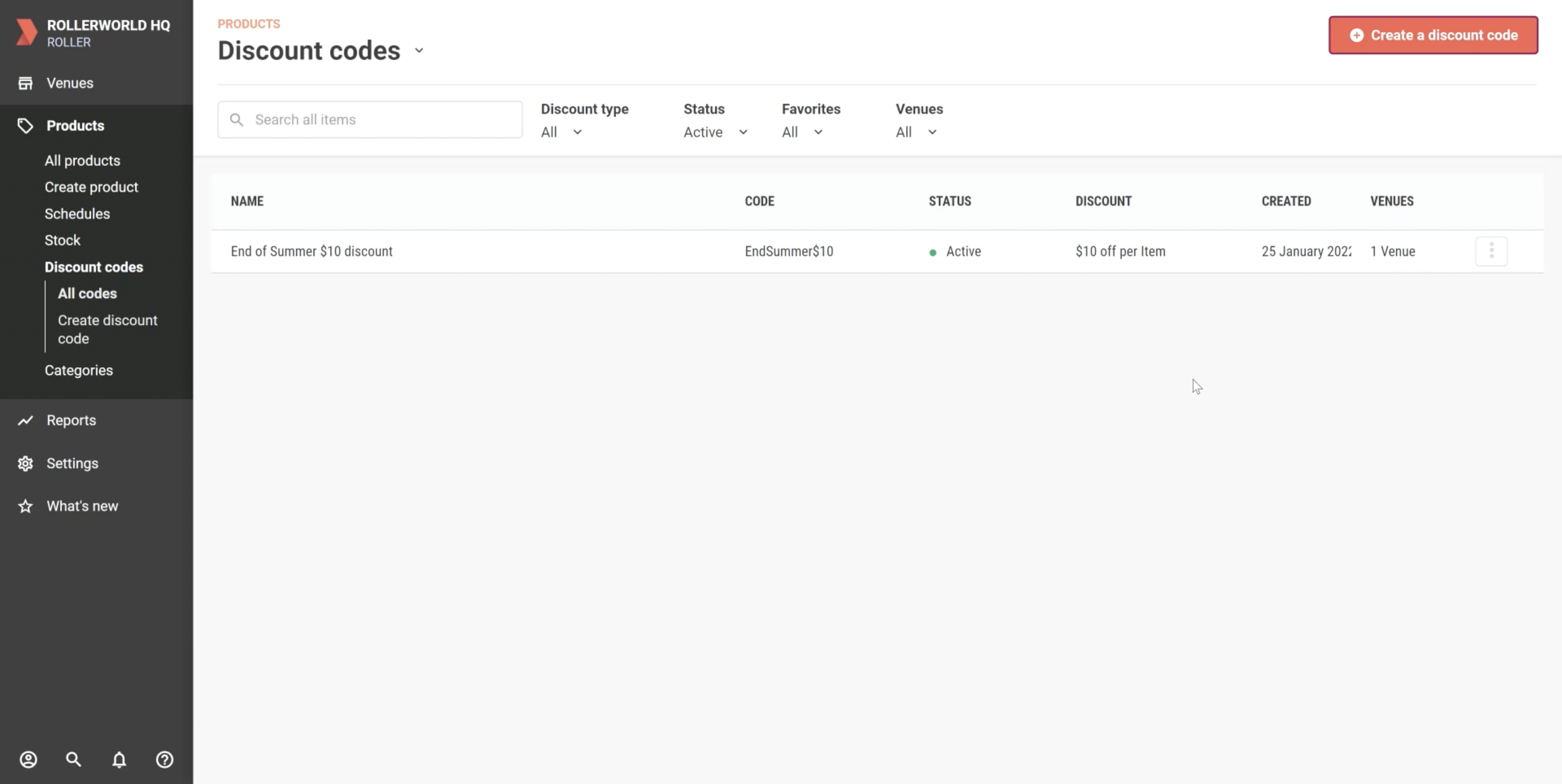 7. Eliminates the risk of manual errors
When making bulk changes to products in your system, every so often, human error will occur. It happens, but it doesn't have to!
Due to the aforementioned Bulk Updates, the chance of manual errors is significantly reduced.
Your staff will not be fiddling around and having to update multiple products anymore manually. Instead, they will only have to ensure that the primary change they input is correct, which will roll out identically throughout all selected products and venues.
8. Create a consistent look and feel
Creating a consistent look and feel across all of your branding is key. For one, it looks cleaner and neater. But also, consistency is much better for marketing purposes.
With HQ, you can maintain a uniform look and feel across your brand by choosing which product fields can be adjusted by individual venues. Controllable settings include branding, prices, package variations, session ticket settings, and more!
So, as we spoke about earlier, when you need to change or update any of your products across any of your venues, all you have to do is make one change in venue manager and apply it to all of your required locations.
As a result, your checkout interface across your selected locations will look consistent, as in the example below.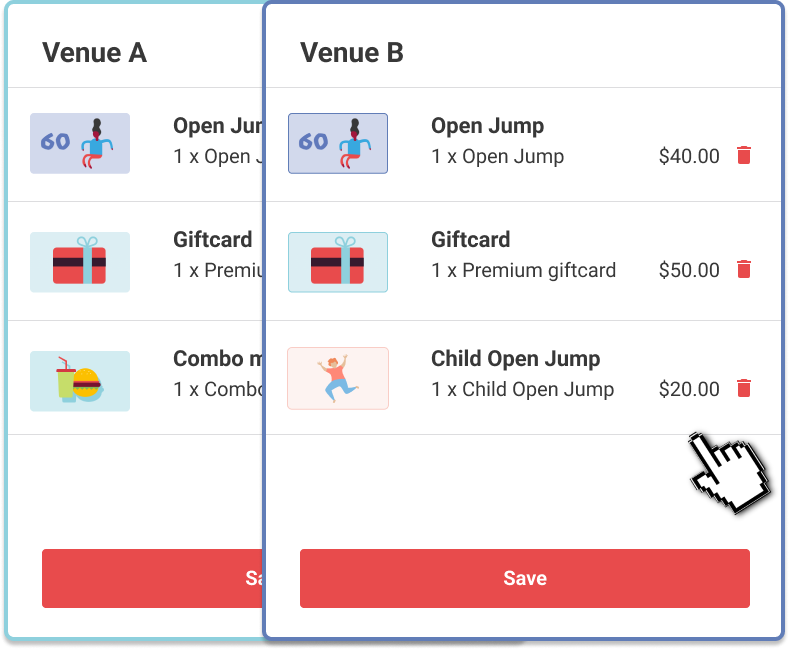 9. Save time with greater and more efficient control over staff accounts
You can ensure that you're granting the correct permission levels to each staff member by creating staff accounts directly in the HQ Venue platform itself.
You can also select predefined roles or create custom roles from a list of user permissions simply by checking a few boxes. You can also decide which venue/s each user can access for even greater access.
With this added flexibility, you will save time, but not at the expense of controlling your venue precisely as you'd like. With HQ, you receive flexibility when managing your staff accounts, but this flexibility will give you more control. Sounds like a pretty good deal, right?
How to set up staff permissions in ROLLER HQ
Access your desired team members staff profile, and select the venues that you want them to be able to access in the platform.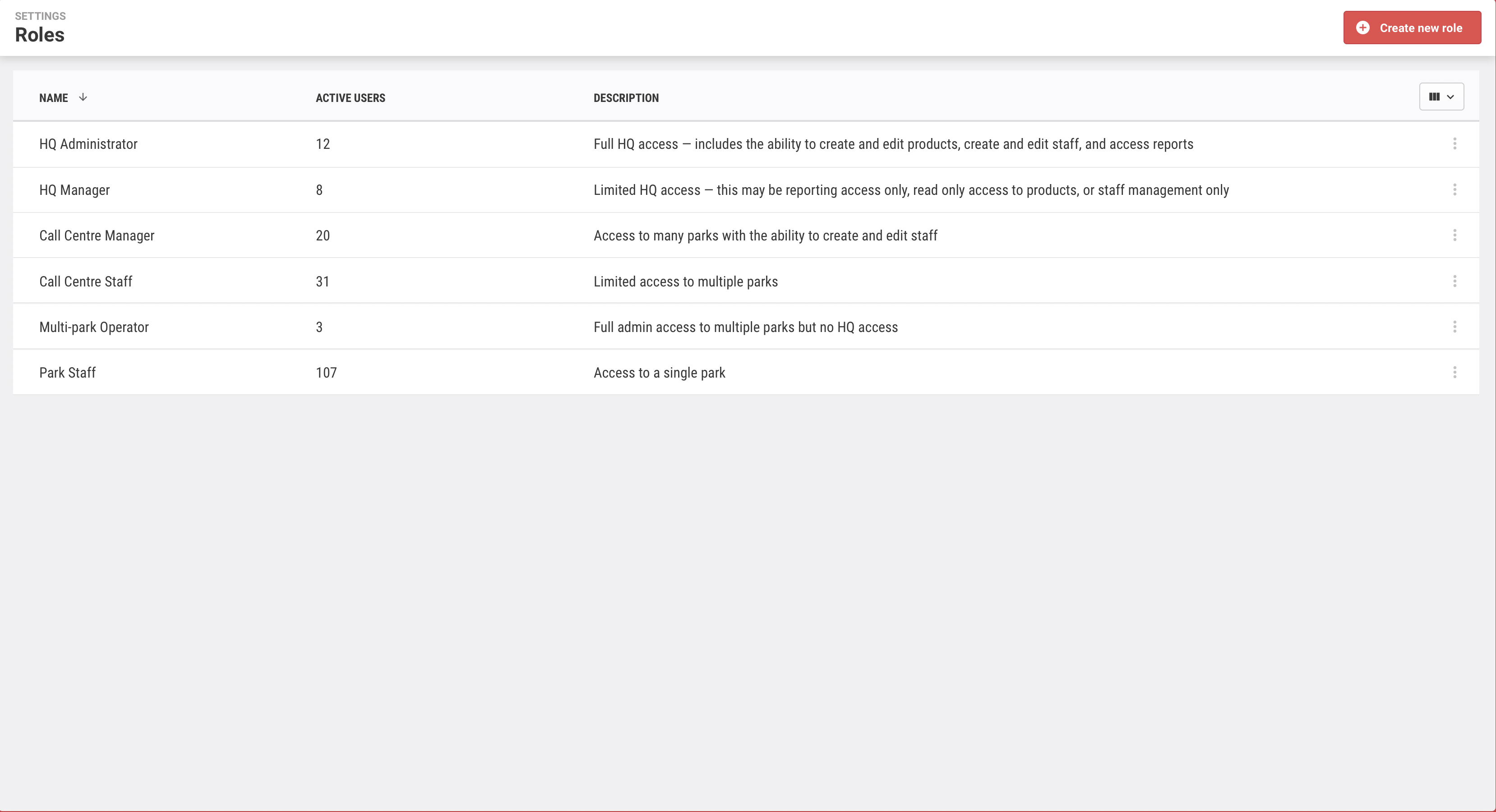 You can select from multiple venue locations globally.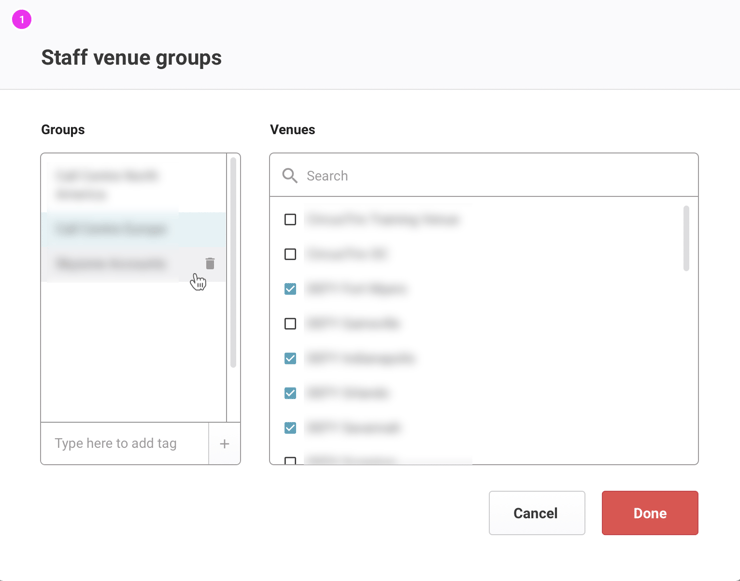 Finally, via the Settings tab, you can view all of your team members and their individual permissions.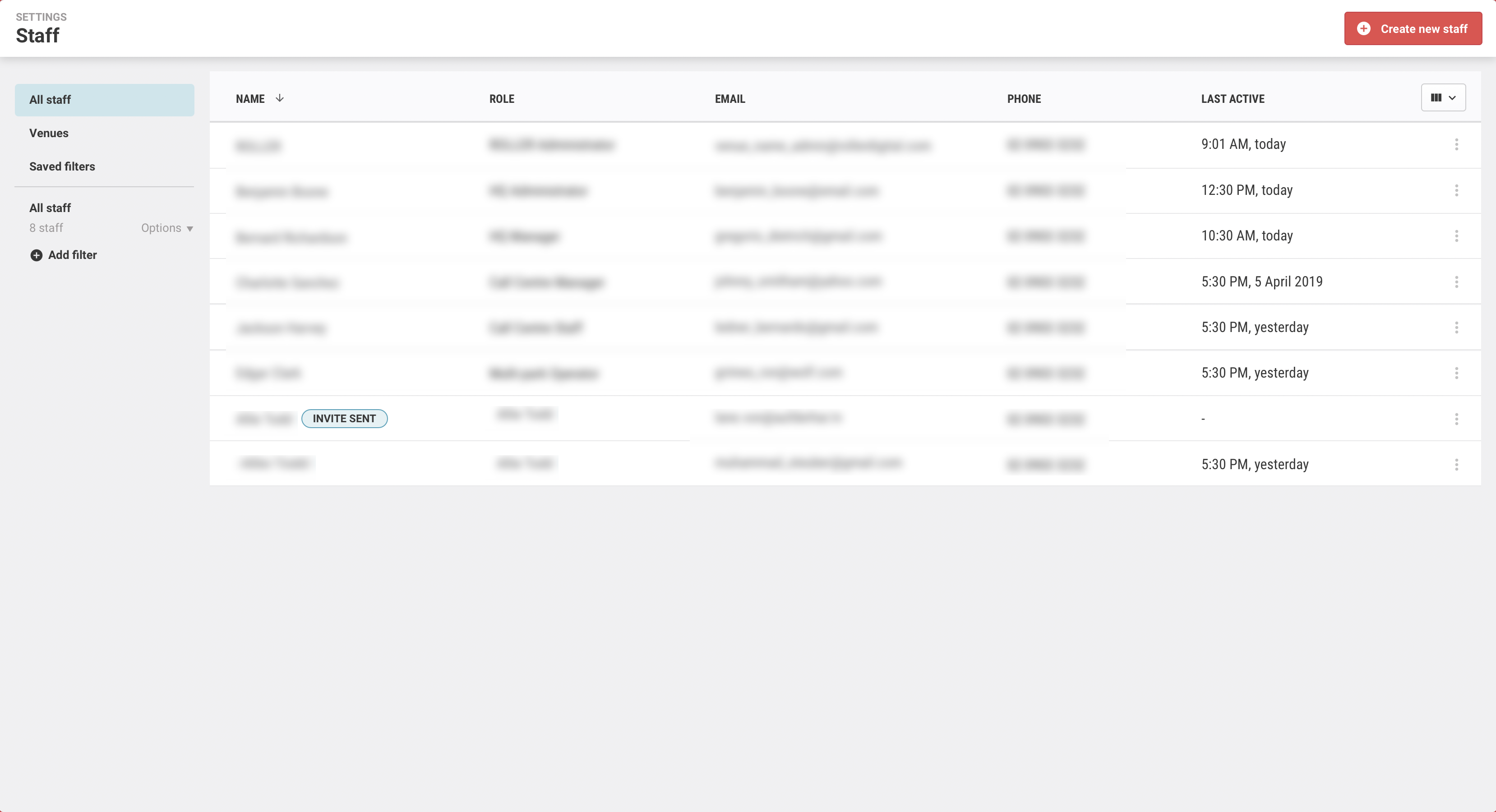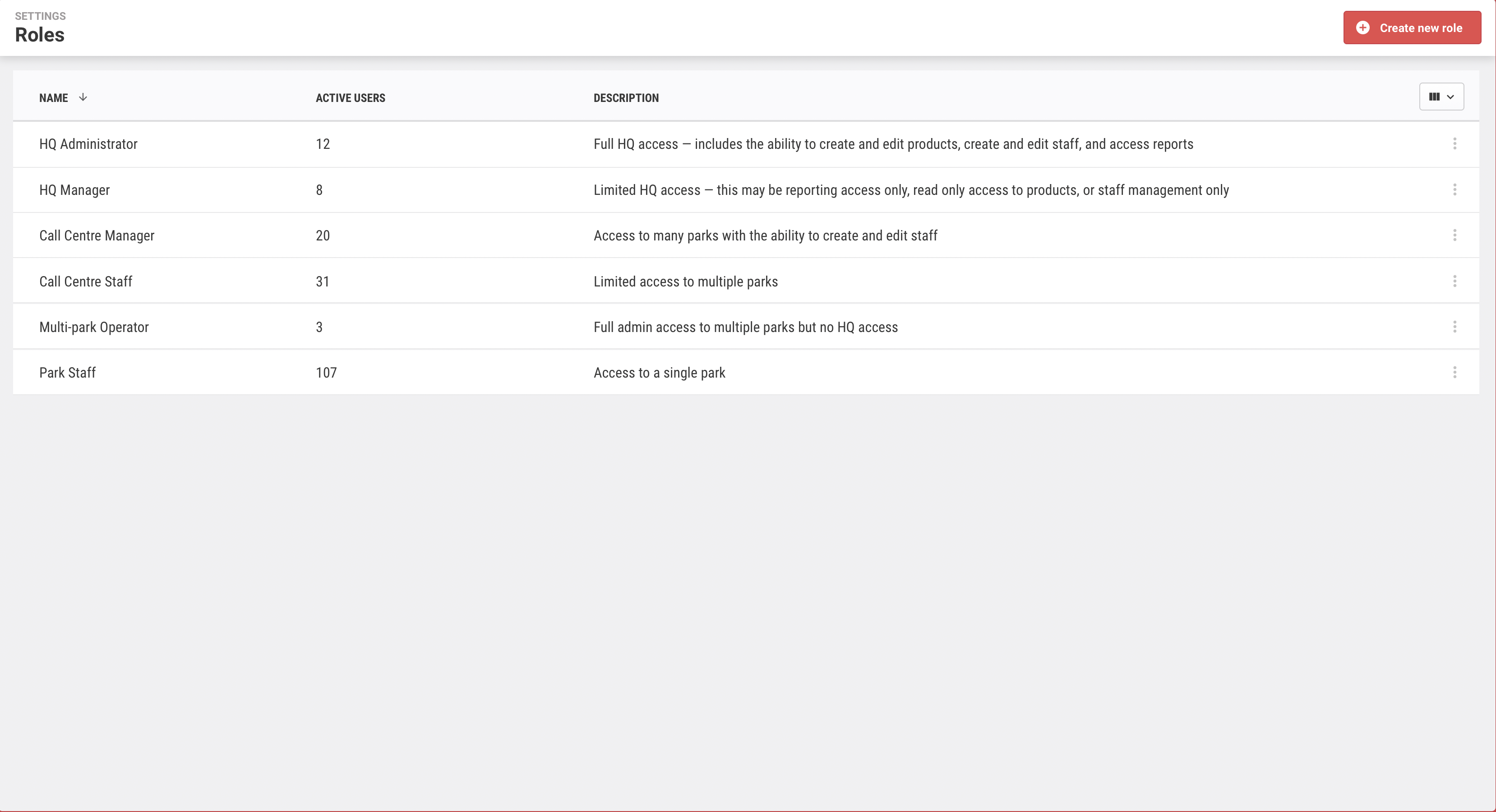 Maintain complete control of your bookings
HQ lets you get the complete picture of availability across the day, week, and month. You can create views that enable you to segment larger bookings from general ticket holders and ensure your team is always on the same page - across all of your venues!
Your team will never overbook again! And you will breathe easy knowing that no matter how many venues you operate or how many staff work across them, bookings will be visible, and the chances of booking errors will be drastically reduced.All from the easy-to-use HQ Venue platform!
Managing multiple venues is no easy feat - but you're no average business!
It's exciting to be an operator of multiple venues. But we also understand that it can feel like a lot of work, especially without the right software to assist you. We know that you want guests who come through your venue to have a seamless experience, so they'll come back and tell their friends and family to come back too. We want that for you too!
With the right systems in place, multiple venue management doesn't have to feel any more difficult than managing a single location. With tools like our HQ product that can help you easily manage multiple locations, your teams AND guests' satisfaction rates will soar.
Happy staff and guests = prosperous venues!
Find out more about our HQ product here.
And if you have more questions, don't hesitate to get in touch!