Established in 2012, the International Adventure & Trampoline Park Association (IATP) is an organization that is fully committed to advancing the interests of its members, primarily composed of adventure and trampoline park facilities, startups, and suppliers that cater to this industry.
The 2023 IATP Conference & Tradeshow brought park owners, operators, prospective entrepreneurs, and anyone intrigued by the world of indoor adventure and trampoline parks to Texas! The event draws hundreds of attendees, and we are always honored to be one of them!

Our experience this year was incredible — we are always grateful for the opportunity to connect with insightful colleagues and peers and learn about the latest trends and developments in the industry.
Join us as we recap this fantastic event, sharing our top highlights, including our meet-and-greets and one-on-one product demonstrations.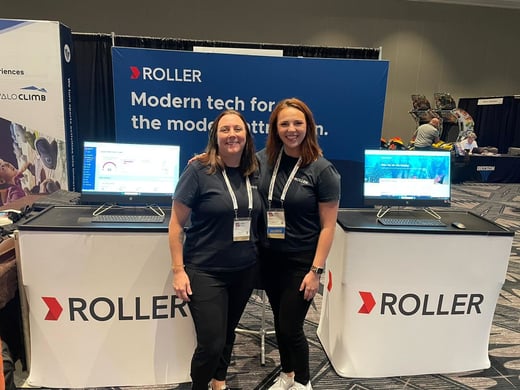 Meeting and greeting
We loved speaking to fellow attendees and venue operators, and we learned so much about their key venue management concerns and challenges. The most common points we heard include the following:
Operators need to free up time and use technology to improve the guest experience
During our conversations with operators, we heard many felt they needed more time to do things like analyze guest data and trends. They told us they would love to use technology to help them enhance the guest experience but didn't know where to start.

Our guest feedback tool, The Guest Experience Score, streamlines guest feedback collection, making it automated and highly efficient. It administers surveys to guests at optimal times, posing well-defined and insightful questions to provide operators with valuable insights that can enhance the experience they provide to their guests.
Operators want to enhance their venue management processes
Following the above point, many operators expressed dissatisfaction with outdated venue management systems, which fail to meet the performance expectations of their staff and guests. Many of these operators reported using multiple systems to handle various aspects of their business, and they expressed interest in seamless integration among these systems.

They preferred an all-in-one venue management solution that could efficiently oversee all aspects of their venues. However, they have hesitated to prioritize such a transition, fearing it might take a significant amount of time, money, and effort.

In this case study, Brian Link, Co-Founder & Managing Partner of Amp Up Action Park, a family entertainment center in St. Louis, Missouri, remarked on how seamless his team found their transition to ROLLER. He said the team found ROLLER's POS software straightforward and easy to learn and teach others. Because of this, staff became proficient with the system quickly — leading to improved checkout speeds and more seamless transactions for guests.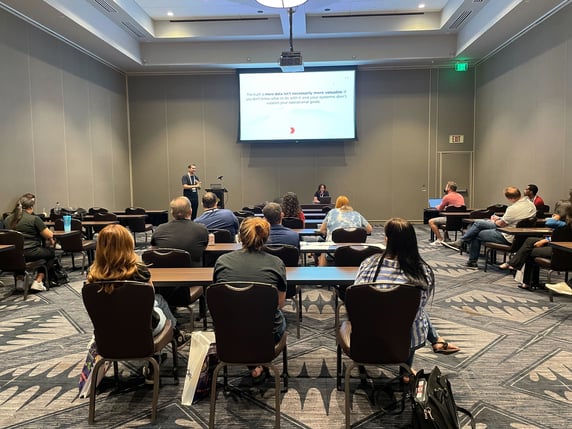 ROLLER's speaking session: How Data-Driven Tech Drives Business Growth & Deliver World-Class Experiences
How ROLLER helps solve common venue management concerns
We were thrilled to showcase the ROLLER platform to all those who visited our booth! In case you missed us, don't worry – we've prepared a brief overview highlighting all the key features for you.
All-in-one venue management software built to help you grow
ROLLER is the all-in-one venue management platform for the modern, growing attraction. We've specifically designed it to eliminate any hurdles in the guest journey at every interaction point. We assist operators in saving time, increasing revenue, and providing exceptional guest satisfaction.

Our platform equips time-poor operators with a unified suite of tools to sell their experiences effortlessly, cater to their guests, promote their business, and efficiently oversee their operations – all conveniently accessible from a single location/dashboard.
Sell tickets online and in-venue with ease
With ROLLER, selling tickets online has never been more seamless, enabling operators to sell tickets with the same ease online as you do in-store.

ROLLER's Progressive Checkouts come packed with a range of contemporary, user-friendly features meticulously crafted to enhance conversion rates and deliver delightful guest experiences. Skateworld reduced the time it takes to book a party by 30%, and Chipmunks Playland and Café received over 90 party bookings in 48 hours after implementing progressive checkouts.

Our contextual add-on choices and captivating visuals will captivate your guests, prompting them to spend more with your venue, ultimately increasing conversion rates and per-guest spending.
Powerful POS that will impress your staff and guests
At ROLLER, we prioritized exceptional performance when crafting our POS system. We engineered our POS system to deliver speed, user-friendliness, and remarkable responsiveness.

Furthermore, ROLLER's POS offers a wide array of features, encompassing ticketing, food and beverage services, party management, and much more.
Read this next: Cloud POS: What Is It & How To Choose One
ROLLER Payments is a payment processor built for attractions
Powered by Adyen, the ROLLER platform smoothly integrates with our native payment processing solution, ROLLER Payments, simplifying the process of selling your products online and on-site.

ROLLER Payments is a robust and feature-packed payment processor boasting an impressive 94.5% authorization rate. Moreover, ROLLER Payments accommodates an extensive range of 38 payment types, ranging from digital wallets to Buy Now, Pay Later options. It also provides the convenience of integrated refunds and comprehensive fraud protection measures.
Read this next: ROLLER: Streamlined platform payments, superior customer experiences
Electronic waivers increase convenience and reduce liability risk
Utilizing ROLLER's electronic waivers, guests can conveniently fill out their waivers before their venue visit. This way, they can effortlessly arrive and immerse themselves in the experience without unnecessary delays or inconveniences.

Beyond mitigating your liability risk, electronic waivers enable you to collect valuable guest data, which you can harness for various purposes, including tailored marketing campaigns.
We'll be back, IATP!
Our experience at the IATP 2023 Conference & Tradeshow was fantastic, and we loved every moment of connecting with attendees and being a part of this dynamic community!

If our paths didn't cross during the event, we would be delighted to discuss how ROLLER can help your venue grow and increase operational efficiency. Feel free to reach out to us here.