Your guests' experience of your venue is the most important factor of your business operations. A close second is what they say about you to others.
That's why it's so important to have the right tools that can collect and action your guest feedback in a way that helps you grow.
You want your guests to leave your venue giving glowing reviews to friends and family and online too, but to achieve this can be time-consuming and can feel all too hard. This is where a guest sentiment tool can assist!
Continue reading to discover how our industry-leading guest sentiment tool, the Guest Experience Score (GX Score), can help your venue find new guests, drive repeat business, and increase revenue!
Why is a guest experience measuring tool important?
Your venue thrives on repeat business; it is crucial. And you will be affected every time your guests have a less-than-positive experience in your venue.
You will be affected by the loss of revenue, advocacy, and repeat business. This is why having the right tools to collect and action guest feedback for you is vital.
When you know what makes your guests happy and where they would like you to improve, you have valuable data that can help you grow as a business and delight your future guests.
The GX Score
At ROLLER, we want to help you grow a strong and steady business that will stand the test of time. And as mentioned, it all starts with how satisfied your guests are. This is why we created the Guest Experience Score (GX Score).
Typical survey tools are often:
Time-consuming to set up
Sent at the 'wrong' time, and ask your guests the 'wrong' questions, and
Poorly configured
All of the above can lead to frustration for you and your guest, wasted time, and feedback that isn't actionable.
Enter the GX Score! The GX Score is a powerful sentiment analysis tool that collects and analyzes guest feedback for you! With this data (which you can access from your ROLLER dashboard), you'll know exactly what your guests loved about your venue and where there's room for improvement.
Unlike a standard survey tool, the GX Score automatically collects guest feedback by seamlessly integrating ROLLER and guest booking data. It will send surveys at the perfect time (straight after a guest visit) and ask meaningful questions specifically designed for the attractions industry so that you get a clear picture of your guests' experience, every time they visit.
The GX Score is available across all of our plans﹘view the key features in the grid and in further detail below.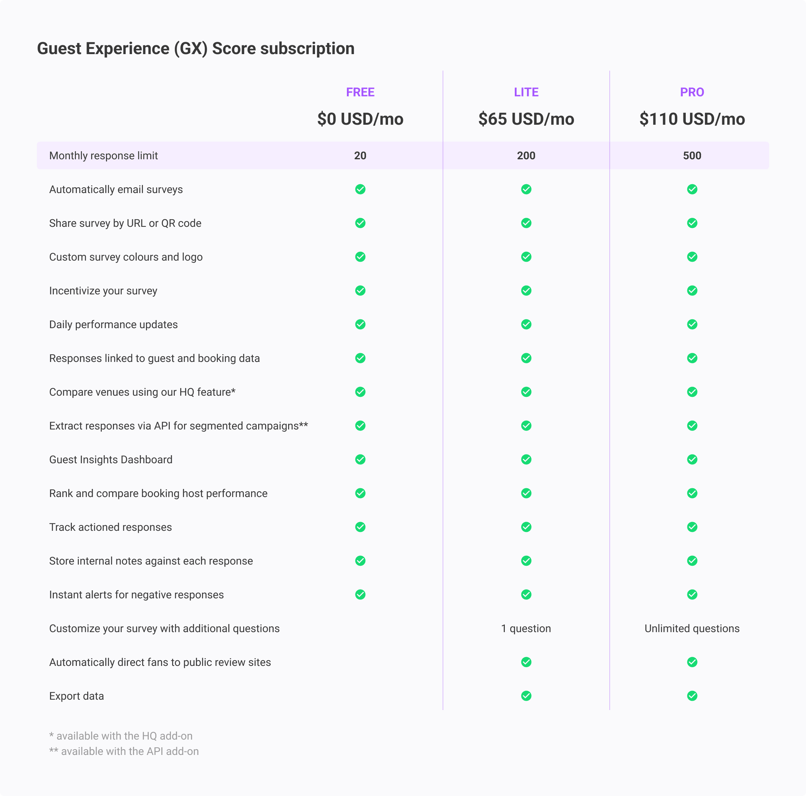 Contact us to find out more, and try a free trial today.
Drive repeat visitation
Feedback collected is feedback that can be actioned in a purposeful way. The GX Score collects feedback in a way that is specifically designed to help you action it promptly﹘helping you keep your guests happy and drive repeat visitation.
Collecting customized feedback
As mentioned above, we will customize questions for your guests based on what is most relevant to the leisure and attractions industry. But you can get even MORE context and insight into your guests' experiences by asking additional questions to pinpoint areas for improvement and maximize what's working well.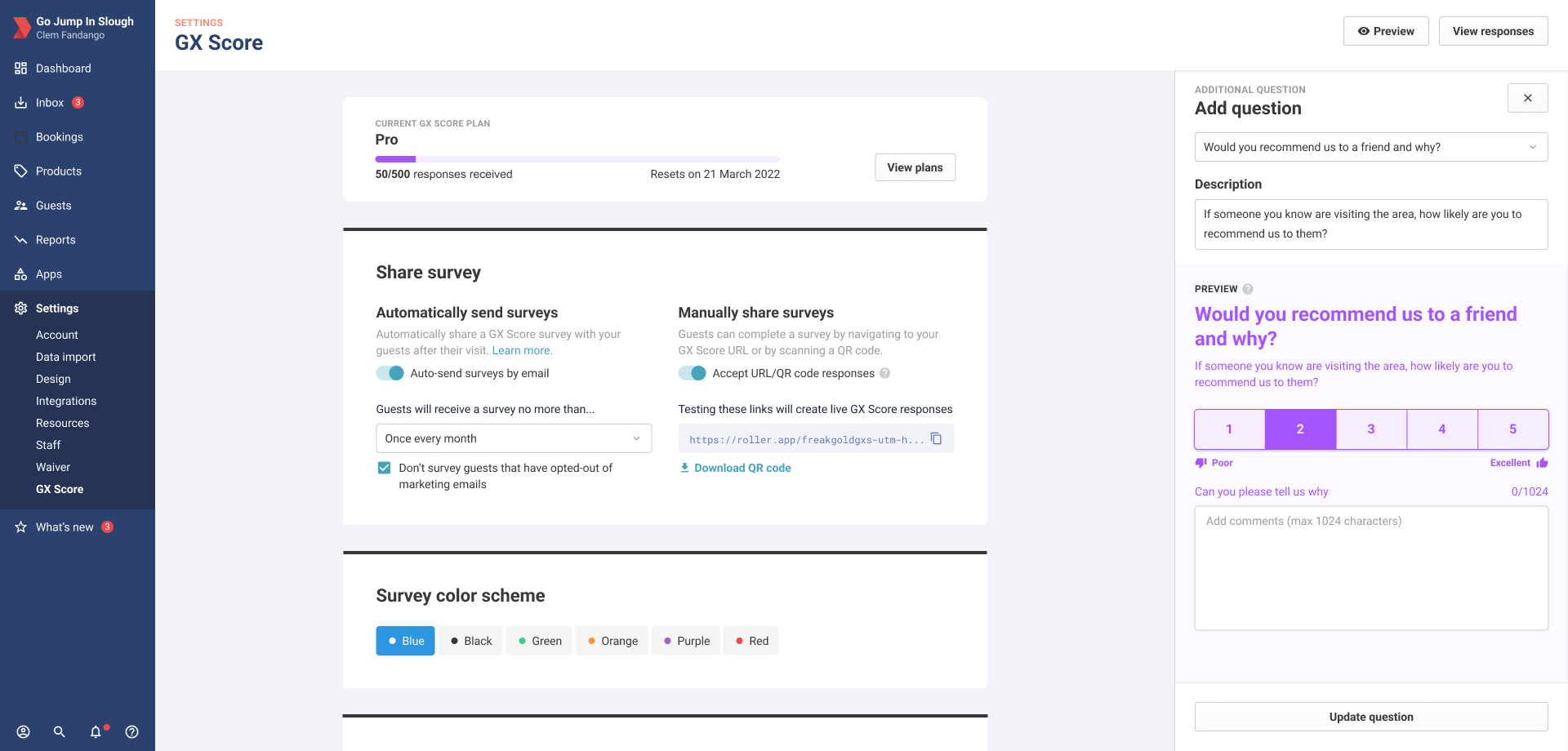 Managing and enhancing survey responses
You will never miss a beat with the GX Score. Via your ROLLER dashboard, you can keep all your staff on the same page by marking and storing a history of guest feedback that was actioned and identifying which guests still need to be followed up.
Additionally, you can make 'guest notes' in the system! Your staff can note down relevant details of previous guest interactions and visits by storing notes against guest feedback so that next time your guest will be delighted by their personalized experience.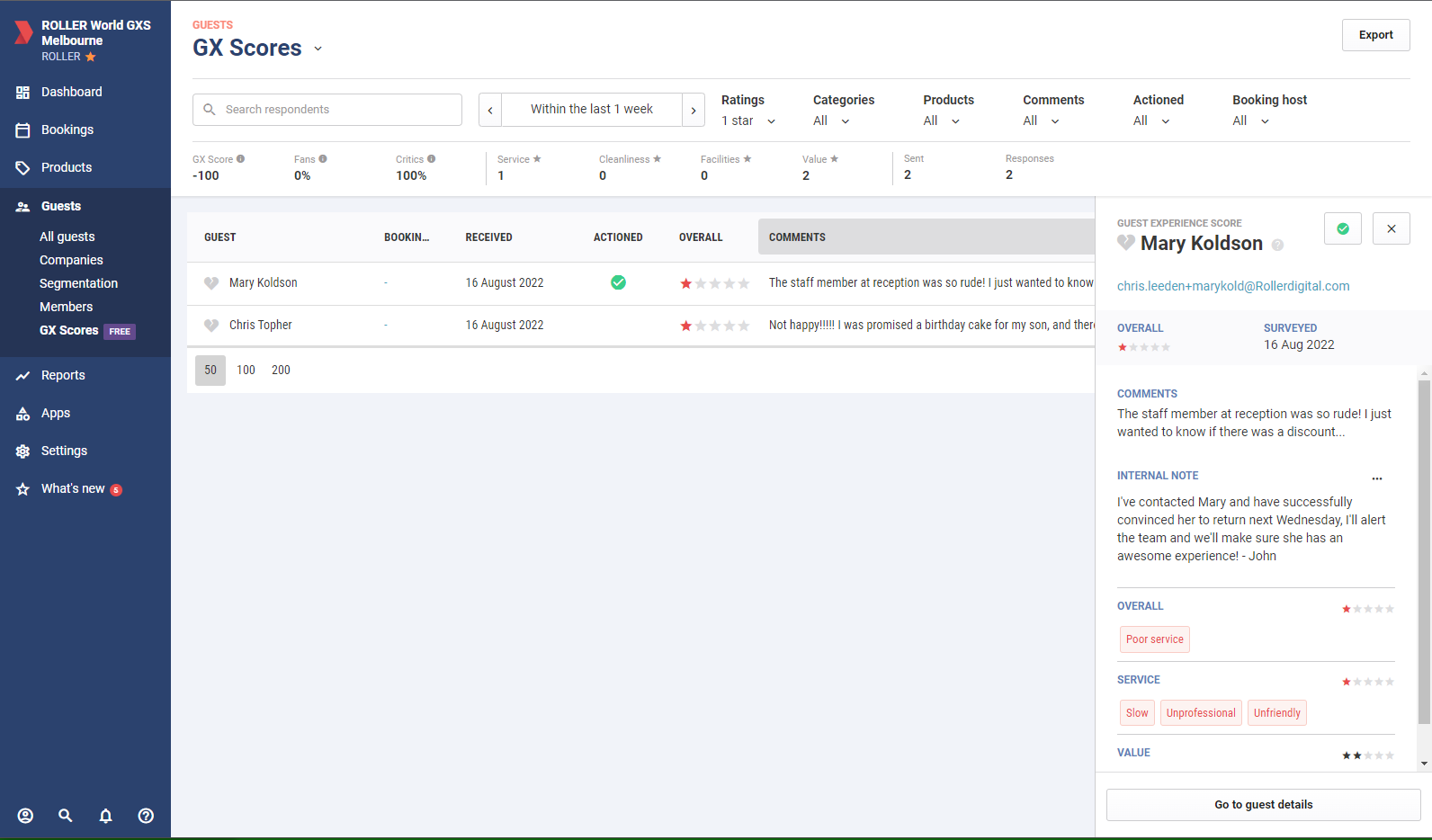 Reach new guests
The GX Score allows you to quickly and effectively action positive and negative feedback to better please active guests and easily reach new ones.
Here's how!
1. Instantly alerting you to negative reviews
When guests are provided with an outlet to give their feedback before sharing it online, both you and your guest will benefit.
When they leave their review, you will be instantly notified, which will provide you with the opportunity to respond and rectify it as soon as possible. This way, the guest will be happy, and your reputation will not be affected.
2. Amplifying your positive reviews
By directing guests who have left 4 or 5-star reviews to your public review sites like Facebook, Google, Tripadvisor, and Yelp, you will convert more prospects into buyers AND improve your SEO!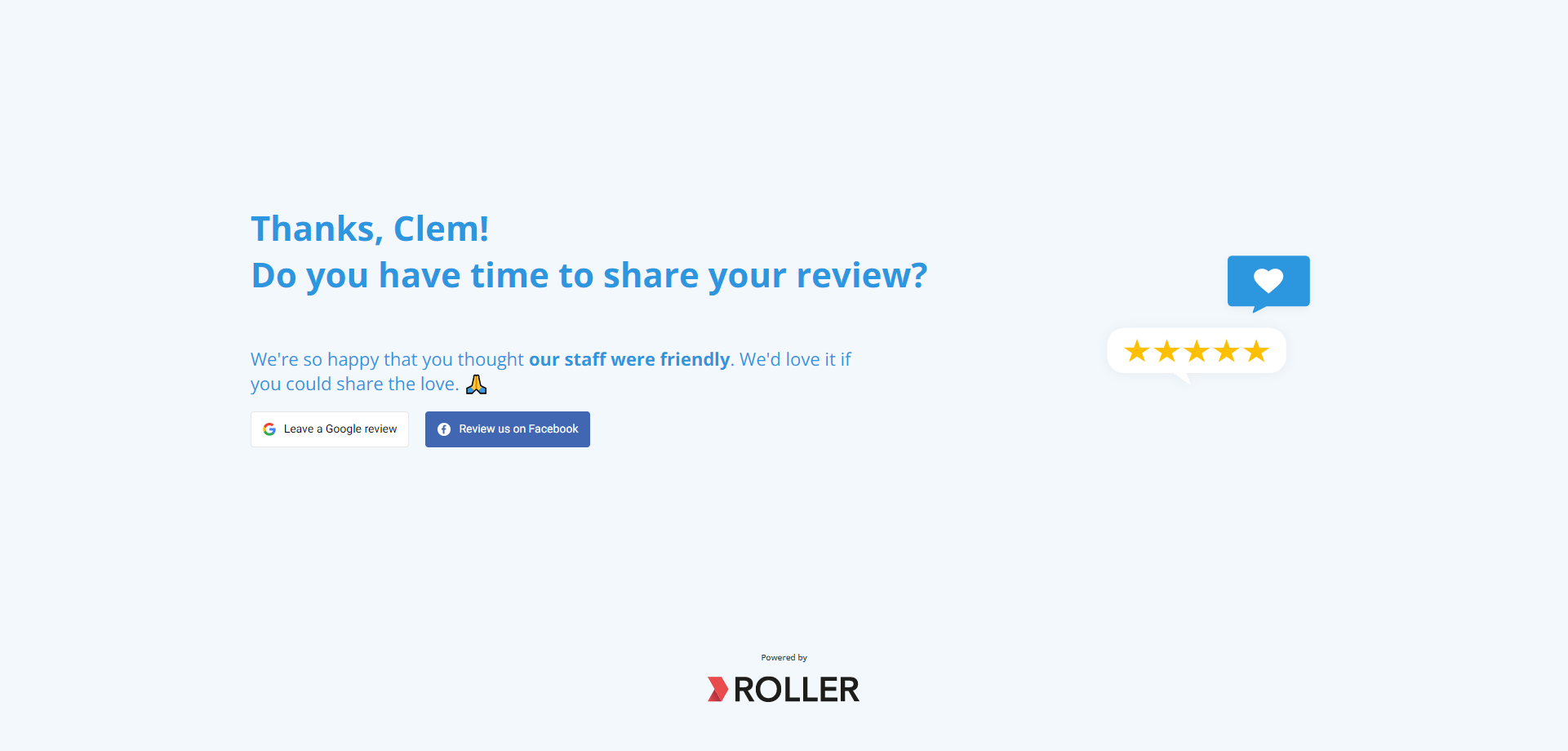 Our customers using the GX Score have reported seeing up to a 20% reduction in negative feedback on their public review sites. They have also said that the GX Score has helped them discover insights to improve their customer service, change their food & beverage offerings, update their facilities and even develop new products!
Optimize your venue & grow your revenue
While you can collect feedback with other survey tools, analyzing it is not always easy.
The GX Score is seamlessly integrated into the ROLLER platform, so you automatically have full context around your feedback. You'll see:
All guest information, such as their name, email, and booking information,
Their entire purchase history, including food and beverage, and
When they visited
These details will help you to comprehensively understand each and every single one of your guests' experiences.
From their feedback, you can gather whether there were any issues on the day, who served them, how often they visit, and much more. And from this, you can pinpoint what they loved about the experience and where specific improvements can be made to ensure business growth and reduce risk.
ROLLER automatically aggregates all guest feedback to give you much broader insights into what factors led to a poor experience and how your performance changes over time.
With our Insights Dashboard, you can track performance over time and compare how your venue performs over days, weeks, and even months.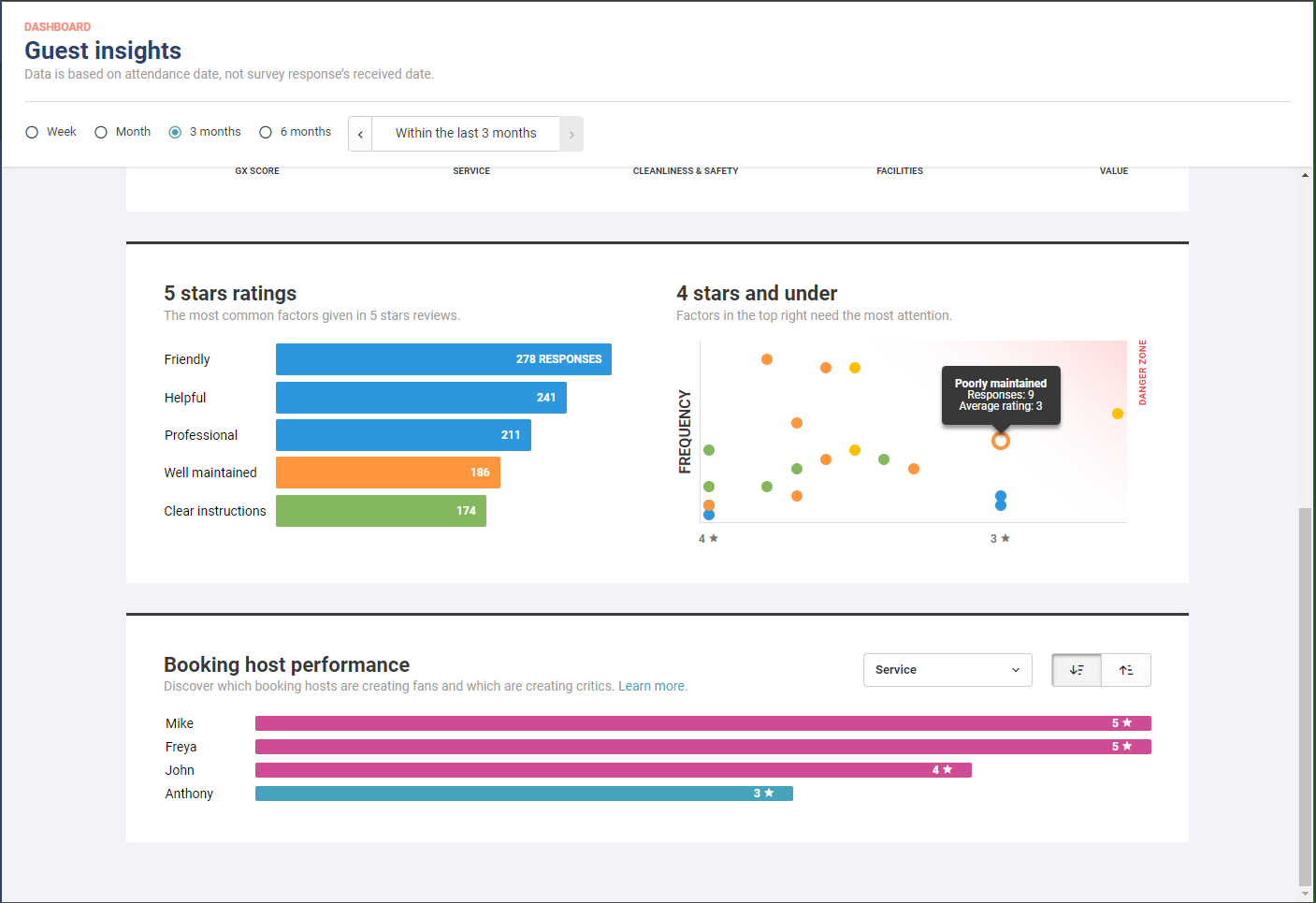 Rank and compare party host performance
Deliver exceptional service to group bookings or party experiences by gathering guest feedback on the party host's performance, comparing your staff's performance, and identifying areas for future improvement.
HQ tracking feature
A final bonus is that for HQ customers, you will be able to review & compare performance across multiple venue locations from the one ROLLER dashboard!
This feature will ensure that you deliver a consistent and exceptional experience across all your venues, as you will have your finger on the pulse of your entire network!

Better understand your data to maximize profits
The GX Score offers you even more than just collecting, actioning, and analyzing your guest feedback. You will also have access to reporting and exporting capabilities via the platform to help you better identify trends, gaps, improvement areas, and wins!
Reporting and exporting data
ROLLER offers comprehensive reporting via an aggregated score and filters, so you can see guest feedback for party bookings, attractions, and how your performance improves over time.
You can utilize your guest feedback data any way you want by exporting it in CSV format. You could use the raw data to report on your internal goals or identify trends in the comment data.
Segmentation
Finally, customers with the API add-on can maximize their marketing campaigns by extracting responses via API for segmented marketing communications like membership upsell campaigns or targeted win-back campaigns!
Unlock valuable guest insights in just a few clicks!
Some closing numbers for you!
Research shows that 22% of prospective customers can be lost if they find just one negative review about your venue
Since moving to the GX Score, some customers have been able to reduce their number of negative reviews online by a whopping 20%
GX Score surveys receive a 15-20% response rate, where the average survey tool only receives a 5% response rate
So, needless to say, effectively managing your guest experience data is imperative.
With the GX Score, you will be able to learn more, innovate faster, and make changes confidently by getting the complete picture from all your guests, not just a portion of them!
The GX Score is available to all ROLLER customers and can also be upgraded to access all available features.
Contact us to find out more, and try a free trial today.