The rising standard of guest experiences drives ROLLER's product roadmap with the goal of reducing friction in the end-to-end guest experience.
Check out our Product Spotlight webinar below for all the new and upcoming features we've built to do just that or keep scrolling for a detailed summary.
Our Product Spotlights are designed to help customers maximize ROLLER's benefits by providing information about new and upcoming products and features, guidance on best applying them in their operations, and sharing the potential results for their business, staff, and guests.
At ROLLER, we continue to invest in our platform to help operators:
SELL their experiences
SERVE their guests
MARKET their business; and
MANAGE their operations.
Let's explore the latest updates in each of these categories.
SELL
In Beta
Online Accounts
Our data reveals that one in every ten bookings requires changes costing venues considerable time and money in managing these guest requests. We've heard feedback that some venues receive up to 100 calls every day from guests to change their bookings and, at an average, a two minutes call time that results in significant annual staffing costs where these funds could instead be better placed, boosting the guest experience and growing the business. But now there's a smarter way to do this with online accounts.

With online accounts, guests can easily manage their tickets and bookings, adjust session times, change ticket dates or add to their booking. This digital platform also ensures a smooth experience in redeeming membership and gift cards. And most importantly, it empowers guests to control their memberships swiftly, updating their payment details, upgrading their membership tiers, or reactivating expired or canceled memberships. It not only offers a self-service solution, but it's also a personalized guest-centric management system.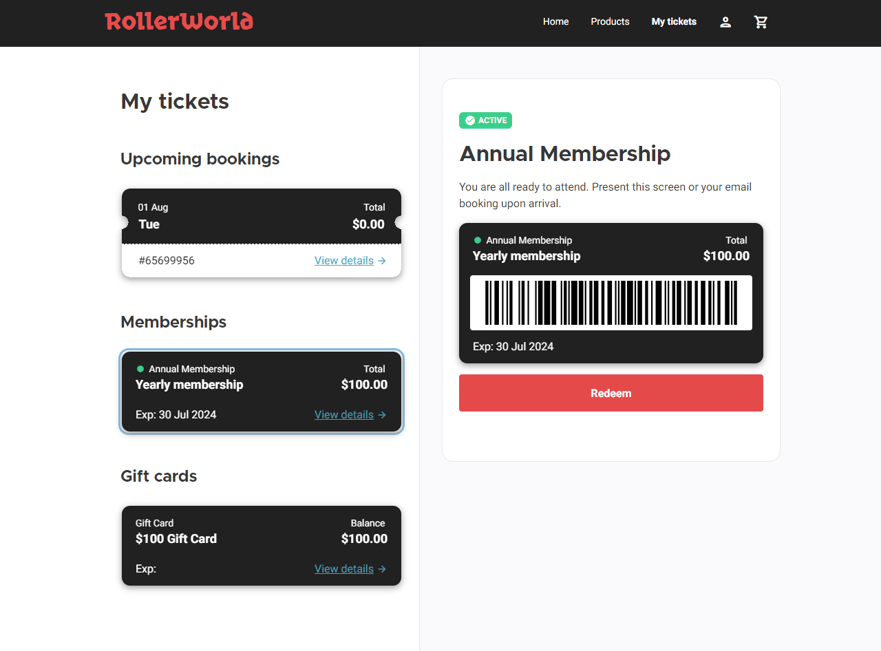 Online Food & Beverage
With the growing importance of online accounts, there's also a rising trend in the adoption of food and beverage ordering, making it convenient for users to place an order. Food and beverage is a growing revenue stream across industries, and to effectively scale this revenue.

Online table-based ordering is a must. In fact, 52% of all American restaurants have already made the change to QR code venues. And we can see why businesses that adopt digital food and beverage buying experiences achieve a higher spend per guest, approximately 30% higher in fact. Those businesses capture about three times more guest data while reducing their staffing requirements and minimizing labor costs at the point of sale.

With our new online food and beverage feature for progressive checkouts, you can reap these amazing benefits.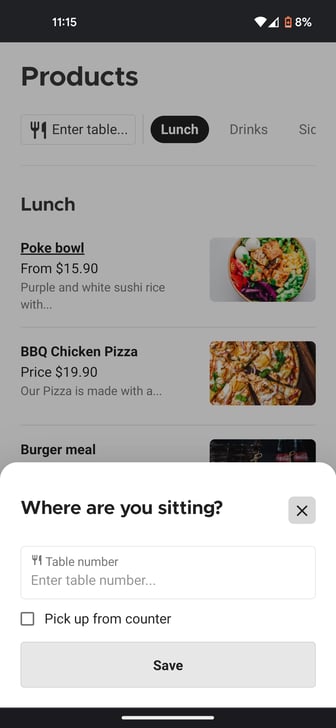 SERVE
In Beta
Production Management
Production management is a new cloud-based printer management solution that will help keep your food and beverage operations running smoothly. Production management provides you with a more robust and efficient printing service so that you can easily send receipts and production dockets to your designated printers.

You can configure food and beverage locations to ensure your dockets and receipts go to the right place. You can also set backup printers to minimize disruptions to your venue operations and avoid error delays for guests.

And if that wasn't enough, alongside the release of production management, you can modify the layout and content of your receipts to help with brand consistency across all your guest touchpoints.
What's New
Digital Wallet
Another exciting update for the progressive checkout is support for Apple and Google wallets, a tool that's quickly becoming a common way for guests to manage their online ticket purchases effortlessly.

Progressive checkouts now enable guests to add their tickets and memberships to their Apple or Google smartphone wallets, making it easy for guests to find and present their tickets or memberships and helping you avoid redemption bottlenecks. The digital tickets and memberships are personalized to represent your business's branding, and they serve as a reminder of your venue each time the guest accesses their digital wallet.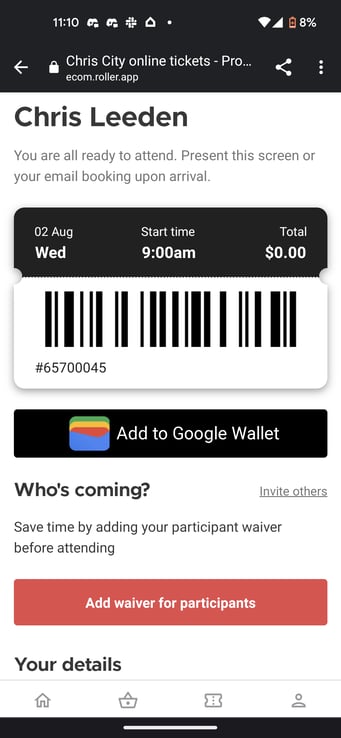 If you haven't already, try out the progressive checkouts to take advantage of digital wallets and the many other exciting features we're building. Customers that have implemented progressive checkouts see an average 11% increase in online conversion rates and a 47% increase in the average basket size. Watch our workshop video to learn more about the progressive checkouts and their benefits.

Available to all customers using the progressive checkout.
Wristband Management
We heard your feedback that relying on manual color-coded systems to manage your wristbands is time-consuming, as it takes up extra time at check-in and takes away from guests' leisure time.

You can now configure your venue's wristband options in Venue Manager so that the correct color wristband is automatically allocated to your guests based on the session or product they've booked. Plus, ROLLER will provide a handy call-off sheet in POS to help you let guests know when wristbands have expired.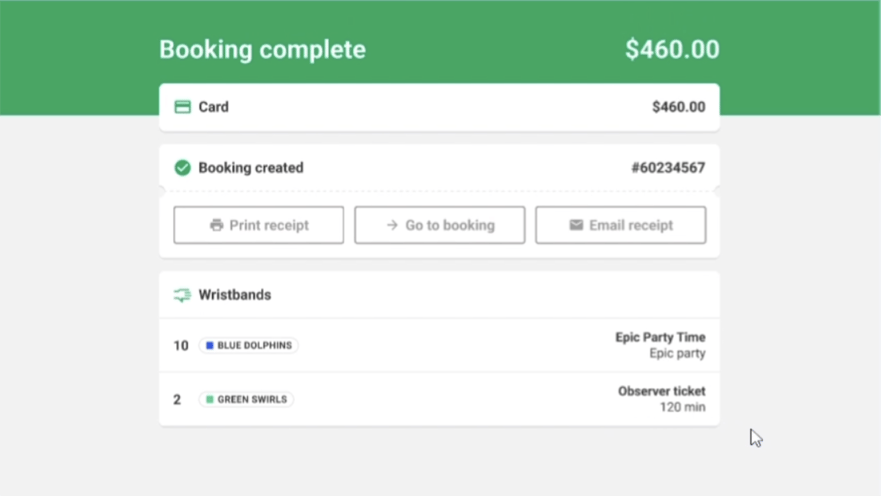 Available for all Pro, Premium, and Enterprise customers.
Waiver Translations
Although waivers are necessary, we all know they add a lot of friction to the guest experience, and that friction is multiplied when waivers presented to guests don't match the guest's primary language. It can be incredibly confusing for guests to complete a waiver in a different language, impacting the likelihood of them returning to purchase another experience.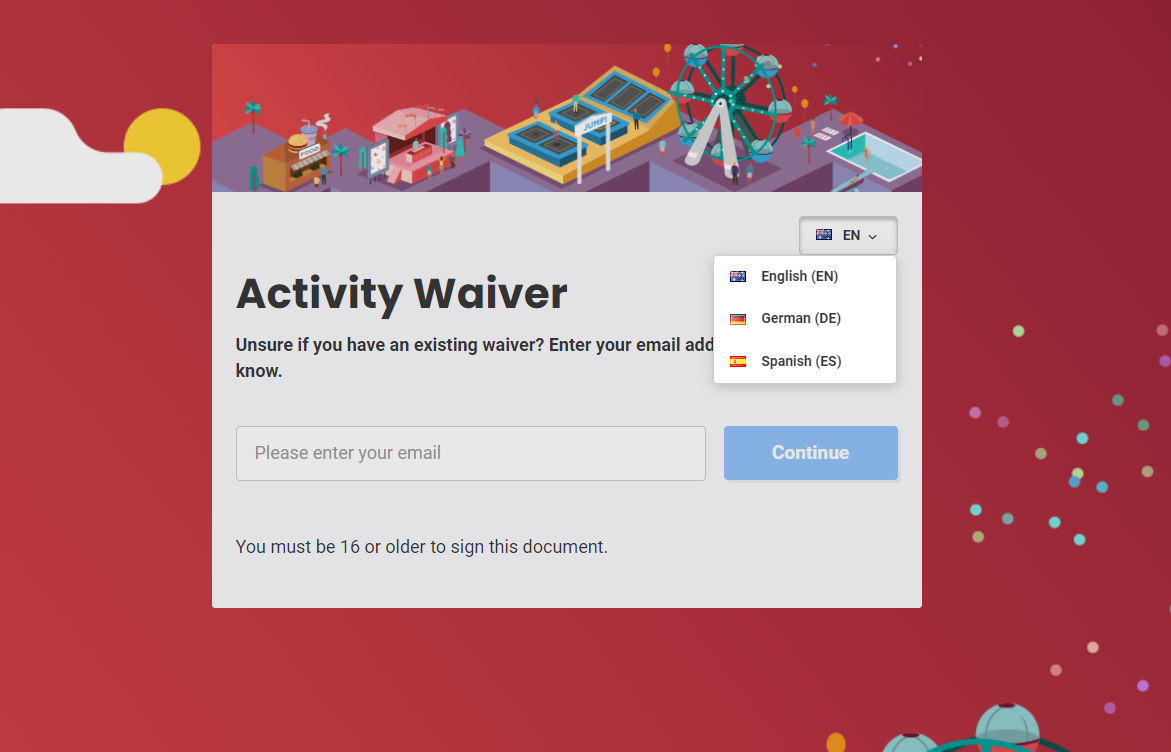 You can now improve the guest experience for non-native speakers and save time at ticket redemption by providing multiple waiver language options. All you need to do is upload your translated waivers to Venue Manager. Guests can then choose a waiver language that best suits them, ensuring you can effectively communicate with your guests, regardless of what language they speak.

Available to all customers with the waiver add-on.
Party Packages
Creating unforgettable experiences for party guests is not just about making their day special; it's also a pivotal strategy for your business. On average, 21% of a venue's earnings are generated from parties. Moreover, parties are a prime opportunity to convert first time guests into loyal patrons. However, as many of you would know, selling and managing parties can be complex and time-consuming.

Party packages decrease the time to book a party online by 30%. It enables guests to select a party experience, session time, and how many guests are attending. ROLLER dynamically calculates the number of party inclusions from the number of guests attending, allowing guests to book their personalized party experience and giving them confidence that their special day will be stress-free.

We've recently added the ability to edit guest count and party inclusions directly in POS without logging in to Venue Manager to manage those last-minute party changes!

Available to all customers.
Coming Soon
Party Run Sheets
Run sheets provide a timeline of what's happening and when and help ensure that parties run smoothly and efficiently.

Based on customer feedback, we're making our party run sheets more accessible and easily read. But we're also adding something new: the option to choose between an overview run sheet and a detailed party sheet. The one-pager will give you an overview of all parties for the day, providing you with the essential information you need at a glance.
MARKET
What's New
Guest Segmentation
We're improving guest segmentation so you can better personalize your communications to create highly contextual and relevant marketing campaigns that resonate with your guests, making them more likely to return to your venue or consider booking with you for their next party.

You can now access additional rules and data points when setting up your segments. We've added attributes for guest flags and bans, Guest Experience Score, and memberships so that you can build segments based on these criteria. These can be used to filter out banned members from your communications, send apology emails to visitors who've had a poor experience and send we miss you emails to members who haven't visited you for a period of time.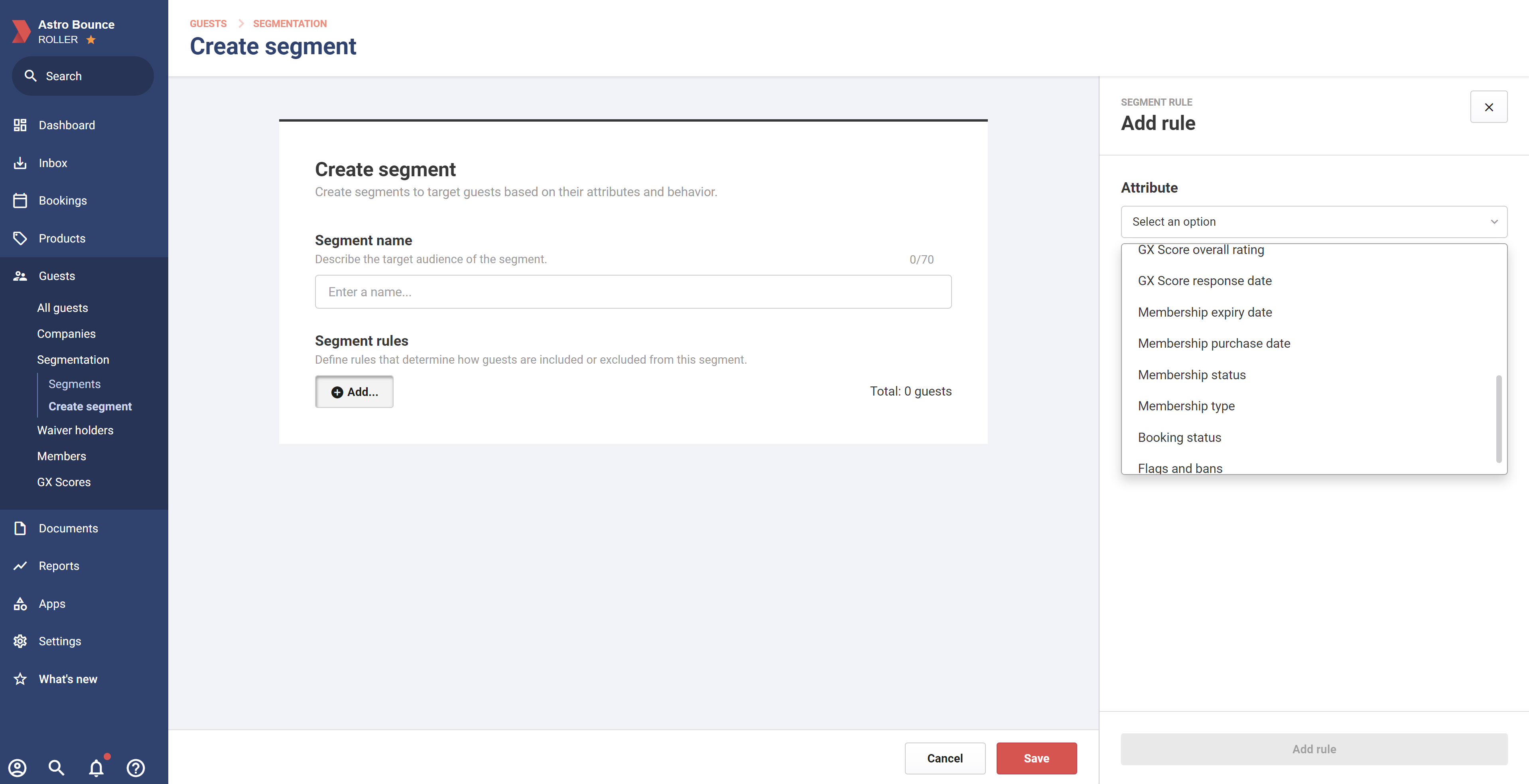 Available for all customers on the Pro, Premium, and Enterprise plans.
MANAGE
In Beta
HQ Schedules
We understand that maintaining schedules for multiple venues is time-consuming and tedious. That's why we've introduced new functionality that allows you to manage schedules directly within HQ, saving you time by making the process much more efficient and convenient.

Schedules are created at the HQ level and published to managed venues, where they adjust to each managed venue's operating hours. This centralizes schedule management to HQ and allows you to make changes anytime and push these updates across all your venues, saving you significant time.
Analytics
Here at ROLLER, we understand the importance of data in making business decisions and how essential it is to have clear and reliable oversight over your venue's performance. We've also heard your requests to improve reporting, and we've been working hard to address this as one of our most highly requested enhancements.

This new feature, called Analytics, will take the data insights and reporting functionality within ROLLER to a whole new level, providing powerful new tools to track and visualize your venue's performance across a wide range of essential business metrics in an easily digestible and actionable way. We will provide a broad library of dashboards, reports, and key business metrics to track over time, such as spend per head, repeat visitation rates, guest lifetime value, membership performance metrics, guest demographics, and much more.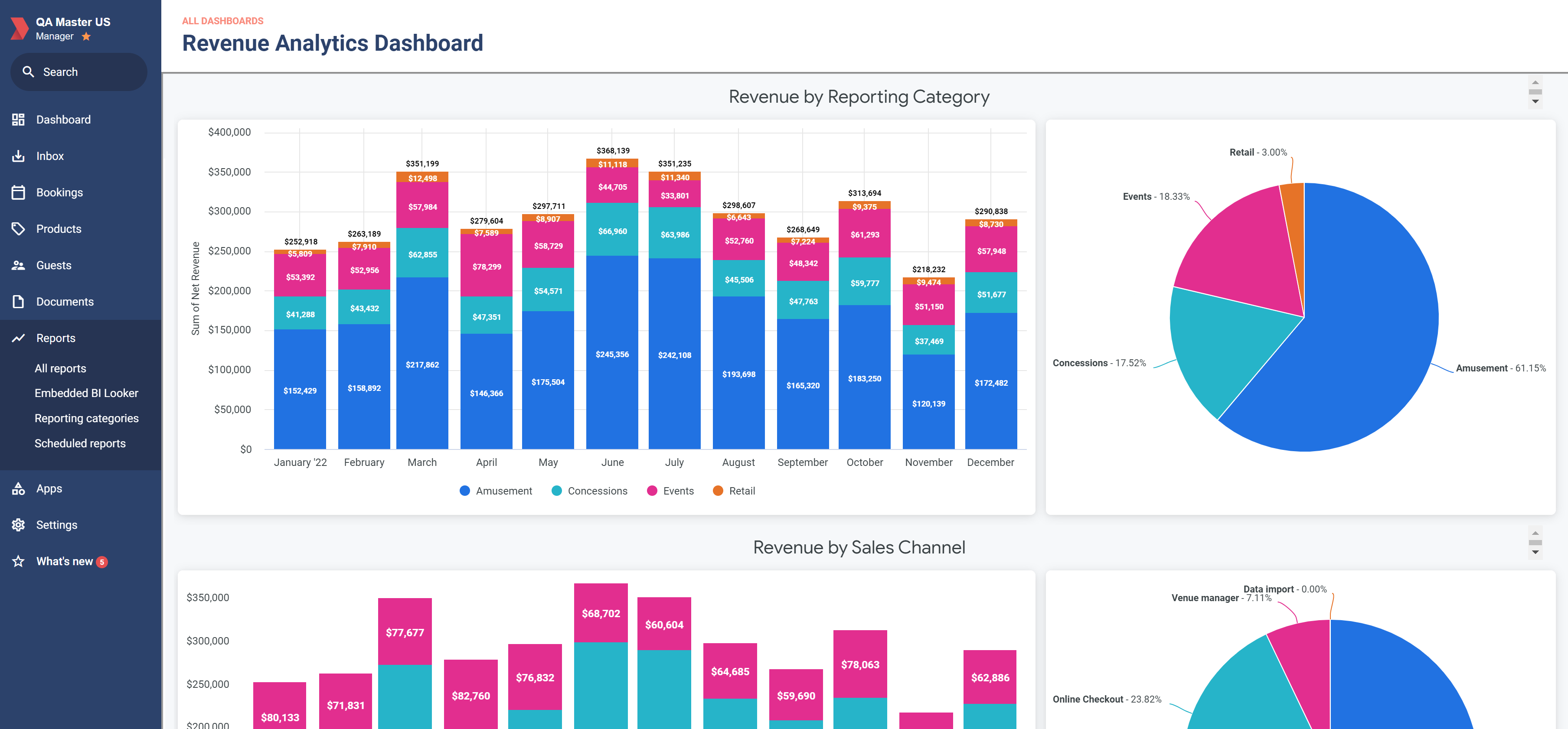 What's New
Operating Hours
Schedules can be complex and challenging to create and edit. If your hours change, manually updating your schedules for each product can be time-consuming. This is why we've introduced a game-changing feature, Operating Hours.

With Operating Hours, you can easily set your standard hours by choosing your open and close times for each day of the week. Extended holiday hours, public holidays, and even temporary closures can also be configured with just a few clicks. These operating hours are automatically set as the start and end time for your product schedules, enabling bulk schedule editing and saving you lots of time.

What's more, if you suddenly need to adjust your hours for a single day, such as a staff shortage or bad weather, you can do that in one place, and all products associated with operating hours will automatically adjust their session times. It's quick, simple, and ensures everything stays aligned.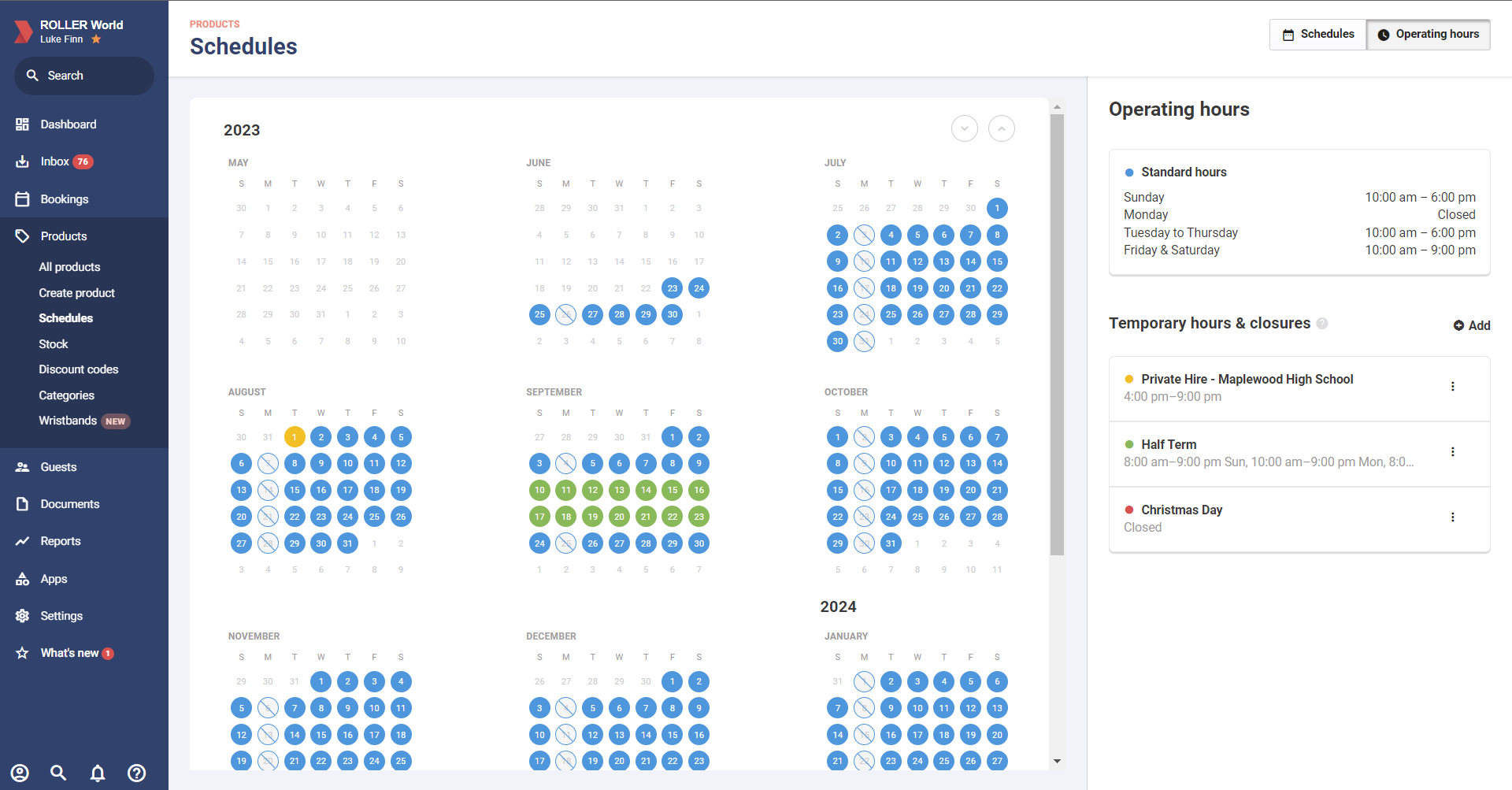 We've also implemented a rolling booking window that ensures your schedules stay current by automatically extending the end date, eliminating the laborious task of manually extending your availability every few months. You can enjoy peace of mind knowing your products will consistently show availability, freeing up more valuable time.
Available to all customers.
HQ Device Templates
At ROLLER, we continuously strive to save multi-venue operators time and enhance operational efficiency with our HQ product. With that in mind, we've introduced HQ templates for POS and Self-Serve Kiosks. These templates streamline your device management by centralizing it at the HQ level, which ultimately saves you valuable time.

Instead of managing individual templates for each venue, you can now create master templates in HQ that are shared across selected venues. This ensures uniformity and minimizes the risk of user error. And when it comes to updating product menus, just one change made at the HQ level will automatically propagate to all linked devices across your venues. This unified approach saves time and simplifies staff training, as they'll be working with the same system across all venues.

Available to all customers with the HQ Pro add-on.
Share Your Feedback
Customers can submit feature requests and vote for product ideas via our ROLLER roadmap. You'll also see which features have been selected for development and what progress is being made on them.

Click the Help icon at the bottom of the left-side menu from Venue Manager, then select What we're working on.

For more information on these product updates, visit our Help Center.
Not a ROLLER customer? Get a demo today to explore the latest features to save time, boost revenue, and improve your guest experience.