The Age of 'Jumpers': Many of us aged over 18 have distinct memories of bouncing away on trampolines, either in the backyard or at a friends place.
While fun, it is a far cry from the way many born after the year 2000 do their 'jumping', which is increasingly occurring at dedicated local trampoline parks and family entertainment centers.
The early to mid-2000s saw the emergence of the first dedicated trampoline park venues, and the growth of the industry has not looked back since. Currently, there are around 1,500+ trampoline parks globally, with many more family entertainment centers being set up in neighborhoods around the world at a rapid pace. 'Bouncing' has moved from the backyard to a family-centric, destination-driven experience.
What's more, the trend is also taking hold with a broader range of participants that are keen for fun ways to keep fit, or just get a healthy dose of physical activity. With this in mind, many trampoline parks now offer activities and experiences that cater to the needs of a broader demographic, including dodge-ball tournaments, rock-climbing, ninja courses, laser tag and other social events.
At ROLLER, we provide software to help these trampoline parks and family entertainment centers provide a first rate experience for their guests. We have seen up close and personal how the industry has continued to expand and become part of the narrative of growing up, keeping fit and having fun.
To get a better understanding of who is 'jumping', we analyzed data from fifty trampoline parks over three months (April - June 2019) and learnt that:
The most frequent age of a jumper was 9, with the 6-10 age group representing 35% of all jumpers

11-15-year-olds were the second highest age group (behind those aged 6-10), representing 26% of all jumpers

Toddlers are jumping too! 13% of all jumps were done by those aged 1-5

Those in their 20s and 30s are also jumping in increasing numbers, with this age group (21-40) representing 15% of all jumps

While certainly smaller in number, there are are also jumpers that are bouncing well into their forties, fifties and sixties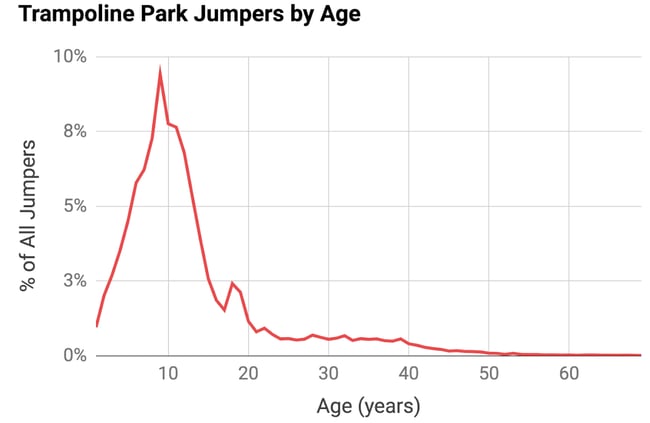 A family affair...

Although interesting to see the typical age of those who are doing the jumping, this only tells part of the story around who is attending these parks. Those that are 17 or younger (representing 77% of all jumpers), still mostly require parental supervision, which means parents, grandparents, family friends or other supervisors that are accompanying them to the parks. Many venues in fact require jumpers to sign waivers on entry, and if the jumper is younger than 18, this typically requires a parental guardian or authorized person to sign on their behalf. This means that on the whole, it is largely a family affair or group outing.
Eager to entertain and please the parents and other folk accompanying the jumpers, many parks are also increasingly focusing on providing great food, networking events and other social experiences, which combines to make an all-round fun day out for all those coming through the doors. The ones that can couple this with a great experience for the jumpers are increasingly building engaged communities, which are then further entrenched through birthday parties and other social events.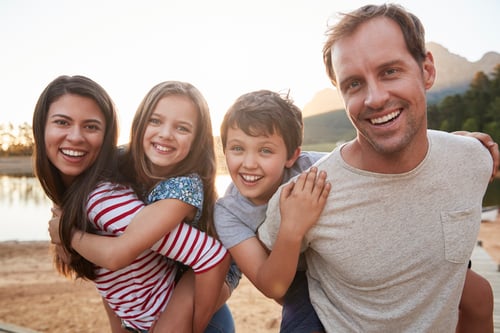 Generation Alpha and their millennial parents
Given the relatively recent emergence of this family-centric entertainment trend, we thought it would be useful to understand the generational traits of this unique group of younger 'jumpers' and their 'millennial parents'. Here's what we found:

People born after 2002 are still to reach their 18th birthday (as are a few born in the later part of 2001)
Read this next: Gen Z Travel Trends & Statistics in 2023
At age 9, the most frequent group of jumpers were mostly born in 2010 (which is well after the advent of the smartphone and social media, though incidentally the year the iPad and Instagram were launched)
The 'millennial parents' (born between 1981-1996), also have several unique generational traits as both parents and consumers

They place a high value on good parenting and are somewhat more likely than other generations to say being a parent is extremely important to their identity
Fully six-in-ten parents whose oldest (or only) child is a member of generation Alpha say being a parent is rewarding all of the time
As such, it appears that never before has there been such a passionate, intense and borderline obsessive relationship between two generations as the one between millennials and generation Alpha
Although children have influenced their parent's spending behaviors for decades, it has been reported that children under 12 and teens influence parental purchases totaling between $130 to 670 billion a year.

Read this next: Millennials' Travel Trends & Statistics in 2023
The combination of these traits has also contributed to the growth of trampoline parks and family entertainment centers. Although the younger generation is digitally native, their parents are very focused on good all-round parenting, and as such a place that is physical, social, fun and brings together a community provides a great alternative to 'screen time'.
Forward thinking parks are broadening their target market
While Generation Alpha and their millennial parents are certainly the core market for trampoline parks and family entertainment centers, forward-thinking parks are capturing an even broader market by offering sporting competitions and fitness-focused activities outside the typical hours that the younger age groups attend. This can include early morning bounce classes, after work dodgeball tournaments, ninja challenge courses and team-focused events like laser tag. Similarly, these offerings are social, physical and carefree fun in a unique and local environment.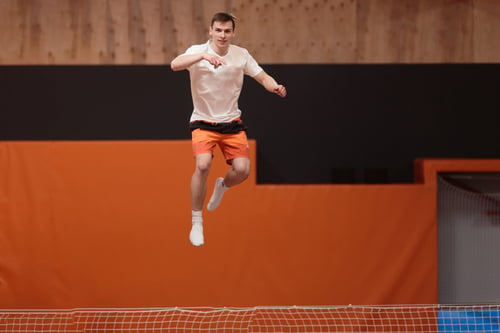 Parks that provide a full spectrum offering are also the ones that are separating themselves from the pack. We found the following common traits of high performing parks;
They provide a seamless guest experience for millennials and their children, incorporating social activities, high-quality food, and a focus on repeat visitation
They provide offerings that appeal to the 21-40-year old market which are fun, fitness focused and physical, often outside of typical business/school hours
They provide personalized experiences, particularly for birthday parties and group bookings
They engage their guests, before, during and after their visit and build a sense of community around the park or center
ROLLER is enabling great guest experiences around the world
At ROLLER, we're excited about the future of the industry. Consumers are increasingly seeking experiences that are social, community driven, health conscious and a welcome alternative to 'screen time'.
Our mission is to provide these venues with a platform that allows them to provide a first-class guest experience. Please contact us if you're currently operating a park or looking to open one up. We'd love to chat and see how we can bring our experience and technology to help deliver more great experiences for jumpers, their parents and others looking for fun ways to stay fit and connected to their community.