Compensation for service failures can be a tricky subject. While you want to make guests happy when they are dissatisfied, you also want to protect your product and not give away the farm. Without a proper service recovery strategy, you can quickly burn cash that you've rightfully earned, especially if your staff is not well-equipped to jump in and save the day.
If compensation makes you feel like this, read on.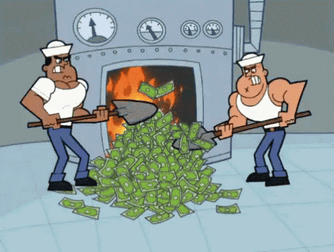 In the 4-step process for service recovery, the third step is about solving the actual issue for the guest. When determining the best solution for your guests, it is always best to align it with the actual effect of the service failure, which is something within your control, and when possible, the recovery should fit the failure as close as possible. Did the guest complain about time that was wasted? Your first response should be to replace the time that was lost. Food was cold? Replace it with hot food.
In episode 5 of The Guest Experience Show, Ben Story shares a recovery example that he was a part of as a guest, and the resolution *might* be considered borderline excessive. The quick synopsis is as follows: Ben (and, ohhh, about 20 friends) showed up at a restaurant at Universal Orlando planning to watch a sporting event. Prior to their arrival they confirmed that the game would be aired, but were then told that the channel wasn't available, thus disrupting their plans for the afternoon. When expressing their concern, the manager comped everyone's meals, provided theme park admission for all 20 guests, as well as express access. When adding up the value of the compensation, Ben estimated that it saved his group about $3,000 USD that they were fully prepared to spend. All over an honest mistake and misinformation.
We dissected the story and looked at it in a couple ways – first, it was clear that management could have gotten away with giving much less and still resulting in a satisfactory result. The second, however, was when we broke down everything that was provided, it could best be defined as a small investment that was made in future loyalty, which equated directly to revenue and positive feedback that traveled to the other side of the world. Even if the compensation was disproportionate to the failure, the outcome was still positive on both sides.
The money that was saved was put right back into their experience, as Ben and his group found additional ways to spend the money that they otherwise would not have spent. To take it a step further, guests who were in that group made the decision to come back to the park, bring their families, and spend even more money than they would have on the initial visit. All of this related back to the willingness of the one manager who wanted to help turn around a bad situation.
When looking at ways to generate revenue from service recovery, look at how each of the following can fit into your compensation strategy:
Free admission

Discounted admission

Priority access/VIP entry

A complimentary upgrade

Discount on food & beverage

Free food & beverage

Photo opportunity with a character

Additional loyalty points/credits

Free arcade play
Now, take any of these bullet points and add "on a future visit" to the end of it. While it may come in handy to offer it on the guest's current visit (and in Ben's case, it did), making it go into effect on their next visit will require them to return. Even if their admission is free on their next visit, they will be presented with more opportunities to spend. And when you are fighting to win their business back, this is such a minimal investment (and usually no cost whatsoever) with such a high value for the guest.
Remember the two biggest keys to service recovery: you have so much to offer (and in most cases charge for) that has such high value to your guest but minimal or no cost to you, and creating an offer that goes into effect in the future will require the guest to return and continue spending money. And to cap it all off, your frontline staff should be fully equipped to resolve a wide variety of service failures without needing assistance from a manager.
Service recovery does not need to be an expense. It should absolutely be an investment in future visitation, satisfaction, and loyalty.