The International Association of Amusement Parks and Attractions (IAAPA) is the premier host of international attractions industry events. Their events serve as gathering points for worldwide professionals, innovators, manufacturers, suppliers, and venue operators to showcase the latest technological advancements, attractions, and experiences within the amusement park sector.
The IAAPA Expos strive to bring industry members together to learn from one another and further elevate the guest experience at leisure venues everywhere. We felt that magic this year at IAAPA Expo Europe in beautiful Vienna! We enjoyed all the education sessions, special events, and speaking sessions. Still, most of all, we loved meeting the wonderful attendees and talking about how our product can help them grow their businesses. Let's look at everything we got up to and what we learned from this incredible event.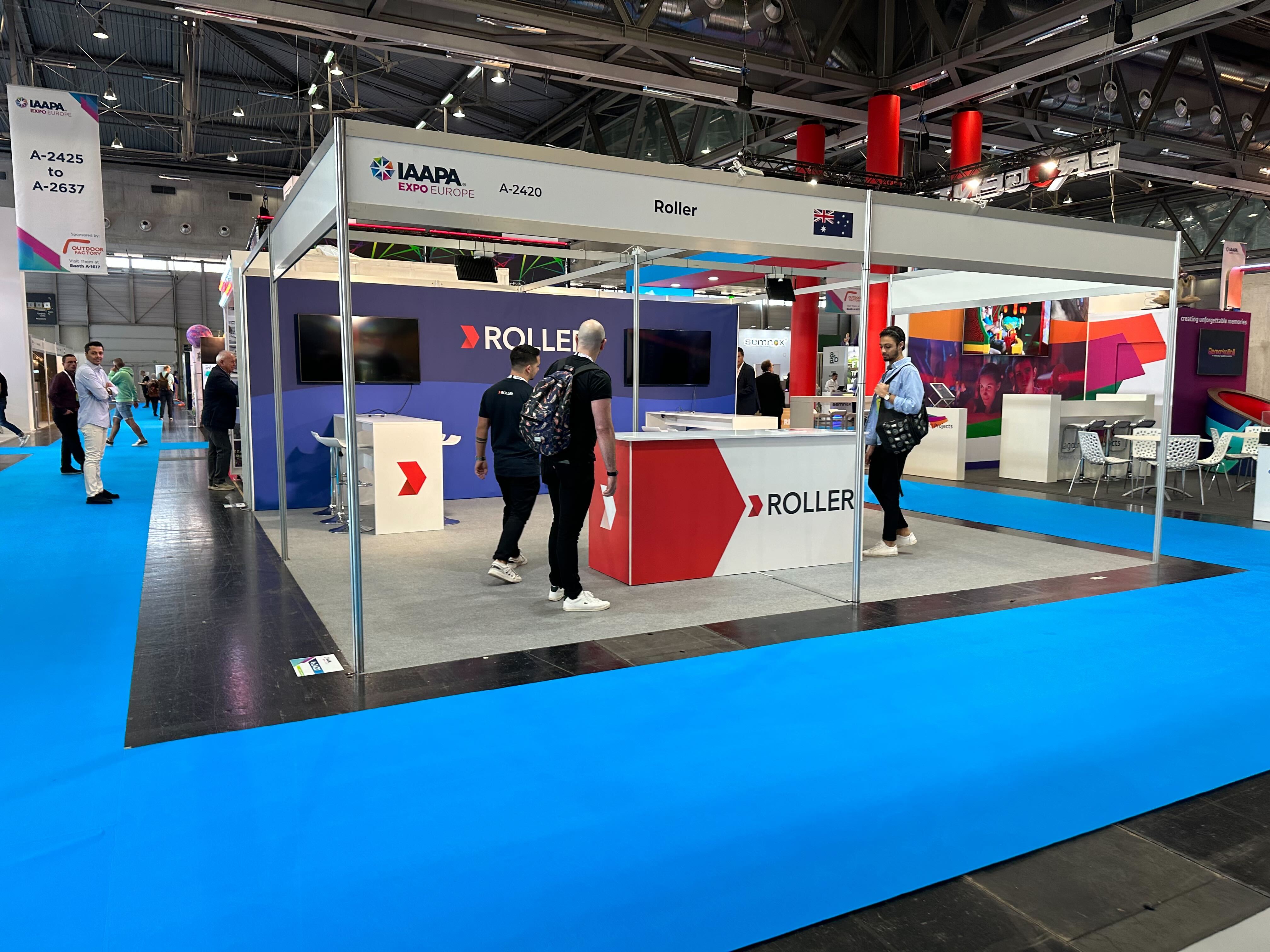 Meeting and greeting
Meeting face-to-face with numerous customers, operators, and industry experts was a fantastic experience. Our interactions were incredibly valuable, and we'd love to share some of the key insights we gained from these meaningful encounters with businesses such as SSA Group, Attractions.io, and LEAPS.
Change is coming, but it can feel scary
One of the most significant insights we gathered while attending IAAPA Expo Europe was that operators recognized the importance of adapting to evolving times and meeting changing guest preferences by upgrading their systems.
However, for many, this appeared to be a daunting challenge. In general, the feedback we received indicated that operators were prepared for this change but were not looking for complex, expensive solutions. Instead, most desired a straightforward automated system seamlessly integrating their websites with their POS systems.
Operators want all-in-one systems
We also heard that operators struggle with server-based systems and use multiple platforms to service different business areas. They told us that this was causing unnecessary stress and wasted time and was costly.
Many operators desired to work with more streamlined, efficient systems that allow them to enjoy venue management more than now. Some told us they didn't know where to start, how cloud-based systems worked, and if they were secure. Operators expressed interest in learning about these systems but said they are too time-poor to dedicate time researching these things.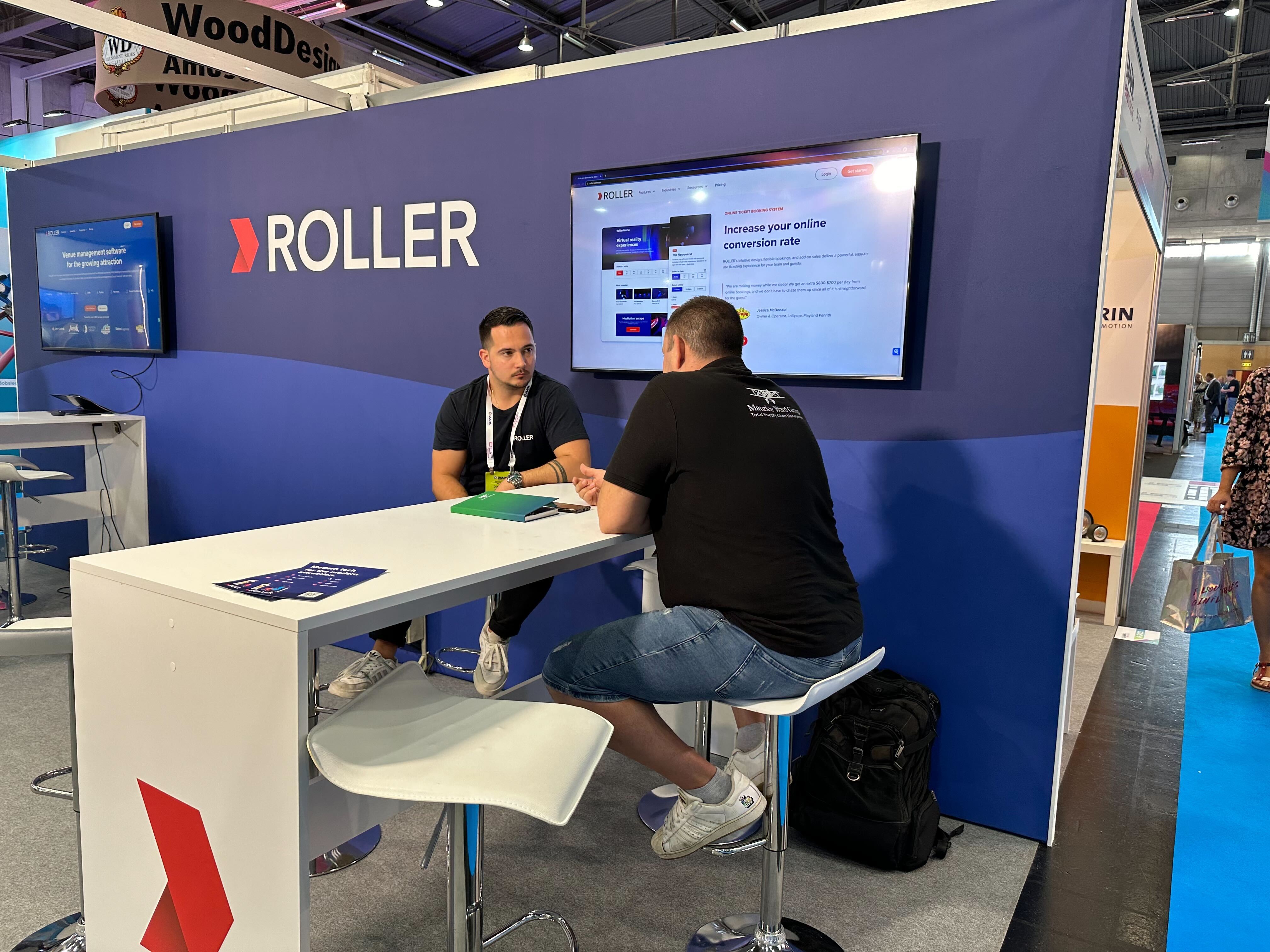 How ROLLER helps solve common venue management concerns
We were thrilled to introduce the ROLLER platform to everyone who visited our booth! In case you missed the opportunity to drop by, here's a brief overview of our most exciting features.
All-in-one venue management software built for growth
ROLLER is the all-in-one venue management platform for the modern, growing attraction, purpose-built to remove friction from the guest experience at every touchpoint. Our mission is to improve operational efficiencies and eliminate obstacles that may disrupt the guest experience, making every interaction seamless.
ROLLER equips busy operators with a complete suite of tools to smoothly run their venues, including selling tickets, serving guests, marketing, and efficiently handling operations, all consolidated within a single platform. Our unified approach eliminates wasted time and reduces stress, simplifying the management process and improving the guest experience.
Sell online and in-venue quickly and easily
With ROLLER, your venue can sell tickets as easily online as in-store.
ROLLER's Progressive Checkouts offers a range of contemporary and user-friendly functionalities meticulously crafted to enhance conversion rates and deliver delightful user experiences.
With contextual add-on choices and captivating visuals, your guests will remain engaged and motivated to increase their spending with you, ultimately leading to higher conversion rates and per-guest spending.
Powerful POS to impress your staff and guests
At ROLLER, we prioritized superior performance while developing our POS systems. Our commitment led us to design a POS system that is not only fast but also user-friendly and exceptionally responsive.
By choosing ROLLER's POS, you'll access many features: ticketing, F&B services, party management, and more.
Read this next: Cloud POS: What Is It & How To Choose One
ROLLER Payments: a payments processor designed especially for attractions
The ROLLER platform effortlessly integrates with our native payment processing solution, ROLLER Payments, simplifying selling your products online and on-site.
ROLLER Payments is a dependable and feature-packed payment processor with a 94.5% authorization rate, achieved through smart dunning, automatic retries, and other advanced features.
Furthermore, ROLLER Payments accommodates 38 payment methods, including digital wallets and Buy Now, Pay Later options, all while providing seamless integrated refunds and robust fraud protection.
Read this next: ROLLER: Streamlined platform payments, superior customer experiences - Adyen
Enhance your guest experience with specialized guest feedback tools
The Guest Experience Score (GX Score) is a tool that aids operators in collecting guest feedback in an automated and streamlined fashion. It conducts surveys at optimal times and poses well-structured, meaningful questions, delivering valuable insights that operators can utilize for venue enhancement.
These surveys are dispatched shortly after the guest's visit to enable operators to promptly address any negative feedback, avoiding the possibility of unfavorable reviews being made public.
Read this next: How To Use Guest Feedback To Grow Your Business
Using electronic waivers reduces your liability risk and boosts convenience
Guests can effortlessly sign their waivers using ROLLER's electronic waiver system before arriving at your venue. They can simply enjoy your venue's experience, free from delays or inconvenience.
Beyond mitigating your liability risk, electronic waivers also enable you to collect valuable guest data that can serve multiple purposes, including implementing targeted marketing campaigns.
We'll be back, IAAPA!
IAAPA Expo Europe was a great and enriching opportunity for our team, and we loved every minute of being a part of this vibrant community!
Thank you for spending some time with us, and if we didn't get to connect with you at the event, we'd love to chat about how ROLLER can support your venue's growth and success. Feel free to reach out to us here.