We recently attended the Amusement Expo International in Las Vegas and had the best time!
It was an excellent opportunity for the ROLLER team to meet with industry operators and professionals, network, and learn from each other. We came away with many industry insights that will help us better inform the direction we take, and we're so grateful for this.
Read on as we recap everything we did at the Amusement Expo, including meeting and greeting, and conducting one-on-one product demonstrations!
Meeting and greeting
We loved getting the chance to meet face-to-face with so many hardworking, knowledgeable customers, prospects, and industry professionals. Here are a few of our biggest takeaways.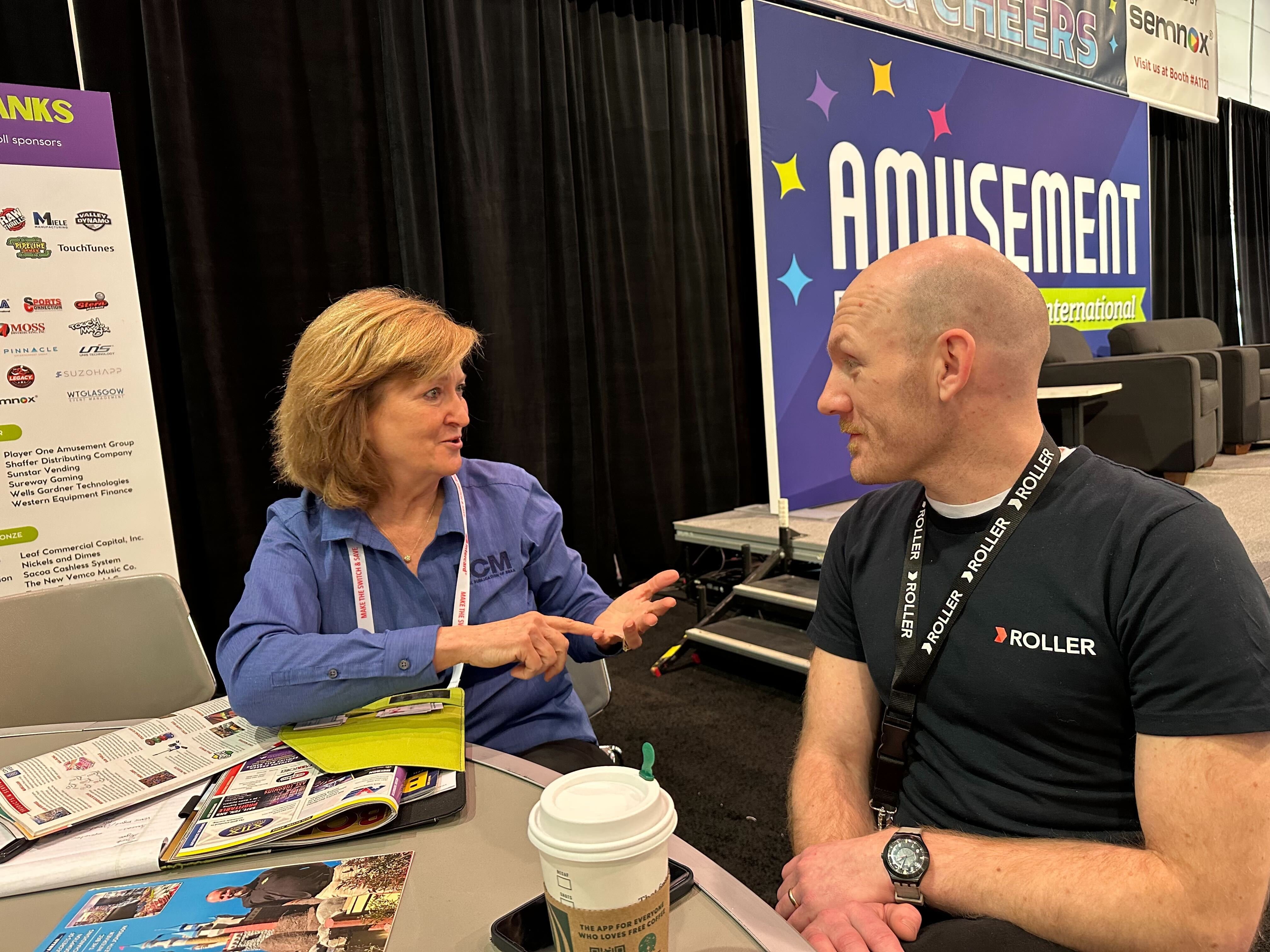 Operators want to incorporate virtual reality at their venues
Virtual reality (VR) is becoming hugely popular among guests. And we heard from many operators that they are keen to jump on this demand — especially because interest in VR spans generations, and the supporting technology is quickly advancing and becoming more affordable.
Some operators were looking to create stand-alone VR venues, but an overwhelming majority were interested in adding elements of VR into their existing venues. However, we often heard that although operators were keen to incorporate VR at their venues, they wanted to know whether their current operating systems could support such an attraction.
Read this next: How To Start a Virtual Reality Business
Operators want to improve the party booking experience
The operators we spoke to made it clear that party bookings are a clear and strong revenue driver, and driving more of them is a top priority.
Beyond that, many operators wanted to simplify the party booking process for customers and operators alike. We observed that operators were particularly interested in finding solutions that help facilitate, support, or improve party/group booking experiences.
Read this next: Party Booking Software: Manage Parties & Bookings From End-to-End
Operators want to grow and scale their businesses
After years of COVID restrictions, operators are hungry to get back on track, grow their venues, and take their businesses to new heights.
Many operators spoke to us about their plans to expand venue offerings and locations, add the newest and "hottest" games, and really scale and grow.
We even spoke to some operators who told us they had been referred to us by their peers, who said that ROLLER could help them reach their business growth goals. They were interested to learn more about our products as many had realized that to achieve their goals, they needed robust venue management systems to support this growth and make it sustainable.
Read this next: New Year, New Venue? What Operators Need To Grow in 2023
ROLLER key product features
We were so excited to demo the ROLLER platform for booth visitors! If you couldn't swing by our booth, don't worry, you can find a summary of our key features here.
All-in-one venue management software solution
The ROLLER platform is your one-stop shop for venue management solutions. From the platform, you can market and manage your venue and also sell your stock.
Plus, ROLLER is cloud-based, so you will never be limited by where you are in the world if you need to access the platform. Not to mention, cloud-based systems are more secure than traditional server-based systems, too.
Sell online or in-store
With ROLLER, your venue can sell tickets as easily online as in-store.
What's more, ROLLER's native checkout, Progressive Checkouts, has built-in features like an enhanced add-to-cart experience and immersive visuals that elevate your guests' online purchasing experience and encourages them to stay on your page longer and spend more.
Powerful POS
At ROLLER, we build our POS systems for performance. We design our POS devices to be fast, intuitive, and responsive. But above all, we ensure they are user-friendly so your staff spends less time at the POS and more time assisting your guests in having incredible in-venue experiences.
ROLLER's POS offers access to ticketing, F&B, inventory, and more.
ROLLER Payments
ROLLER Payments integrates seamlessly into our platform so you can easily promote and sell your products online and in-venue.
ROLLER Payments is a robust payments processor which utilizes many features, such as smart dunning, to increase the chances of payment authorization for every transaction. As a result, ROLLER Payments has an authorization rate of 94.5%.
ROLLER Payments also accepts 38 different payment types, including digital wallets and Buy Now, Pay Later, and includes additional features such as integrated refunds and fraud protection.
Read this next: ROLLER: Streamlined platform payments, superior customer experiences - Adyen
Guest sentiment analysis tool
Our guest sentiment analysis tool, the Guest Experience Score (GX Score), provides operators with an automated, easy, and efficient way to capture feedback and gain guest insights.
The GX Score surveys guests at optimal times and asks questions designed to reap unambiguous and helpful feedback that operators can apply to their venues.
Electronic waivers
ROLLER's electronic waivers mean that your guests can fill out their waivers before entering your venue and only need to show up and have fun on the day!
As well as protecting your venue from liability, electronic waivers also help you collect valuable customer data that you can later utilize for other purposes, such as segmented marketing.
Thank you for having us Amusement Expo!
We had a fantastic time at the Amusement Expo International and learned so much that we can't wait to return next year!
We hope we had the chance to spend some time with you, but if we couldn't meet and you'd like to chat about how ROLLER can help you in 2023, please contact us and book a meeting here.