There's a strong chance that you are familiar with WhatsApp, the communication platform with more than 2 billion active monthly users. India accounts for more than one-third of the app's usage, with another 100 million users in Brazil and 68 million in the United States. WhatsApp is the world's third largest social media platform, behind Facebook and YouTube.
What does this have to do with your business? The worlds of marketing and guest experience are increasingly overlapping, and the lines between the two are becoming blurred. By incorporating WhatsApp into your marketing strategy, you can improve your guest experience significantly.
In this article, we will review the following:
Why use WhatsApp for marketing
Pros and cons of using WhatsApp for marketing
Best practices for using WhatsApp for marketing
WhatsApp marketing examples
Let's get started!
Why use WhatsApp for marketing?
In addition to the massive user base, the concept of messenger marketing, whether through SMS text messaging, Facebook messaging, or WhatsApp, has grown significantly, not just in usage but also in favorability from consumers.
The open rates for messages are considerably high, often in the range of 90%, which is notably higher than the open rates of their email counterparts, which as of late, is approximately 15%.
Because consumers respond well to marketing via messages and a quarter of the world's population uses WhatsApp, it naturally lends to a marketing platform you should use within your business. Whether it's to send promotions, push guests to buy tickets, or keep the conversation going after their visit, there are several marketing benefits to using WhatsApp.
Read this next: Point of Sale (POS) Marketing: 7 Tested Ways To Increase Sales
Pros and cons of using WhatsApp for marketing
Let's take a look at some of the pros and cons of implementing WhatsApp into your marketing strategy.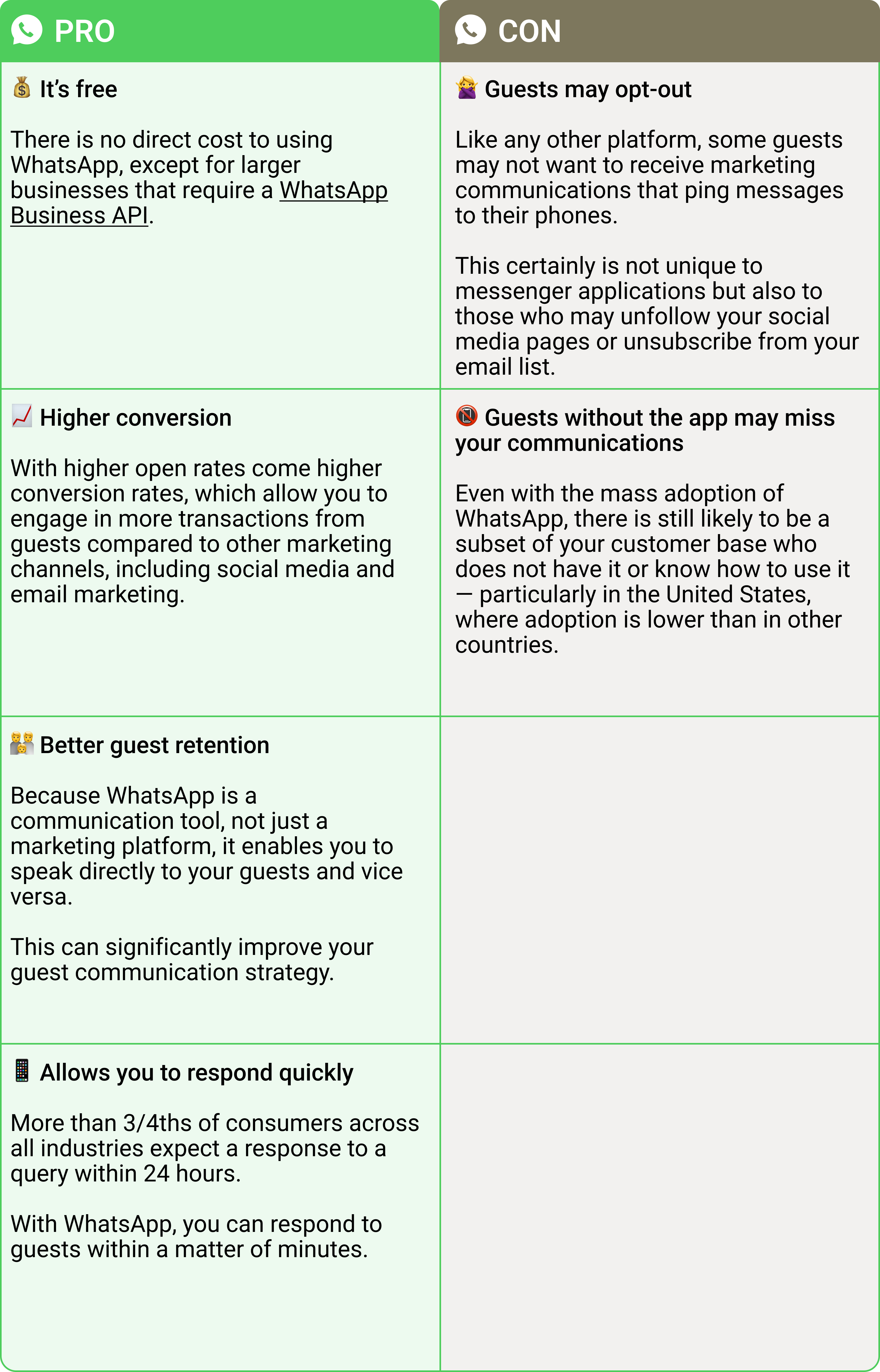 Best practices for using WhatsApp for marketing
Get the business app
WhatsApp allows you to create a business account that includes all of your venue's details, as well as a catalog that acts as a digital storefront. This is an excellent complement to your website as another channel where guests can find information.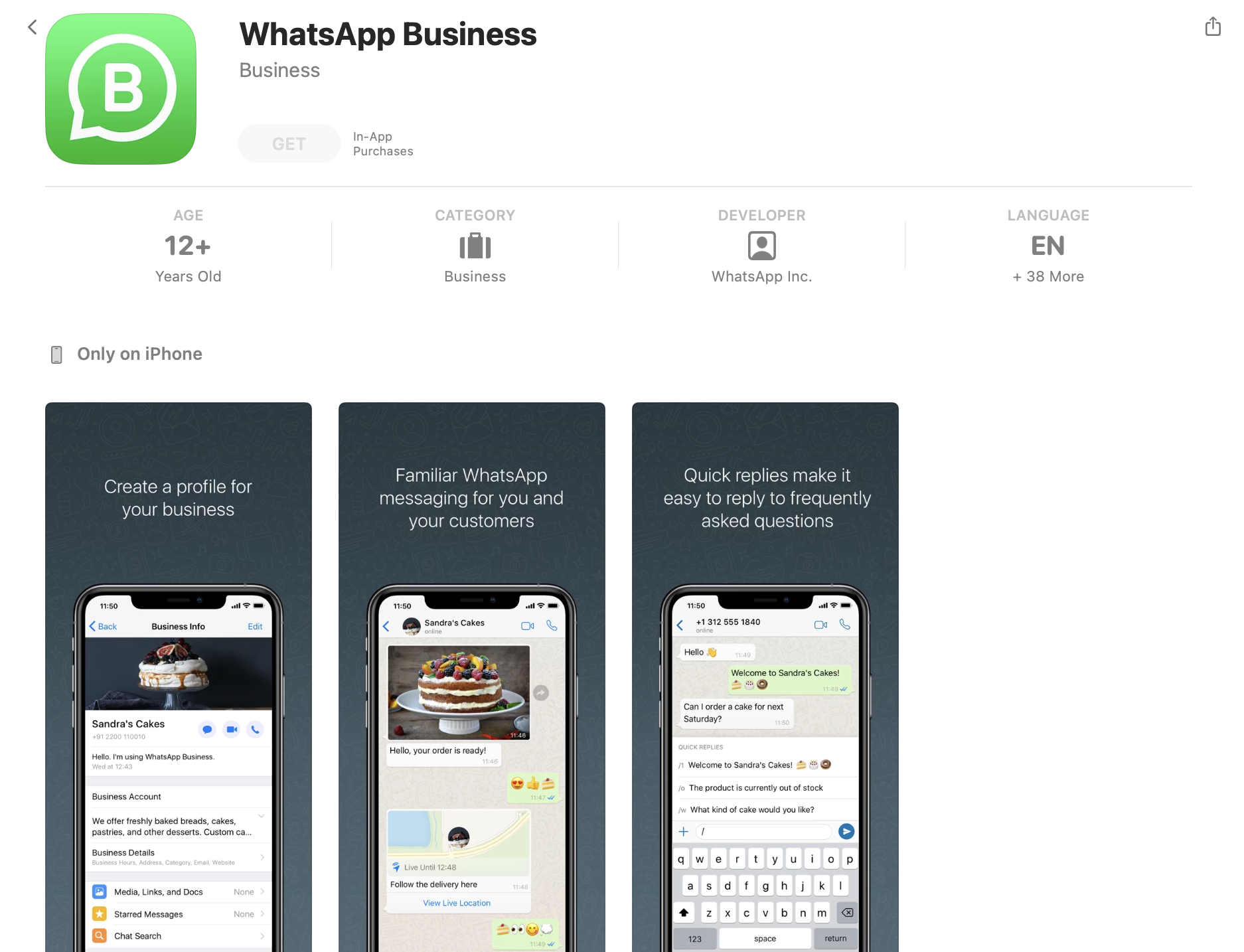 Collect contact info creatively
Nobody likes spam, so the way that you collect contact information from your guests is a delicate process. Don't ask them if you can contact them; give them a reason for joining your list. For instance, many family entertainment centers offer guests free admission or something of high value on their birthdays in exchange for their contact information.
Segment your audience
If you offer guests free admission on their birthdays, you'll need their birthday so you can market to them effectively. Information like their birthdays, ages, how far they live, how many guests are in their family, and other demographic information can help you divide your guests into various groups so you can send customized messages to them.
Keep communication relevant
If you've properly segmented your audience, then the messages you can send them can resonate with their characteristics based on the data you've collected. This allows you to send specific messages to each audience group rather than sending everything to everyone.
Don't over-communicate
If you are communicating relevant information to the right people, you can do so succinctly and without overwhelming your guests. As a rule of thumb, plan to send no more than 5-10 messages per week to each audience type.
Ensure two-way communication
Remember, the best marketing is when guests can engage in dialogue! Since WhatsApp is a communication platform, not a one-way marketing platform, this should enhance your guest communications strategy to answer questions, resolve complaints, and find creative ways to enhance the guest experience.
WhatsApp marketing examples
Here are a few specific examples of how you can best use WhatsApp can enhance your marketing capabilities.
Guest communications
If you collect your guests' contact information, you can conduct outreach to connect with your guests on a personal level. Collect feedback, invite them back, or simply send a message thanking them for visiting. On the flip side, make your contact information available to your guests to get a hold of you if they need to reach someone. This can be before their visit, during, and after their visit. From simple questions such as operating hours to make a lost and found inquiry, this platform can significantly help you improve your guest communications.
Showcase new products and packages
WhatsApp's business application allows you to present items available for purchase. For an attraction, this can include tickets, packages, retail, and anything else that you choose to showcase. If you release a new promotion, you can leverage your contact list to announce the package's availability and make it easy for them to purchase, increasing your conversion rate.
Auto replies
Just like an automated email message, creating an automatic reply can provide guests with critical information if necessary, such as if you are closing due to weather or how guests can get in contact with an agent if needed. It can even send a link to frequently answered questions that can help speed up the time it takes for guests to get information for questions or concerns.
Create a chatbot
Taking auto-replies to the next level, a chatbot incorporates artificial intelligence (AI) so that answers to various questions can be answered intuitively without the need for a staff member. Chatbot technology has become so sophisticated that it can answer guests' questions, provide the necessary information, and even facilitate transactions that can help you sell tickets… all through platforms like WhatsApp.
If you want to learn more about how WhatsApp can help you amplify your marketing efforts, check out the links below. To learn how ROLLER can help remove friction from your guest experience, click here to schedule a demo today.