90% of U.S. consumers find personalized marketing appealing. Your guests want to feel like they matter to your brand and that you see them and their personal needs. Along with this, they expect quick, easy service and communication. So how do venue operators deliver on this? SMS marketing and communication.
SMS marketing boosts guest engagement and loyalty and increases conversions at your attraction's venue. The main reason for this is that most of your guests prefer this marketing medium. 70% of customers say that SMS marketing is a good way for businesses to get their attention. And for you, SMS is cost-effective, easily deployed, and receives high open and response rates, so it's a great medium to consider.
This article delves into what SMS marketing is, its benefits, best practices, things you shouldn't do, and how much it costs. We also provide a list of the leading SMS marketing platforms.
What is SMS marketing?
SMS marketing is a way to communicate with your guests (prospective or past) using text messages to:
Promote your products
Remind guests to renew things like memberships
Alert guests of events and any new promotions happening in-venue
Offer coupons
Broadcast announcements
Send guests' personal information such as a PIN to allow them to log in to their account
Send a payment link to allow guests to pay an invoice
A text message has a limit of 160 characters, but businesses can send multiple messages if it is insufficient.
SMS marketing statistics
You know that feeling you get when you hear your phone's message tone go off? That feeling of wanting to know what's in that message, even though you're almost sure it's not urgent?
That's how your guests feel when they get text messages too! It's because receiving an SMS instills a sense of urgency; we want to know who texted us and for what reason.
Here are some statistics to prove it:
Why use SMS for marketing?
Higher open and response rates
With a 98% open rate, SMS marketing beats email marketing's open rate of 20%.
And the average SMS response rate is around 45%, which also significantly beats email at about 6%.
Guests appreciate convenient, personalized interactions
Your guests appreciate the personal connection and personalized services that come from SMS communication. For example, being able to quickly and easily reply 'YES' to renew their memberships is super convenient.
Similarly, the ability to pay a bill via a secure payment link sent to guests' mobiles is much more convenient than your guest having to find a desktop, login, locate their invoice, and pay.
When guests enjoy interacting with your brand, it builds brand loyalty
SMS simplifies interactions between your guest and your brand and makes it more enjoyable by being a form of communication requiring minimal effort from both sides.
And when your guests enjoy communicating with your brand, they are more likely to remain engaged and recommend you to others.
Other benefits of SMS marketing
Real-time engagement with your guests
Ability to easily segment your guests and send targeted communication
Results are easily measurable through most SMS marketing services
It's a low-cost marketing strategy (read more about that below!)
How to do SMS marketing: the do's and don'ts and best practices
1. Do set up automated campaigns
Many businesses that use SMS marketing utilize automatic campaigns. These can be set up in advance and save you time when replying to your guests.
You can program your messages to send when specific criteria are met. For example, when a guest first joins your mailing list or when it's their birthday.
2. Do remind guests to renew memberships
When you send a reminder text to a guest to renew their membership with you, this little prompt can be the difference between a membership lapsing or not.
3. Do let guests know their cart is waiting for them
We all know how frustrating abandoned carts can be for business and how much they account for in revenue loss. The solution? Text your guests!
Remind them that their cart is waiting for them, and maybe even send them an SMS with a discount code for their next shop to encourage them to see the purchase through. But be weary not to offer too many discounts as this may cheapen your brand, so use these codes sparingly.
4. Do send guests payment links
You can send guests an SMS with a secure payment link for just about anything!
If we take the above example, you could SMS them a payment link to their abandoned cart so they can purchase straight from their mobile phones! It is a more convenient way to pay and is more secure too.
5. Do give birthday rewards
Do you love it when your favorite brand texts you a birthday reward? We all do!
Promising a birthday gift/discount is a great way to retain and grow your subscribers. Rewards work, and satisfied guests talk.
6. Do upsell and cross-sell
To cross or upsell, you'll first need to understand your guests and what they are interested in. You can use this information to send out targeted SMS marketing campaigns if you segment your guests by what they're buying.
For example, say you run an indoor trampoline venue, and you notice that families of four will typically purchase food and drink from your in-venue cafe. You can perhaps send these guests a 'buy 3, get one free' meal offer.
Suppose this same family of four has made their jump purchase online but hasn't purchased 'jump socks' for their visit. After their purchase, you could send a payment link to them via SMS containing an order for jump socks so they won't have to wait in line at the venue to purchase these.
7. Don't send too many texts
As effective as SMS marketing can be, too many texts from a brand can quickly become an annoyance for your guests, so be sure not to overwhelm them.
As a best practice, try not to send more than one text per week.
8. Don't send overly long texts
The point of texting is to convey the message in as few words as possible — that is why guests prefer receiving texts. So keep texts short, sweet, and to the point.
A best practice is to put yourself in your guest's shoes, think about what you would like to receive from your brand if you were a guest, and craft your content from there.
Some last few best practices to keep in mind include:
Use SMS to send your most urgent messages out, rather than email as SMS open rates are higher
Text guests between 9 AM and 4 PM as it will reap the most engagement
Identify your brand in every message you send, so guests know it's you
Send welcome SMS messages/ offers to new subscribers — you might even want to send them a discount code for their first shop with you to encourage a purchase
How much does SMS marketing cost?
SMS marketing is a comparatively low-cost marketing strategy.
Of course, pricing will vary depending on how many messages you send and to how many guests, but roughly, if you send one SMS campaign a week to your list of 10,000, you could expect to spend around $400 [(USD)] each month with a pay-per-usage platform.
In comparison to standard marketing campaigns, this amount is often reasonable. Additionally, a standard campaign takes much more human resources and time to brainstorm, produce and execute.
SMS for venue management
We've rounded up four of the top SMS services for your venue below.
ROLLER
ROLLER is an all-in-one, cloud-based venue management software system. And it is custom-designed for the leisure and attractions industry.
ROLLER offers venues the ability to utilize SMS for payment facility and account login. Guests can receive SMS links to securely sign into their account, or even pay a bill.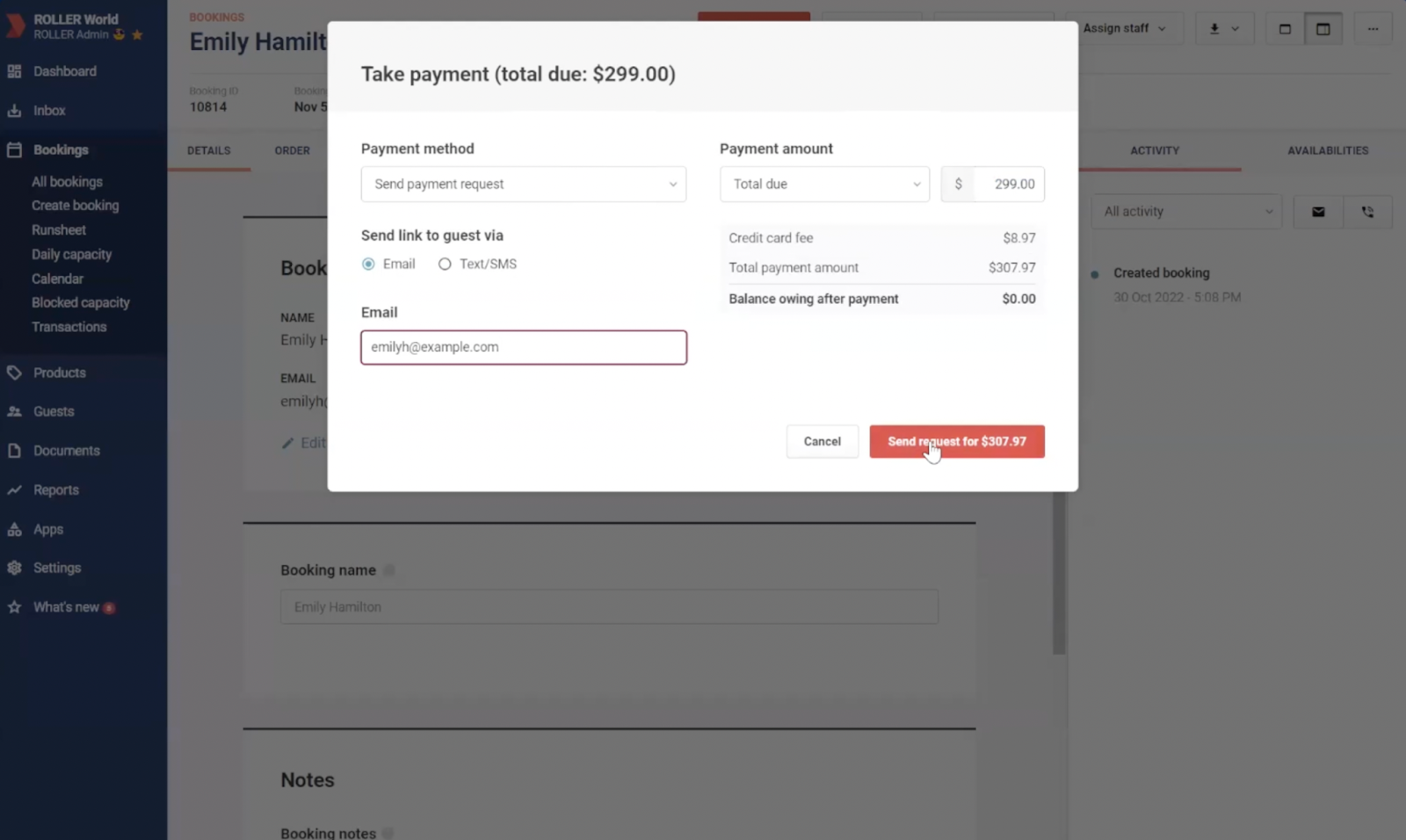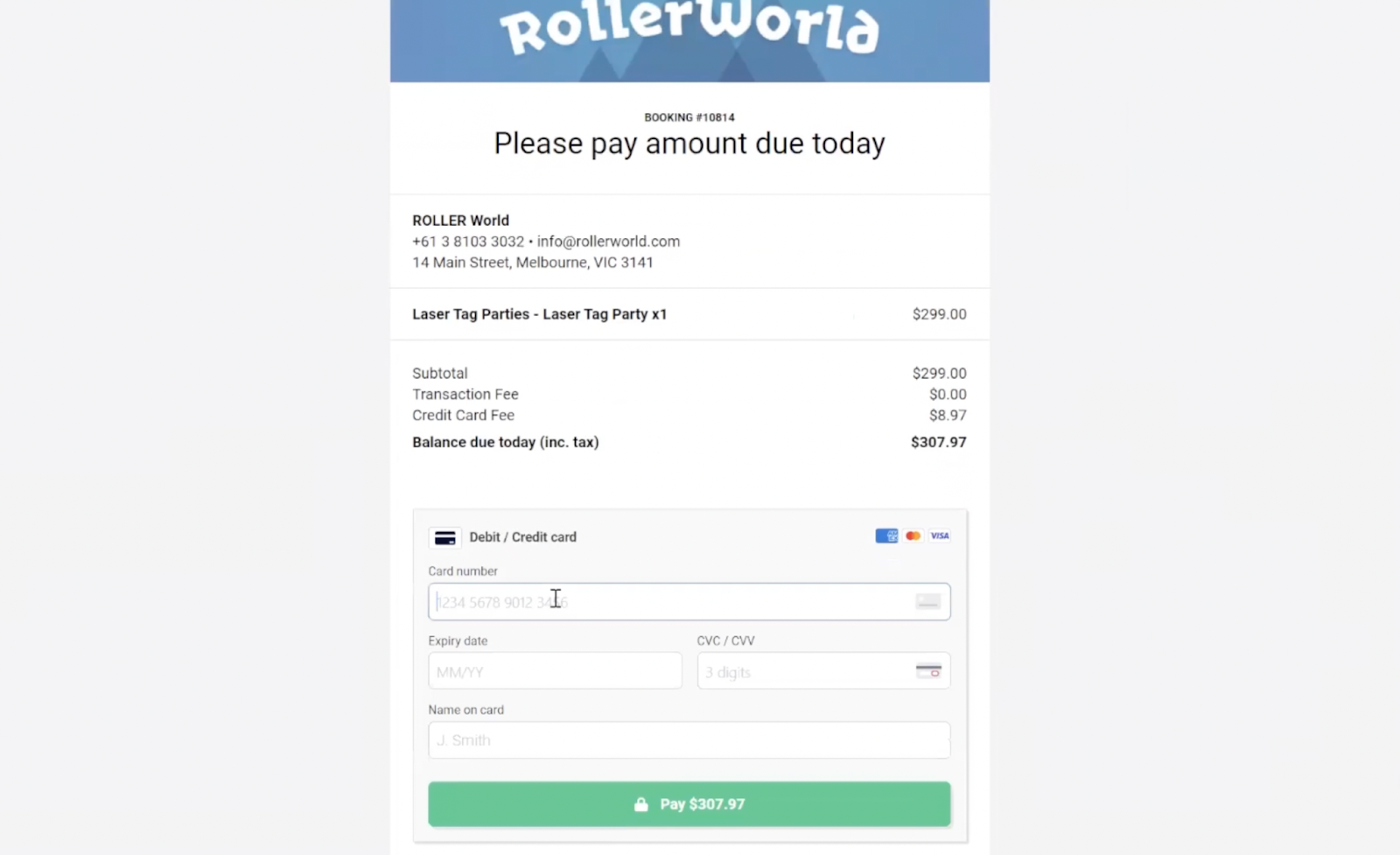 ROLLER also integrates with other SMS marketing platforms, like Campaign Monitor & Mailchimp, to assist with all your SMS marketing needs.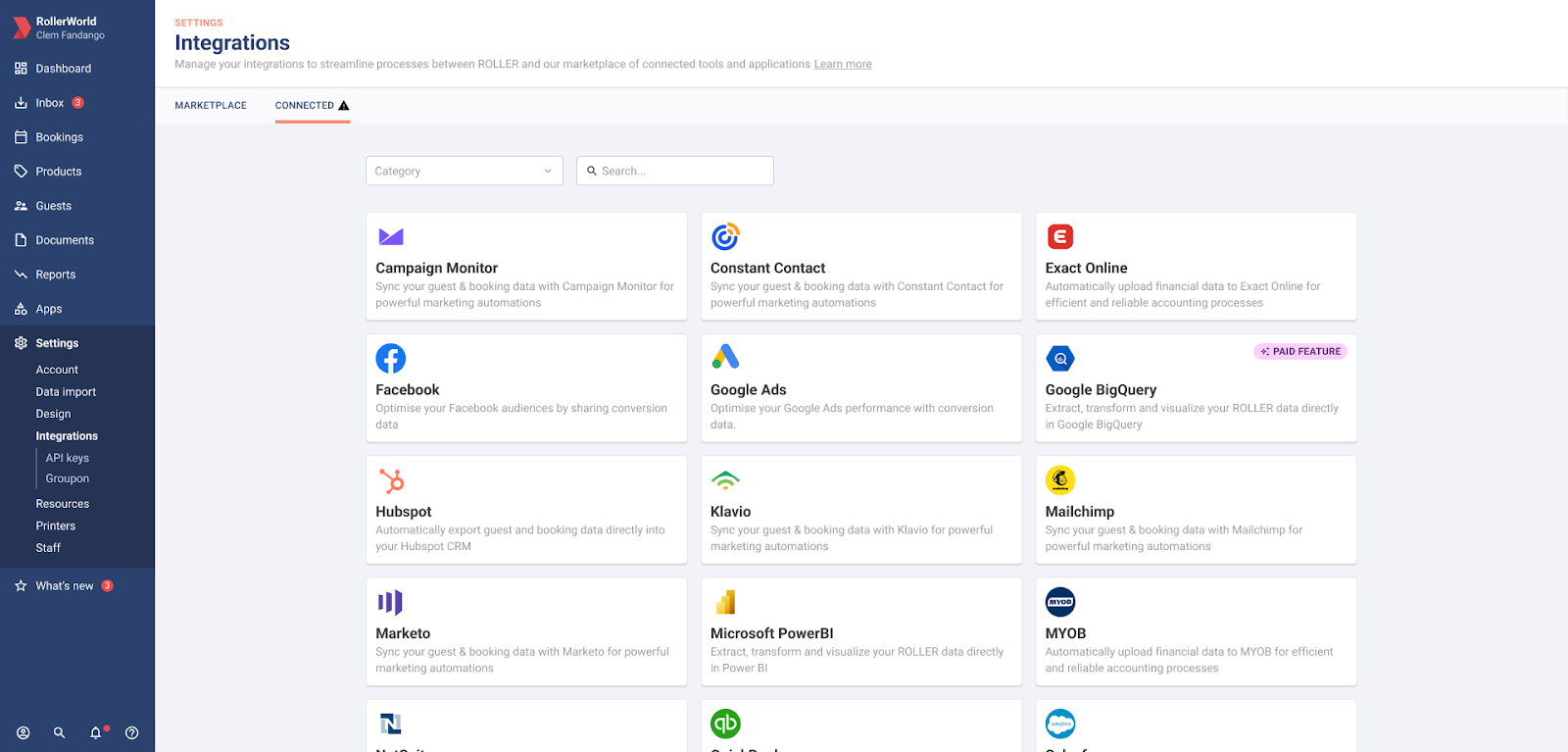 SMS as a vehicle for business growth
SMS marketing will continue to evolve into the future. It is predicted that, eventually, SMS will become an entirely shoppable experience in its own right and that the SMS experience will become very similar to how guests use your website via their desktops today.
So it (literally) pays to get ahead of the curve and consider using SMS as a vehicle for business growth — especially considering how low-cost and high-impact it is.