You've heard of Salesforce, right? The cloud computing service as a software (SaaS) company founded in 1999 that specializes in customer relationship management (CRM)?
Its services allow businesses to use cloud technology to better connect with customers, partners, and potential customers. Salesforce is a $26 billion company with nearly 75,000 employees.
But is bigger always better? How do you judge whether a platform will perform impeccably in all areas your business requires?
What is Salesforce reporting?
Salesforce reporting is a tool built into the Salesforce platform that helps users show different data types in multiple formats.
For example, a user can create a report showing how much of X product was sold over Y amount of time from the data already inputted into the Salesforce platform.
These reports are displayed in rows and columns and can be filtered and grouped as preferred. After a report is generated, it is stored in a folder of the user's choice.
The reporting tool can be found in the 'Reports' tab of a user's Salesforce account.
Read this next: Making Sense of Point of Sale (POS) Reports
Types of Salesforce reports
Salesforce offers the below 4 types of reports.
Tabular Reports
This is where data is shown in rows.
It is the most simple type of report and is most useful when the user only wants to export data.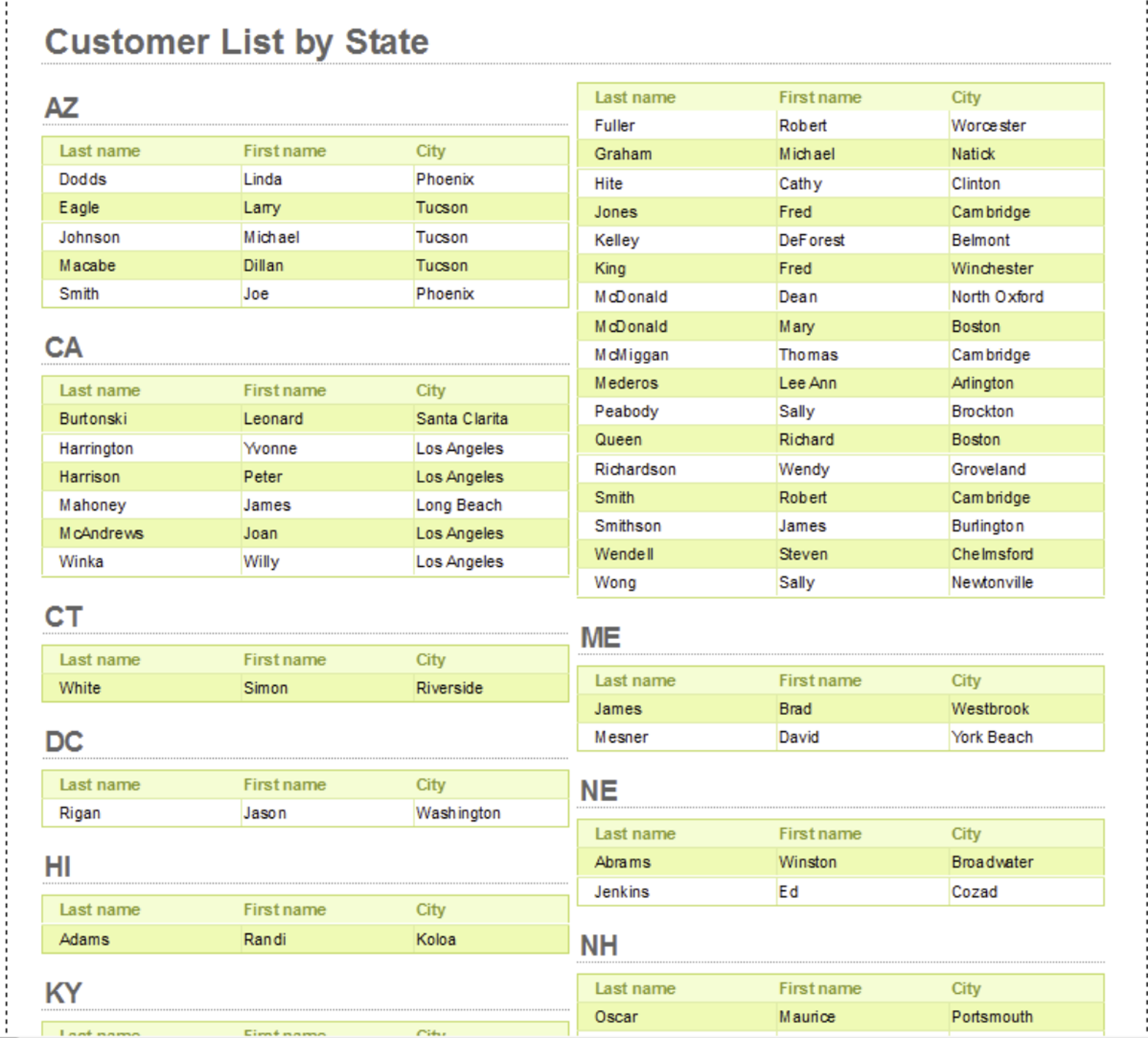 Matrix Reports
Data in these reports are shown in rows and columns, and such reports are a step more complicated than tabular reports.
They are most valuable when trying to display large amounts of complex data.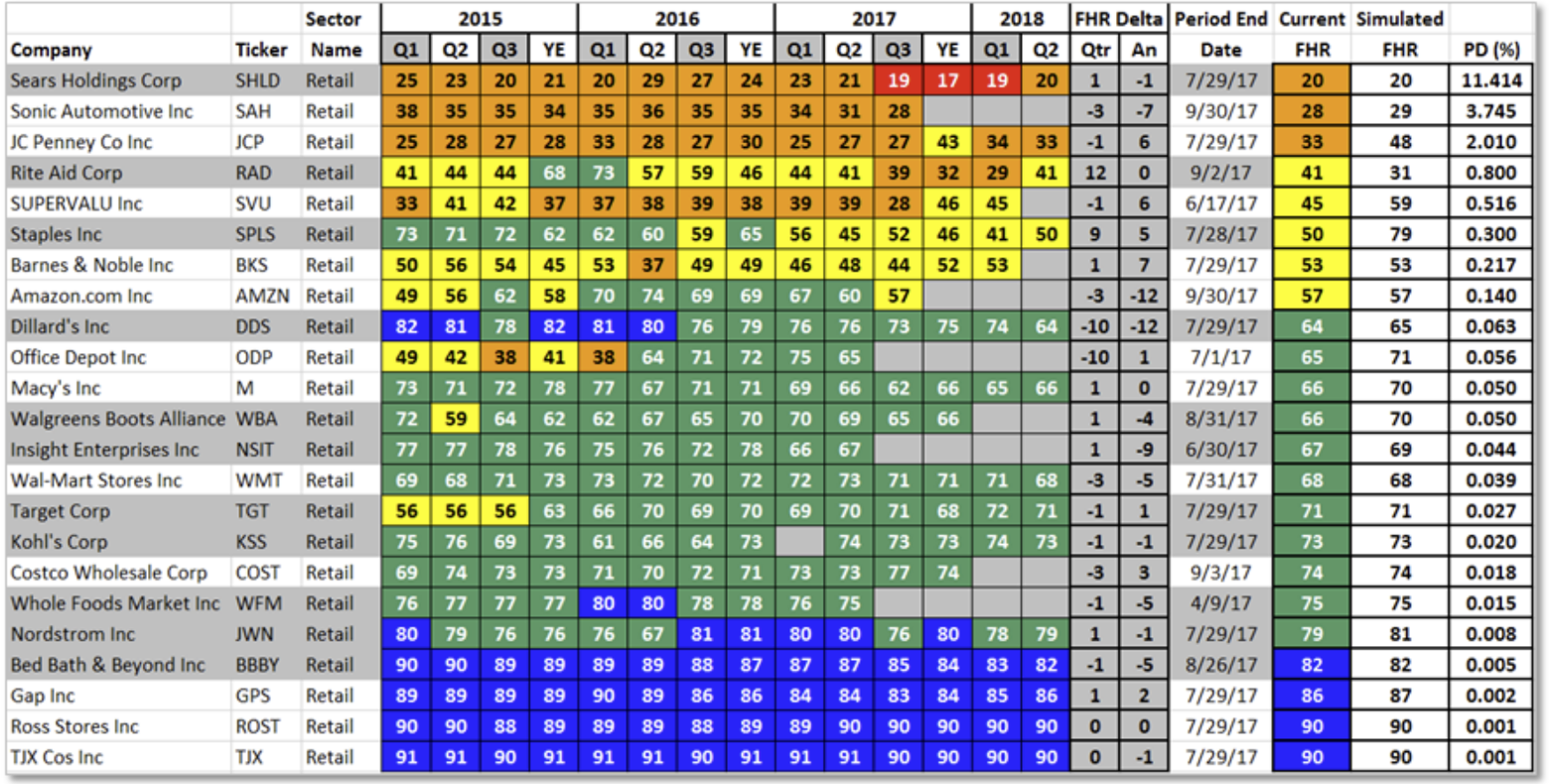 Summary Reports
Summary reports are the most popular type of report.
They show groups of data, and this data can be grouped into different categories﹘making them a very useful way to view a wide range of data types.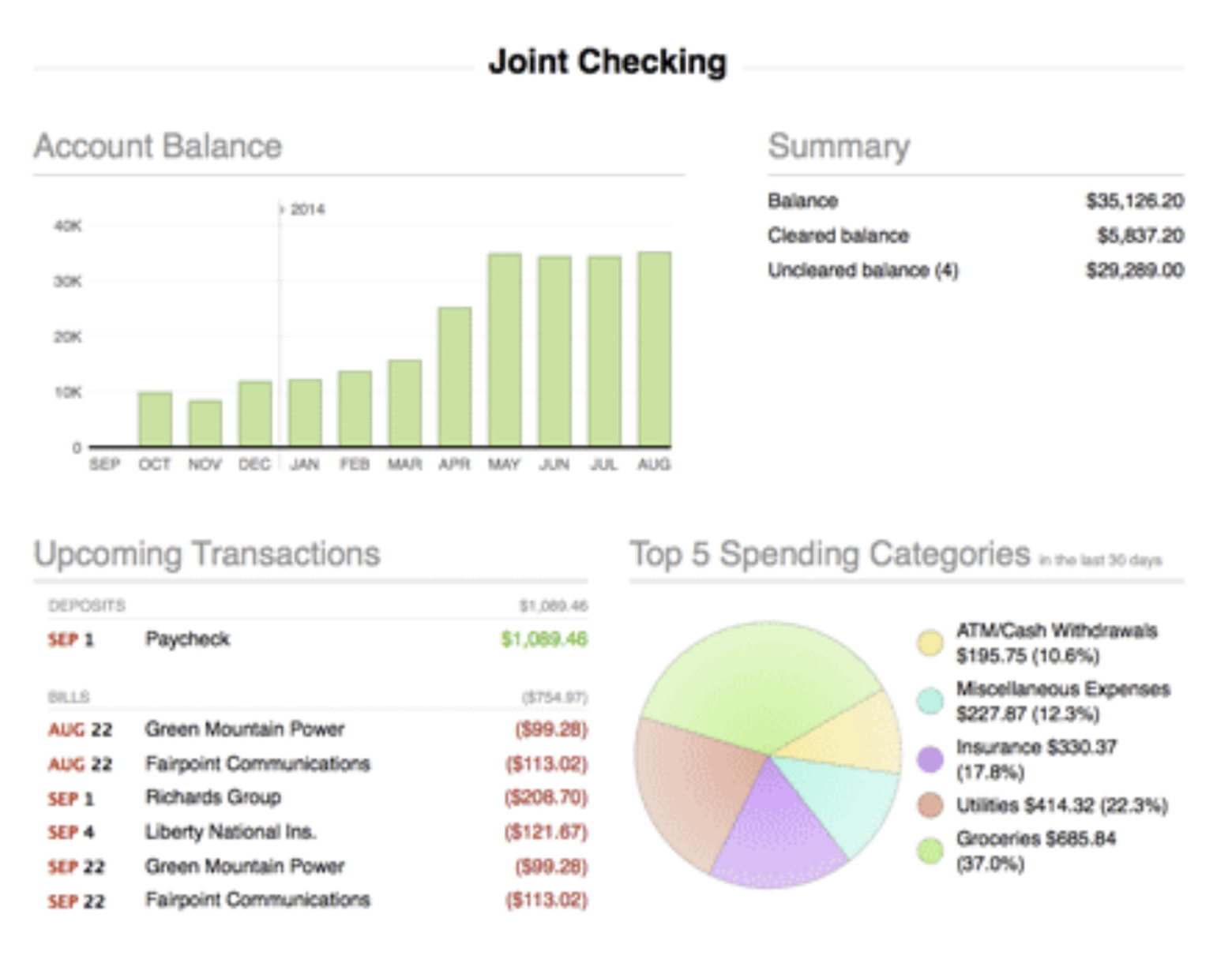 Joined Reports
Here, two reports are generated. It is not a commonly used tool, but the generation of two reports is very effective when data needs to be compared.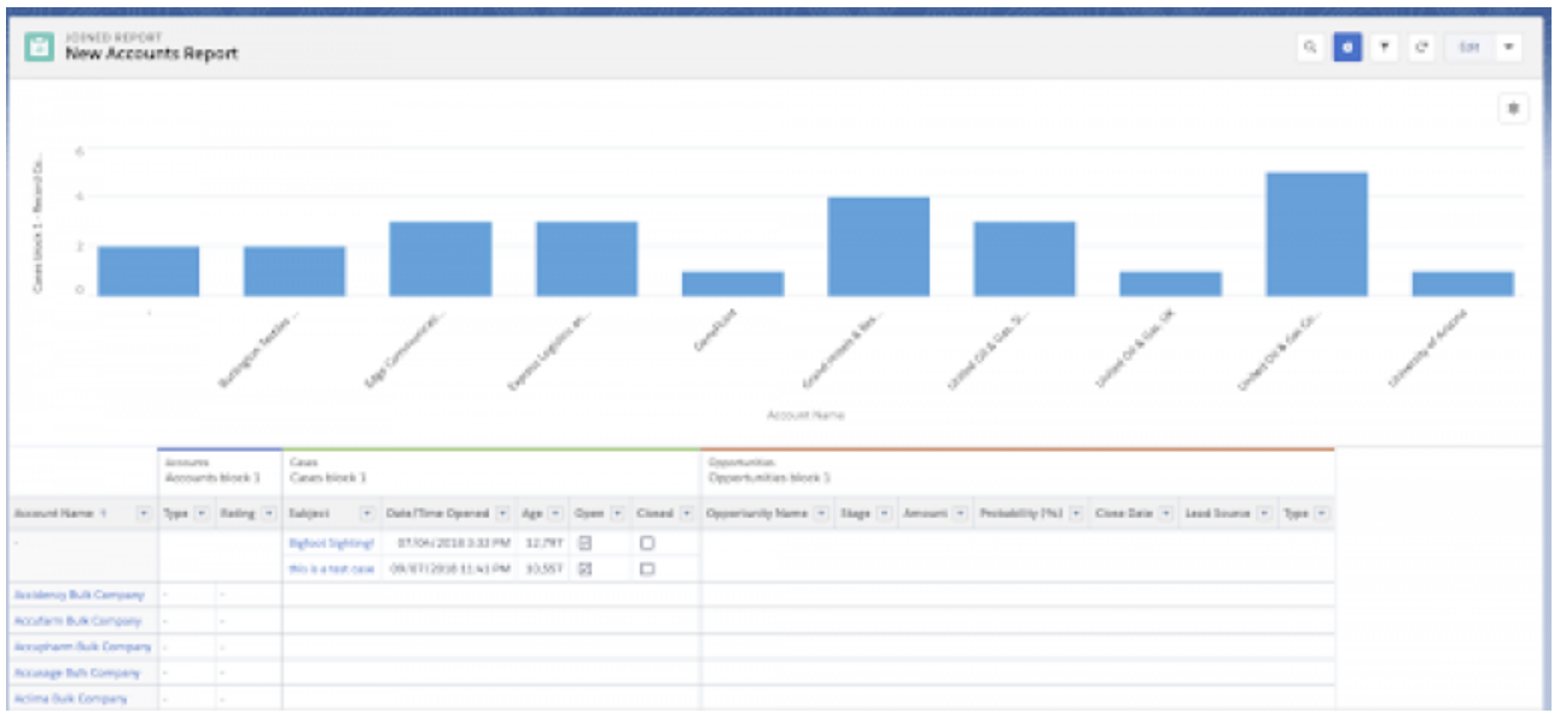 How is Salesforce used for reporting?
Proper and accurate reporting that can be utilized to help your business grow is integral to your business success.
While Salesforce offers reporting as a part of the package, this reporting function is general in nature. While Salesforce reporting can populate many different reports, they may not all be relevant to your operations.
These reports are not purpose-built for the attractions industry and come with their own problems. We will go into these problems in more detail below.
Here we'll review the differences between Salesforce Reporting and ROLLER Reports, including challenges operators have encountered with traditional reporting systems and how purpose-built systems can help bring your business to a new age of venue management.
Common Salesforce reporting challenges
Time-intensive to build and resource-intensive to maintain
Robust solutions are great, but only if you know how to use them. In business, we know that time is money, so if unnecessary amounts of time are spent trying to learn reporting systems that are supposed to be helping you, this will be counterintuitive.
To get a handle on Salesforce reporting and all of its corners and nuances, you will need help. If not help, at the very least, you will need some prior training to get the best out of your Salesforce reports.
Salesforce reporting is not straightforward, and its ability to generate such a high volume of reports can be overwhelming for a first-timer. And it can make it hard to ascertain which ones exactly can provide you with value.
Difficult to locate information, leading to poor data management
Missing information in reports that may have been the product of an employee input error is far more prevalent in older platforms like Salesforce.
More modern systems will usually catch and prevent this incorrect information from being entered in the first place.
However, perhaps worse than missing data is challenging to find data. At least when there is an apparent missing piece of information, you might be able to backtrack and discover the cause of the error.
But when the data is hard to find regularly – this means regular time wasted that could have been better spent elsewhere.
Inability to share specific reports with other stakeholders
In Salesforce, you cannot easily share a report generated on its platform with someone else who does not have a paid Salesforce account.
It is possible, but it will take you a long time from when you export the report to when the interested party receives it.
Given the speed with which business today moves, the delays in getting these reports to interested parties can have undesired effects on how your business runs.
There is also an added cost for an additional Salesforce license in order to give more individuals access. And if you want, you can pay extra for a 'Salesforce specialist' to assist you in navigating the platform, but they may not have an in-depth understanding of the system's custom reporting fields.
Production of reports that don't add value to your business
What's more annoying than a report that was hard to export? A report that was hard to export and didn't provide any valuable insights.
In Salesforce, when a report is produced, it can sometimes be inaccurate and contain data that cannot be correlated to any future business improvement.
Salesforce Reporting also contains several redundant custom fields, or fields that do not apply to most users.
ROLLER reporting vs Salesforce reporting: Key differences
ROLLER helps operators like you manage your venue, inventory, AND reports – all in the one cloud-based system. Being cloud-based means you'll have the flexibility to do all this on the go and in real-time!
ROLLER reporting will allow you to take your business reporting to the next level by being as user-friendly as it is powerful. Check out some of our favorite features below!
Purpose-built software for the attractions industry
We work directly with and for the attractions and leisure industry. Through this, we've gained industry knowledge and used it to inform the development of our products.
And we've designed them with tons of easy-to-navigate features so that you, your team members, and your guests spend less time fumbling at the point of purchase.
Guest expectations are constantly rising, and your business has to evolve to meet them continuously. That's why, we are continually adding exciting updates to these features to ensure that your business will always perform at its best.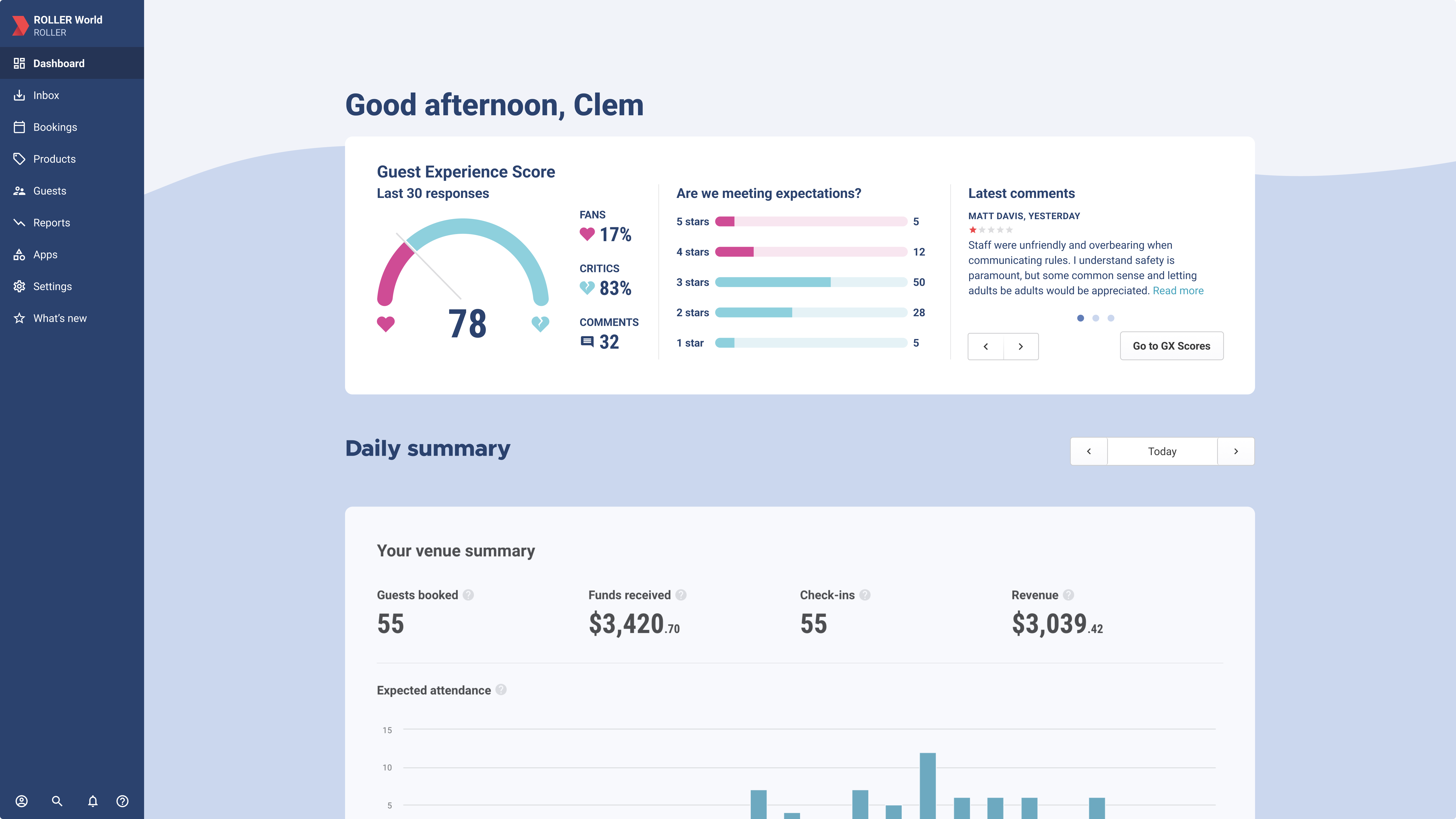 Accrual accounting reporting
Our accrual accounting reporting has been built to help business owners shift away from cash accounting and report on their numbers correctly, without having to do manual number-crunching at the end of the month. It's all automated and accessible on the platform.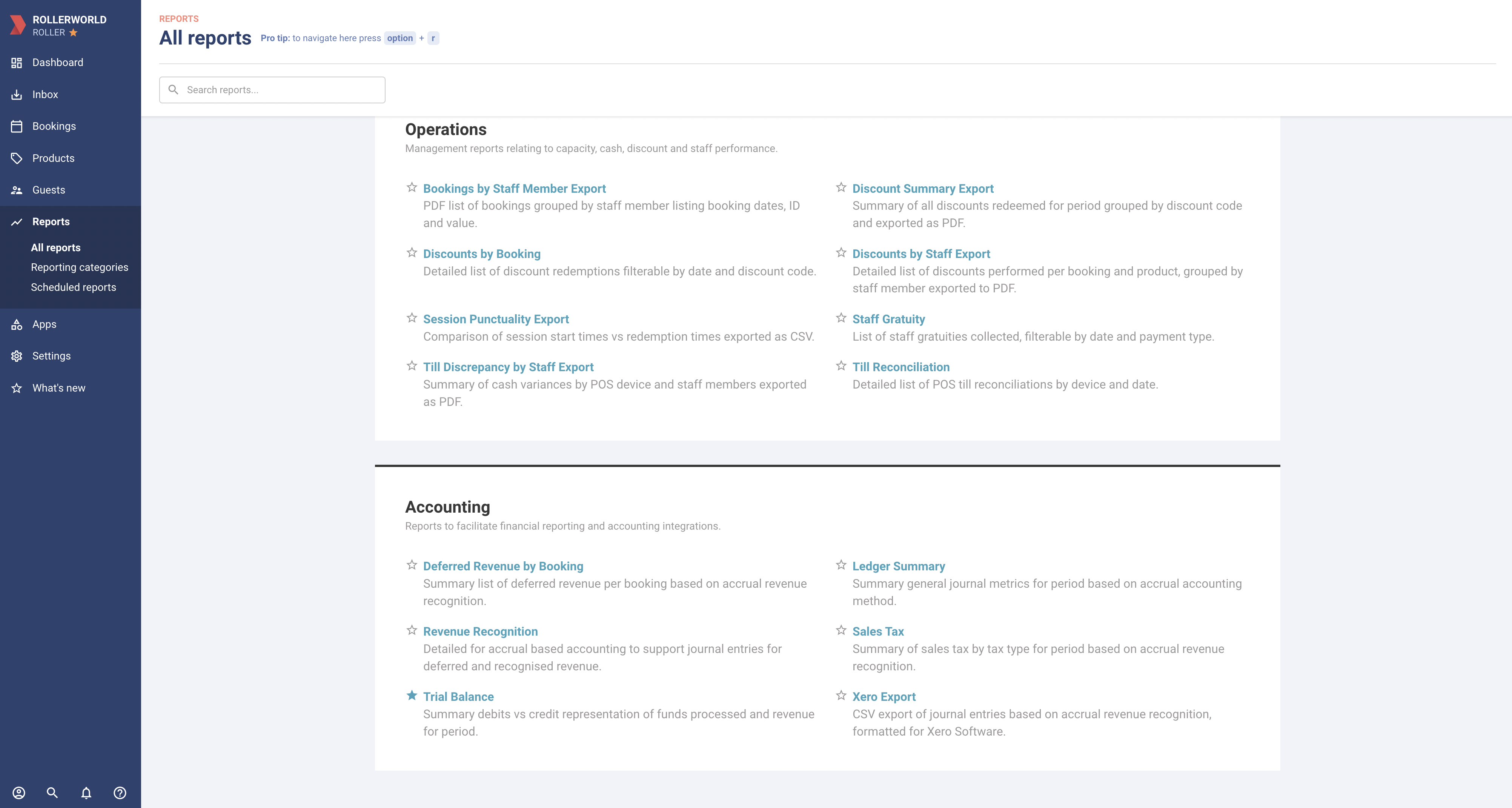 Mobile end-of-the-day reports
Gone are the days when reports were only shared in boardrooms. People want to see them on the run, in real-time. Now you can schedule your reports to send to key people in your organization; direct to their phones.
API and reporting integrations
Our open API will let you gather all the necessary information to take your reporting to the next level and aggregate data from other systems. We can link your data to our partners and supplement your reporting through other business intelligence (BI) tools.
Make your reports work for you, not the other way around
Making the switch to a different platform can feel daunting. However, if staying with a platform that underperforms for your needs negatively impacts your business, it might be time for a change.
Business reporting is essential - it is a critical tool that supports business growth. If you know what works and what hasn't been working - you'll know where to improve!
With solid reporting tools, you'll pick up trends faster, be able to analyze your business' data better, and you'll be able to easily keep your finger on the pulse of the overall health of your company.
But, if your reports are hard to generate, resource and time-intensive, or are even just too hard to share with other interested parties - your reporting platform might be short-changing you. Your reports should be effortlessly produced and maximally beneficial.
Contact us today if you would like to learn more about ROLLER Reports.