Enhancing your online checkout is a sure way to increase your conversion rates. It is the single most crucial part of your online experience. Because if your guests don't enjoy the checkout experience, they will likely abandon their purchase.
Read on to learn four practical ways to delight your guests, bring in more revenue and increase conversions.
1. Ensure your online checkout is mobile-optimized
Did you know that mobile devices account for over 70% of online sales? And that 70% of consumers will not shop with organizations that have a bad online shopping experience?
These numbers are so high because nowadays, most everyone buys online or via mobile. Your guests are time-poor, and if the booking process for a fun day out could be more fun, this will lead to frustration and abandoned carts. And because they're so busy, guests will most likely not switch to PC or come in-store to buy; sadly, they will probably look for another venue.
Suffice it to say — your online checkout must be mobile-optimized. An online checkout like ROLLER's new Progressive Checkout is designed and architected specifically for mobile devices. It provides a visually engaging experience and functions like auto-fill fields and order summaries that can be immediately viewed and edited. These features create an interactive and captivating checkout experience that makes guests want to stay on your page longer and purchase more.
Give your guests what they want and ensure that your online checkout is mobile-optimized.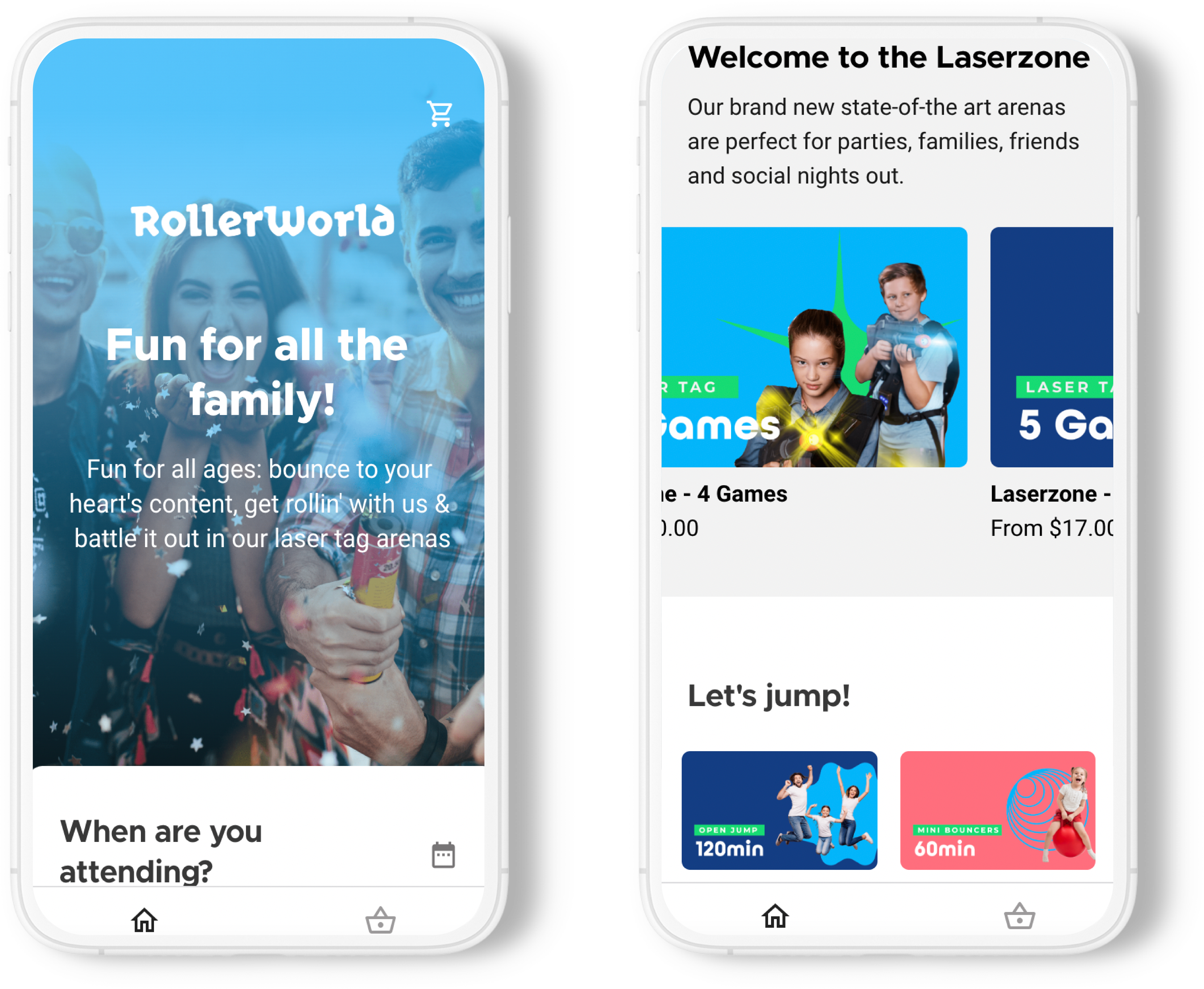 2. Ensure your online checkout is visually appealing and engaging
74% of guests will abandon your online checkout if it is unpleasant to navigate. As such, your checkout experience must be engaging and immersive. The visuals you use allow you to communicate your brand and generate excitement for the experiences you offer, so make the most of this opportunity.
With ROLLER, you can customize your website's homepage, allowing you to leverage your existing branding so customers feel an added sense of trust.
And when it comes to your online checkout, there are many things you can do to make it more engaging. As mentioned above, you can make your order summaries available for immediate viewing and editing. This feature gives guests more freedom and control over their carts and reassures them as they proceed through the checkout. You can also enhance your add-to-cart experience to make it faster and more pleasing by visually assuring the guest of the action and the next step to proceed toward completion.
These things, included in Progressive Checkouts, visually excite your guests and make the purchasing experience more enjoyable, comfortable, and, most importantly, compelling.
Learn how to set up your customized checkout appearance here.
3. Use a payment processor that accepts all payment types
Guests will drop off if they can't pay how they want. 50% of guests want to pay using digital wallets, and Buy Now, Pay Later is now the fastest-growing payment alternative in North America.
We live in a world that provides many payment options, so if your venue matches this guest expectations, it will positively affect your conversion rates. So ensure that you use a payment processing system that accepts all payment methods and doesn't leave any money on the table!
Read this next: Looking For an Alternative to Global Payments? Here's What You Need to Know
4. Give your checkout a custom domain
Custom domains increase conversion rates by improving user trust.
They also improve the effectiveness and conversion rate of digital advertising platforms like Google, Facebook, Instagram, and TikTok. How? Because browsers like Safari are now actively blocking third-party data on these platforms. So by implementing custom domains, this interaction data becomes first-party data which is permitted and unblocks the feed of data to your digital advertising tools.
So if you're not currently using custom domains, it might be time to consider making the switch!
Learn how to publish your Progressive Checkout via your custom domain here.
Change with the changing online landscape
The online experience is ever-changing, and to grow your revenue and online presence, you may need to make some changes from time to time.
A visually exciting, mobile-optimized online checkout that can accept all payment types and has a custom domain is a surefire way to steadily increase conversions and draw even more traffic to your website.
Check out ROLLER's progressive checkout new feature here.