The best gift to give yourself or a loved one is a fantastic experience. Memories are priceless, and making them can be a ton of fun. And because of this, your guests will be looking for the best deals from their favorite venues this Black Friday and Cyber Monday. They know it's coming, they're looking forward to it, and are ready to spend.
So let's jump in and discuss four proven marketing strategies you can implement this Black Friday to capture your guests' attention (and revenue for your business!).
Black Friday and Cyber Monday statistics
Black Friday began in the 1960s when the Friday after Thanksgiving was named as such in hopes of kicking off the festive shopping season with alluring sales and discounts. In 2005, the first Cyber Monday occurred as an extension of Black Friday sales and discounts that encouraged people to shop online.
This year Black Friday will fall on Friday, November 25th, and Cyber Monday will be held on Monday, November 28th.
On Black Friday in 2020, shoppers spent $6.3 million per minute online
Still wondering whether you should hold Black Friday sales or not? You should definitely partake!
Cyber Monday 2020 was the biggest online shopping day in US history
It brought in an astounding $10.7 billion!
76% of American shoppers plan to do most of their holiday shopping on Black Friday this year
So it's fair to say this will be a major shopping weekend again this year.
And how can your venue make the most of these statistics? Keep reading!
The most effective Black Friday marketing strategies
1. Offer a membership discount
Memberships are a fantastic source of recurring revenue. On average, members visit 1.2x a month and spend more per visit than non-members.
So when you offer membership discounts, you are simultaneously securing recurring revenue and delighting your guests with a great deal. A discounted membership can push your guests to jump on board!
Ideas to implement
Another idea is to offer a discounted membership for every friend your existing member refers to your venue. You could even flip it and offer your current members a discount on their monthly membership fee for every friend referral that turns into a membership.
Marketing ideas:
Discounted memberships for 2023
Discounted memberships for friends of members
Get discounted monthly membership fees for every friend you refer. Refer four friends, and get four months' worth of discounts!
How to apply a discount in the ROLLER platform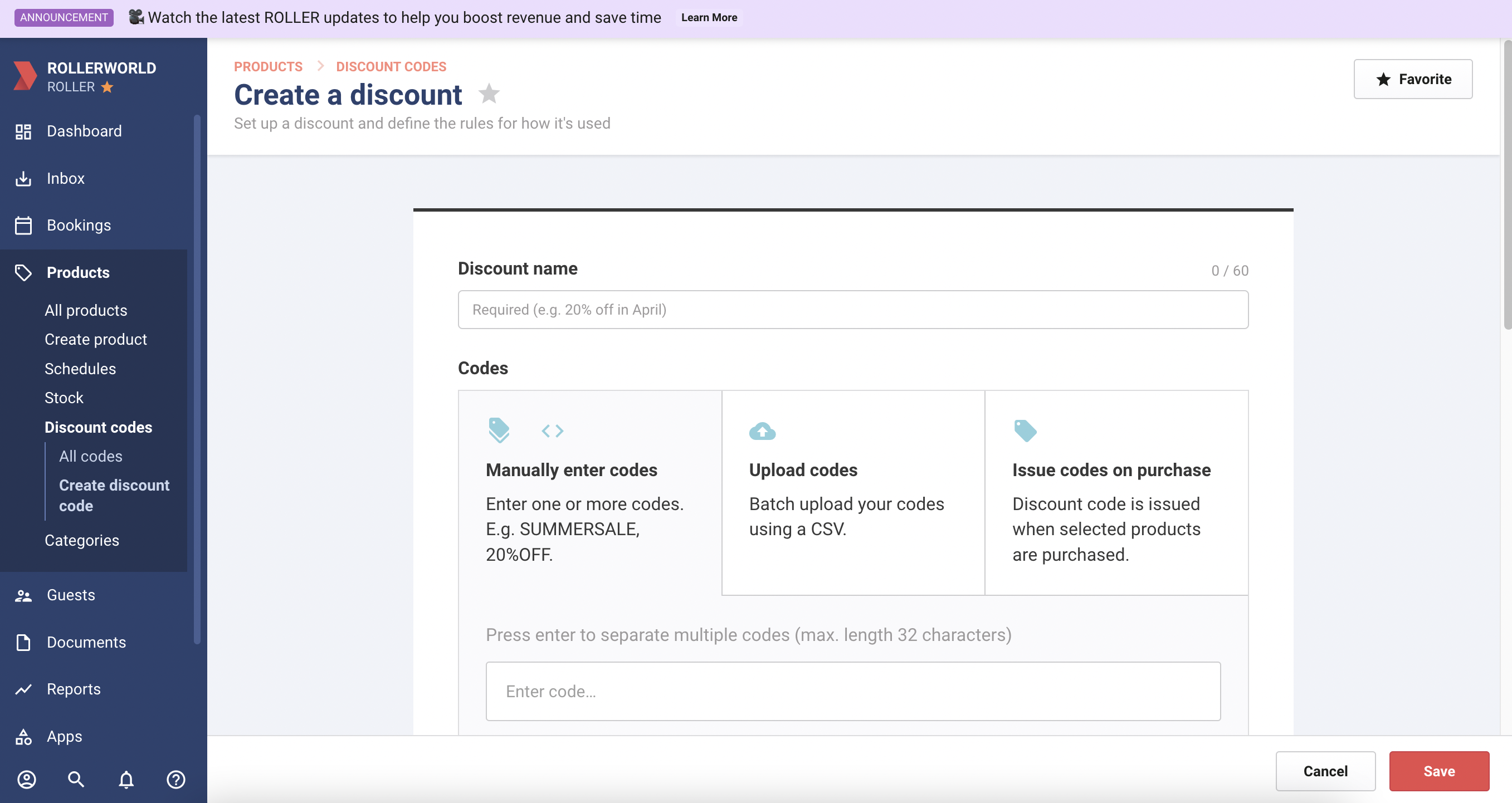 In Venue Manager, go to Products > Discount codes > Create discount code.
Alternatively, click the + Create a discount code button in the top right of the Discounts codes page.
Learn more about creating and managing discounts here.
Read this next: 10 Membership Benefits Ideas To Attract & Retain More Members (roller.software)
2. Buy One, Get One
Buy One, Get One (BOGO) might be one of the most well-known and effective marketing strategies. It creates an urgency to buy as it is only for a limited time. The deal is so good because how can you go wrong if you're buying something you already wanted and getting another free?! It's a win-win.
And because it is so well-known, your guests are familiar with BOGO and do not view this strategy with apprehension.
Ideas to implement
Decide which segment of your audience you want to target. Do you want to win back lost guests/ find new guests with something like 'buy one ticket, and your friend can get in for free'? Or do you want to target satisfied guests with membership-related campaigns like 'buy a monthly membership, and we'll give you the next month free'?
Give your BOGO campaign a strict end date so that there is urgency around purchasing.
Promote your campaign via multiple channels: posters outside your venue, Facebook, LinkedIn, Twitter, etc.
3. Offer a bundle
Bundles = value.
Your guests know from their everyday shopping experiences that when you bundle something or you buy in bulk, you make savings.
A bundle groups items that go together that your guests would likely purchase in-venue anyway. But in a bundle, they are sold for a slightly lower price than if sold separately.
It is a great way to increase spend per guest/transaction, as bundles mean you receive larger purchase orders upfront. Plus, your guests feel like they got a good deal, so it's another win-win situation!
Ideas to implement
You could offer a 'Family of Four Bundle' including two adult tickets, two child tickets, hot chips and drinks for four people, plus four items of merchandise. If these items regularly add up to $200, you could price your bundle at around $175.
4. Pre-booked birthday parties
Birthday parties can be stressful as there are so many things to think about and organize. But you can help your guests by taking care of their party booking! This Black Friday is an excellent time to remind your guests that they can pre-book birthday parties at your venue.
It will remind them that they love coming to your venue and can share this feeling with their friends/kids' friends by having their next party with you. A strategy like this does not feel pushy and instead just presents you as a viable option and invites your guests to consider how great it would be to let you organize their birthday party.
Ideas to implement
When advertising this, it's good to let your guests know that you only have a limited amount of bookings you can take as this is true, and it also builds urgency to book before they miss out.
Learn how to create a booking in ROLLER here.
And if you want to learn more about our parties and group booking functions, click here.
Plan ahead and make the most of Black Friday
E-commerce platforms generate 300% more sales on Black Friday and Cyber Monday than on an average day in November. So you can expect the weekend to be one of the busiest of the year in terms of web traffic and prospective guests looking to make purchases.
Ensure you implement marketing strategies like offering bundles, discounted memberships, BOGO, and pre-booked birthday parties to guarantee your guests notice you this Black Friday and Cyber Monday.
And once you've done this, ensure your guests' booking process is as simple as possible with ROLLER's latest online checkout feature specifically designed to increase conversions, Progressive Checkouts.