Believe it or not, the overwhelming majority of people want reassurance before they're willing to commit to a purchase. If you think about your purchasing behavior, it's probably not too different. You may ask a friend, relative, or partner whether or not they have had a past experience with a particular product or service. And that experience likely has some degree of influence on whether or not you'll act on the impulse to buy.
With no shortage of public review sites like Yelp, Facebook, Google Maps, and TripAdvisor on the market, obtaining feedback from peers en masse is easier than ever. You can quite literally hear the experiences of millions of people across the world without ever having gotten up off your couch.
So you can imagine that when your guests are contemplating investing their money and their time into an experience, they'll look to their peers for confirmation that they're making the right decision. But just how much influence do online reviews have? The answer may surprise you! An alarming 85% trust online reviews as much as personal recommendations. You read that right. Nearly nine out of ten people trust the opinions of strangers on the Internet as much as they do people they know personally. But our collective trust in the experience of people we have never met doesn't end there. A whopping 93% of consumers have said that online reviews influence their purchasing decisions.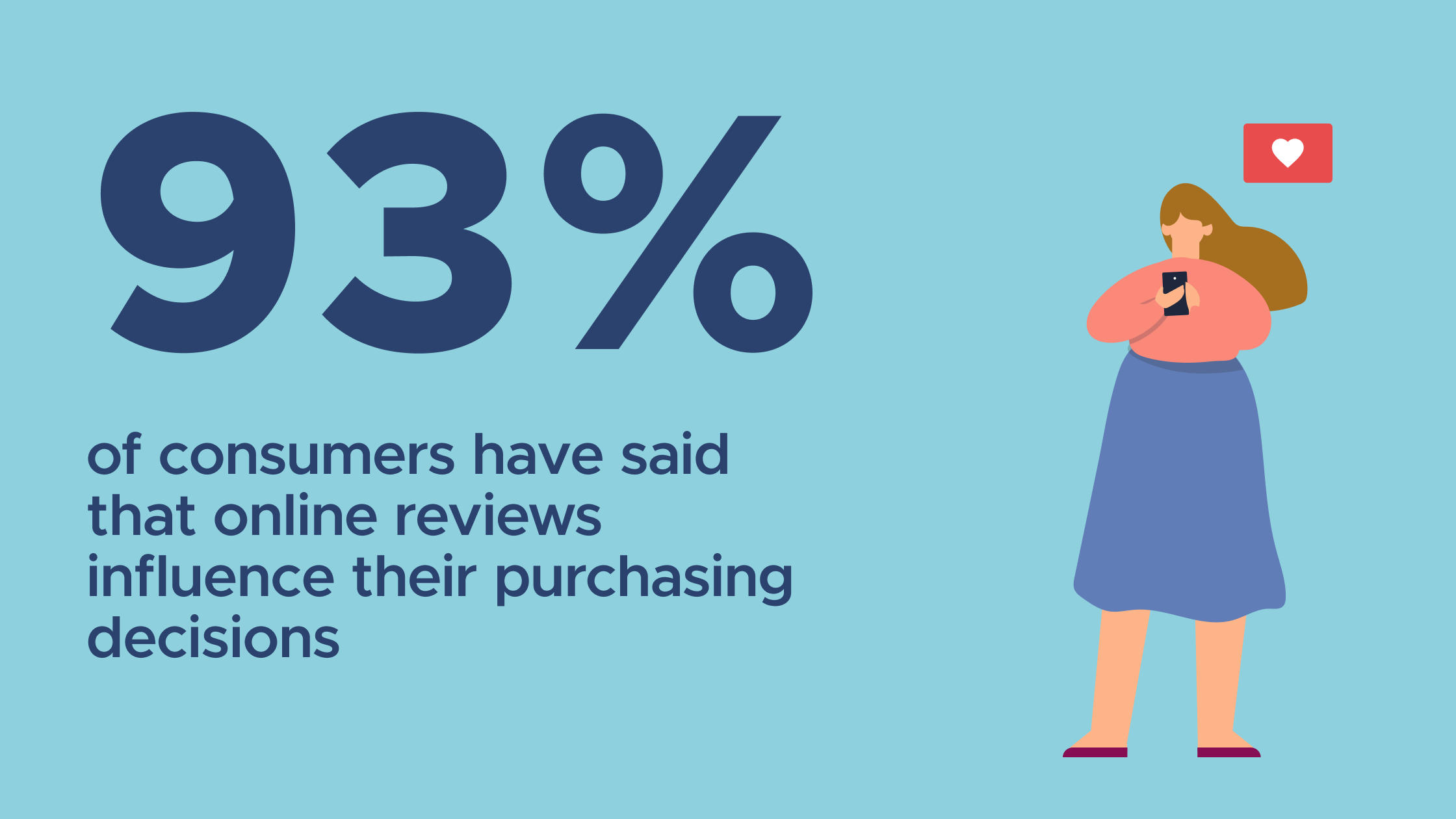 Prospective guests are making decisions about your brand every single day based on your online reviews. And it shouldn't come as a huge surprise. After all, consumers have a wide range of choices when making a purchasing decision for a product, service, or even experience. What does that mean for you? If you aren't paying attention to this critically important source of guest feedback, you're leaving money on the table and potentially handing it over to your competitors.
Just how bad is a negative review for my business?
Online reviews provide proof to other prospective guests that your business is credible. The more reviews you have, the more credible you are, the more likely the public will gravitate towards your business. And, the more positive reviews you have, the better off your business is. Positive reviews increase consumer trust – something that, once lost, is hard to gain back. A larger volume of online reviews also gives you a direct line to customer feedback while helping you appear higher in search rankings (which is excellent for your acquisition efforts!).
On the flip side of the equation, negative reviews are devastating for businesses. According to leading research from Qualtrics:
So then it shouldn't surprise you that as many as 22% of customers can be lost when prospective consumers find just one negative article. That means that if your guests have had a less than stellar experience or one that was marked by service failures, it could cost your venue big time.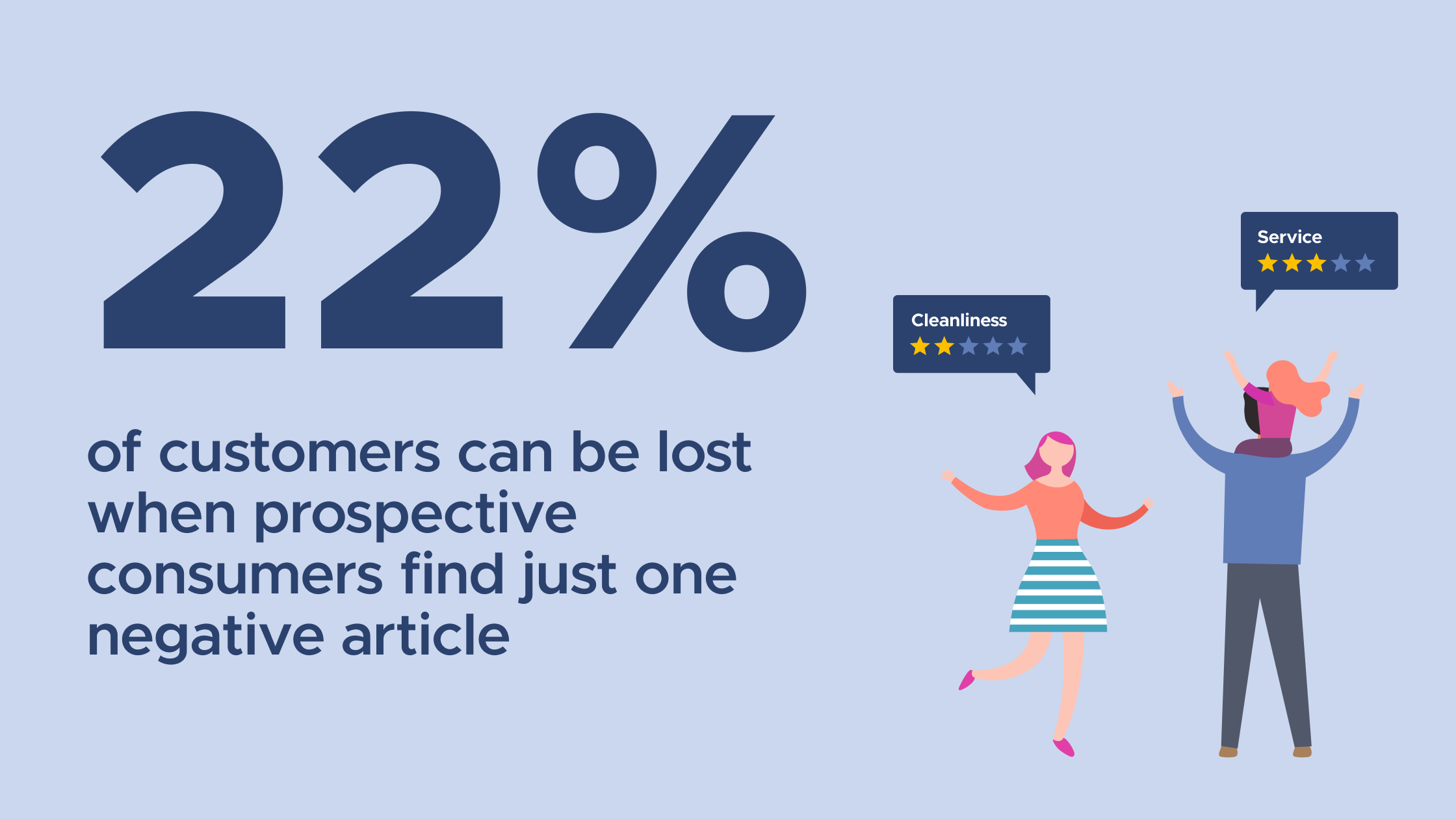 Not all hope is lost, though. There are things you can learn from negative guest experiences. First and foremost, you can learn how to improve. Guest feedback is a fantastic way to open your eyes to how your paying customers experience your venue. Negative feedback can also help you build a rock-solid strategy for reputation management as long as you take timely, professional action when responding.


How can I respond to negative reviews?
First and foremost, get comfortable reading through your guests' feedback. It'll be a significant first step to uncovering what areas you're excelling in and what areas need a little more love. It'll also help you better gauge where your brand stands in relation to competitors. That's something that you'll need to know to convince prospective guests to spend their disposable money and time with you. To truly prevent negative reviews, you need to actively solicit a larger volume of guest feedback and learn from it.
No matter how well you run your business, though, you're likely to encounter negative feedback at one point or another. When you do, you should always respond to negative reviews as a way of resolving issues before they escalate further. Yes, you read that right. We're telling you to embrace your brand's biggest critics.
You may be thinking that's a really tall order. After all, these guests aired their grievances for the world to see, and now it's got the potential to hit you where it hurts (the balance sheet!).
So what's the trick?
When a guest has an experience that falls short of their expectations, it's critical that you know that as early as possible. Some guests may be pretty vocal with your front-of-house staff. Others may not. They'll quietly brood while waiting for the online checkout to load painstakingly slowly, they'll stand in long queues for your latest exhibit, they'll watch your newest team member fumble at the POS, and then share their experience online and in a public forum after they've left your venue. Or they may do a bit of both. Either way, that's a problem. Why? Because you're giving guests who have experienced a service failure the opportunity to share negative experiences publicly before they're shared privately (with you!).
How to collect feedback
There's a lot that goes on behind the scenes to collect feedback. The most common methods to collecting guest feedback are:
In-venue discussions with guests
Guest surveys
Online reviews, and
Mystery shoppers
While many of these methods have come a long way, they still leave a lot to be desired.
In-venue discussions rarely lead to honest feedback and guest surveys are time-consuming for you and your team to set up. They are also often too long for the guests to complete (leaving you with incomplete data) and are usually sent at the wrong time – too long after a guest has left your venue. Online reviews leave feedback far too late, and mystery shoppers are expensive and only give you a snapshot in time.
Collecting guest feedback needs to be done early, often, and in real-time. When guests can provide real-time feedback, it gives you time to respond to service failures before they've been posted on Facebook and Google for the rest of the world to see.
That's a lot of information; how do I do it?
To use real-time feedback to prevent negative reviews from going public, you need the right tools at your disposal. Our newest product, the Guest Experience Score, is a sentiment analysis tool that allows you to collect, analyze, and action guest feedback, helping you to drive repeat visitation and create memorable experiences.
The Guest Experience Score comes pre-built, is seamlessly integrated with all your guest booking and sales data and is automatically sent to guests after their visit.
That means you don't have to manually set up or send separate surveys to request feedback from your guests, you have context surrounding each review (such as whether a guest had a party booking), and feedback is collected regularly, without bias, and before it's shared publicly online.
It's simple to activate and provides you with instant, directly actionable alerts so you can stop negative public reviews in their tracks. Ready to turn your critics into fans and grow your business? Start a free trial!