In our interconnected world, leisure and attraction venues serve guests from all corners of the globe – whether it's international holiday-goers or local guests. Operators have a unique opportunity to create an inclusive environment that resonates with all their guests. One of the most impactful ways to achieve this inclusivity is by accommodating multiple languages in your venue. In this comprehensive guide, we'll delve into a range of best practices that venues can adopt to create a memorable experience for all guests, regardless of what language they speak.
1. Offer multiple waiver languages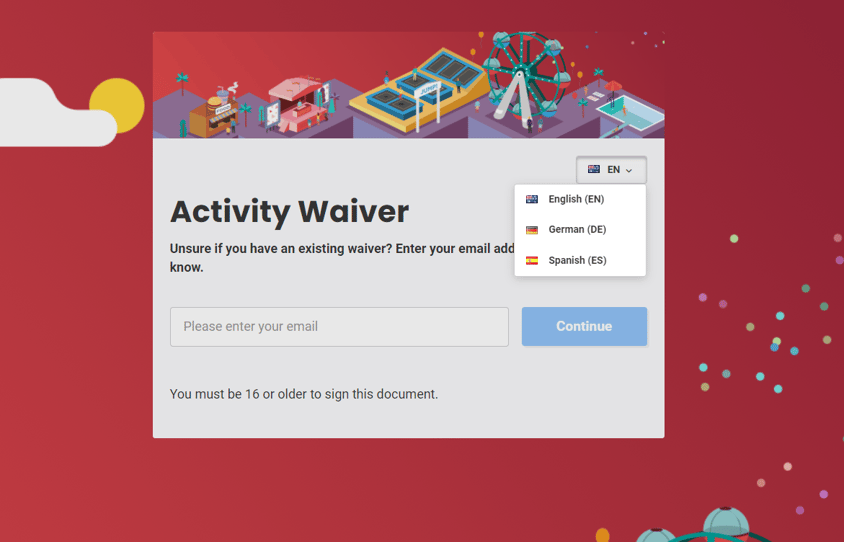 Simplifying the guest experience begins with a clear and straightforward check-in process. Imagine arriving at a venue, ready to enjoy the day with your loved ones, only to be confronted with a waiver agreement full of jargon in a language you don't understand. To alleviate this disorientation and streamline check-in, venues can use ROLLER's waiver translations feature. All you need to do is upload your translated waivers to Venue Manager. Then, guests can choose a waiver language that best suits them. This saves guests and staff time and enables guests to enjoy the day's activities with peace of mind. Plus, if the guest is purchasing online, the waiver will automatically be translated into the guest's language, offering a seamless digital experience.
2. Set up dedicated language waiver kiosks
Another way to navigate language barriers is to set up dedicated waiver kiosk stations at your venue for the alternative languages you've set up for your waiver agreement. For example, if you have guests who speak Spanish, French, and English, and they all need to fill out a waiver before participating in an activity, having dedicated language stations for each language makes it quick and easy to check in, eliminating unnecessary confusion or frustration. This leaves a lasting positive impression and saves staff from manually assisting guests, allowing them to focus on ensuring guests have a fantastic day.
3. Allow guests to check out in their preferred language
Your online checkout is a critical touchpoint, as it provides a more convenient way for guests to purchase tickets and opens an additional source of sales revenue for your venue. Extending language support to your online checkout process is a logical step and something that's becoming a standard in global e-commerce. Allowing guests to transact in their preferred language will enhance guest satisfaction and drive higher conversion rates, positively impacting your bottom line. With ROLLER, you have the flexibility to set up multiple checkouts so that you can create a different checkout for each language your guests speak.
4. Make considered staffing decisions
Your staffing should reflect the community you're serving, ensuring you hire team members who speak the same languages as your guests. This applies to your in-venue staff and staff interacting with guests over the phone, online, and through your marketing channels. Consider displaying the languages your team members speak on their name tags – a small yet impactful gesture that makes guests feel valued and understood.
5. Develop a multilingual marketing strategy
Understanding your guests' preferred languages can help you drive more effective marketing campaigns. By delivering your marketing and communications to your guests in their preferred language, you increase engagement and demonstrate a genuine commitment to understanding and addressing their unique needs. This personalized approach drives engagement, loyalty, and repeat visits, boosting revenue and strengthening your venue's brand.
6. Send guest feedback surveys in multiple languages
Capturing guest feedback is critical to understanding how guests found their visit, what went well, and what you can improve for next time. To truly understand your end-to-end guest experience, allowing guests to provide feedback in their preferred language is critical.

Guest Experience Score, ROLLER's guest feedback tool, automatically sends guests a survey after their visit. Guests can select their preferred language for the survey, providing a seamless post-visit experience and ensuring you maximize your survey response rates. And the results pay off – the Guest Experience Score has a 67% higher completion rate than other survey tools!
Read this next: How to Unlock Revenue Growth through Guest Satisfaction
Elevate your guest experience
Supporting guests in their native language shouldn't just be a nice-to-have; it's a strategic imperative for modern venues. By creating an inclusive environment and seamlessly catering to guests in their native language, venues can elevate guest experiences, boost operational efficiency, and drive revenue growth.

To find out more about ROLLER, get a demo today.