IAAPA Expo is the world's largest, most comprehensive trade show for the amusement parks and attractions industry. Attendees include industry professionals, venue operators, suppliers, and manufacturers.
It is the only industry trade show that consistently delivers thousands of amusement park and attractions industry buyers from across the globe. And this year was no different, with 1,077 exhibiting companies and attendees from 104 countries!
We've attended and exhibited at IAAPA for the last few years, and we absolutely LOVE it! We had a fantastic time at our booth this year, meeting attendees and demonstrating how our platform works to optimize business efficiency, drive growth and help operators deliver great guest experiences.
It was a blast and I can't wait for next year's show. But until then, read on to find out everything we got up to at IAAPA this year!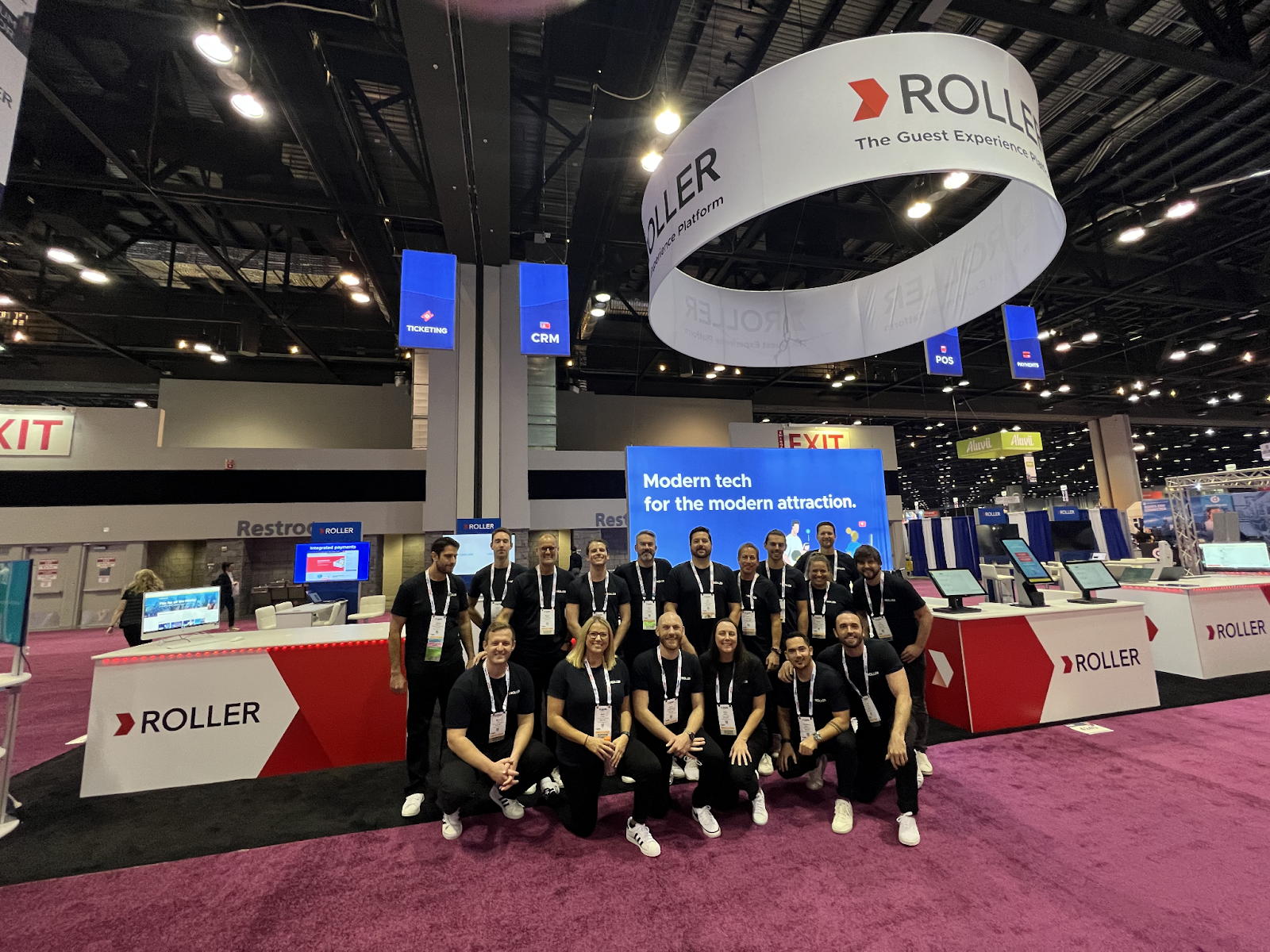 ROLLER key product features
As mentioned, we were SO excited to demo our product's key features for our booth visitors. In case you missed it, you can find them below.
Cloud-based all-in-one venue management software
The ROLLER platform is entirely cloud-based, which means you can access it from anywhere in the world — all in real-time. It also means that you can run your business all from one platform, which is more secure than traditional legacy systems!
Online and in-store ticketing
With ROLLER, you can sell tickets online (and via mobile!) with our seamless, integrated online checkout, and in-store via our modern POS devices. Our comprehensive ticketing system provides a huge variety of styles (including session-based booking, parties and group bookings) so you can manage your admissions how you like!.
Fast and powerful POS devices
Built with an intuitive, responsive design, the ROLLER Point of Sale system is built for speed and convenience and seamlessly integrates all ROLLER modules for true end-to-end management. It covers everything from ticketing, management, and inventory to your food and beverage sales, eliminating the need for multiple systems.
ROLLER Payments
Our native payments processor, ROLLER Payments, is custom-built for the attractions industry, and fully integrated — meaning you can promote and sell your products online and in-venue from a single integration. ROLLER Payments also offers integrated refunds, fraud protection, and accepts a huge range payment types — Buy Now, Pay Later, and digital wallets included!
Guest feedback tool
Our guest feedback tool, the Guest Experience Score, provides operators an automated way to capture and streamline guest feedback, helping you make smarter business decisions. Collect, analyze and action your visitors' feedback to drive repeat visitation and grow your business.
Electronic waivers
Protect your business and collect valuable customer data with ROLLER's fully integrated electronic liability waivers. Your guests will thank you for sparing them from unwanted paperwork and long queues, and you will love how easy the waiver management process is for you and your team to use!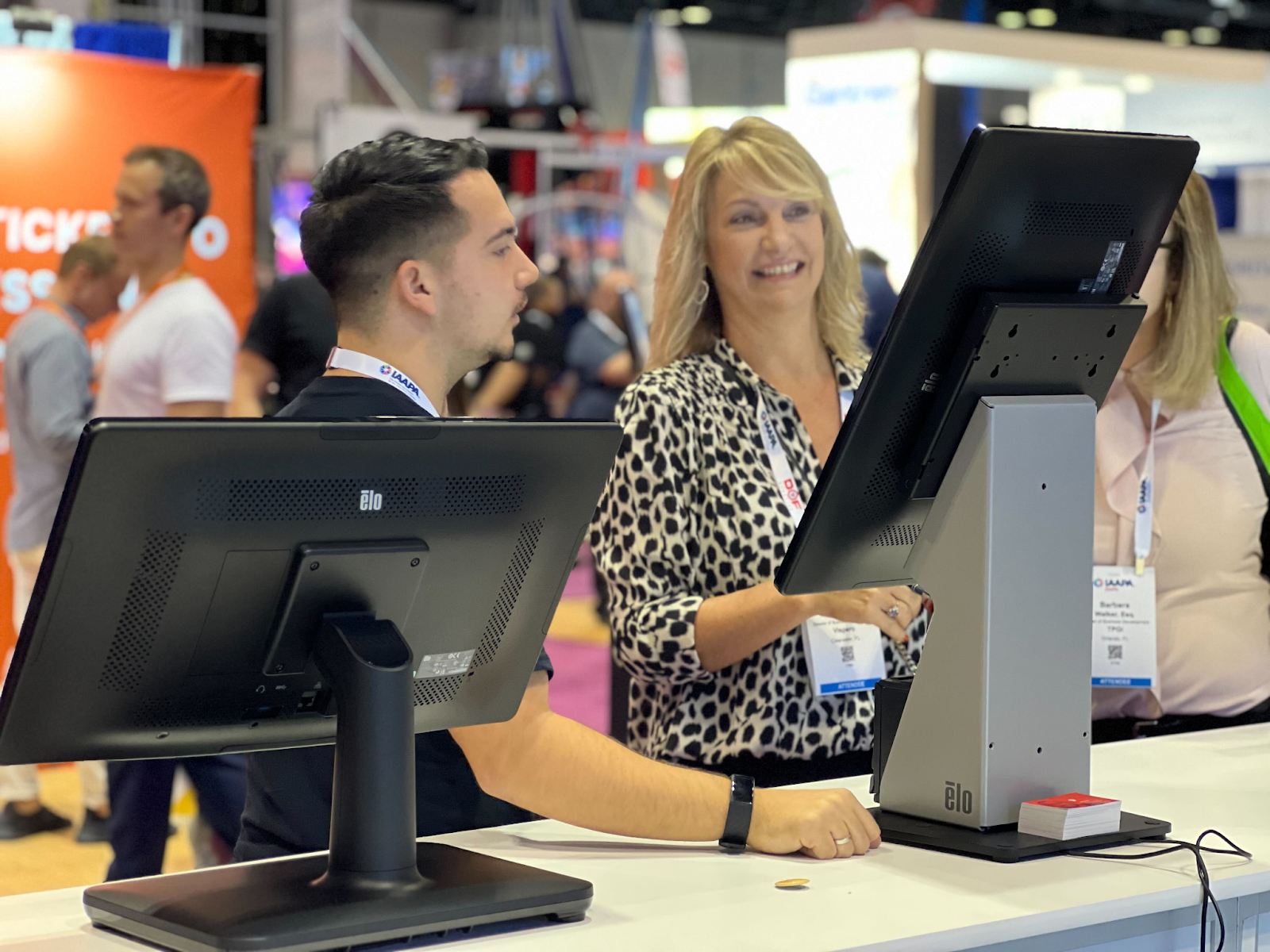 IAAPA speaking sessions
Did you catch our speaking sessions at IAAPA?
Our Guest Experience Evangelist (and IAAPA's 2022 Young Professional of the Year!), Joshua Liebman, spoke on the following topics.
Doing More With Less: Maximizing Labor Efficiency When Cost Matters Most
Here, Josh touched on ways venues can maximize labor efficiency by leveraging technology that enables you to reduce the labor required to operate your venue. Josh provided an overview of the core components of the guest journey and identified solutions operators can take advantage of to reduce or eliminate staffed positions while simultaneously enhancing the guest experience.
How Your Digital Experience Impacts Your Onsite Experience
Josh introduced ROLLER's Guest Experience Flywheel and spoke on the importance of engaging your guests at every stage of the flywheel, including before their visit.
He also spoke on ways to optimize your online checkout to increase conversion rates, like ensuring your checkout is intuitive and easy-to-use.
Networking 102: Beyond the Business Card
In this session, Josh shared networking tips for young professionals, such as going from 'passive' to 'active' networking, standing out in a crowded space, and the importance of making connections that may blossom into opportunities years later.
Creating a Frictionless Experience
Coming full circle in his final session at IAAPA, Josh spoke on the Guest Experience Flywheel again, but this time, how you can use it to ensure your guests have an unforgettable experience at your venue.
Josh spoke on the importance of ensuring the entire guest journey — from discovering you to purchasing tickets to their onsite experience and, afterward, how they felt about your feedback collection methods — is frictionless.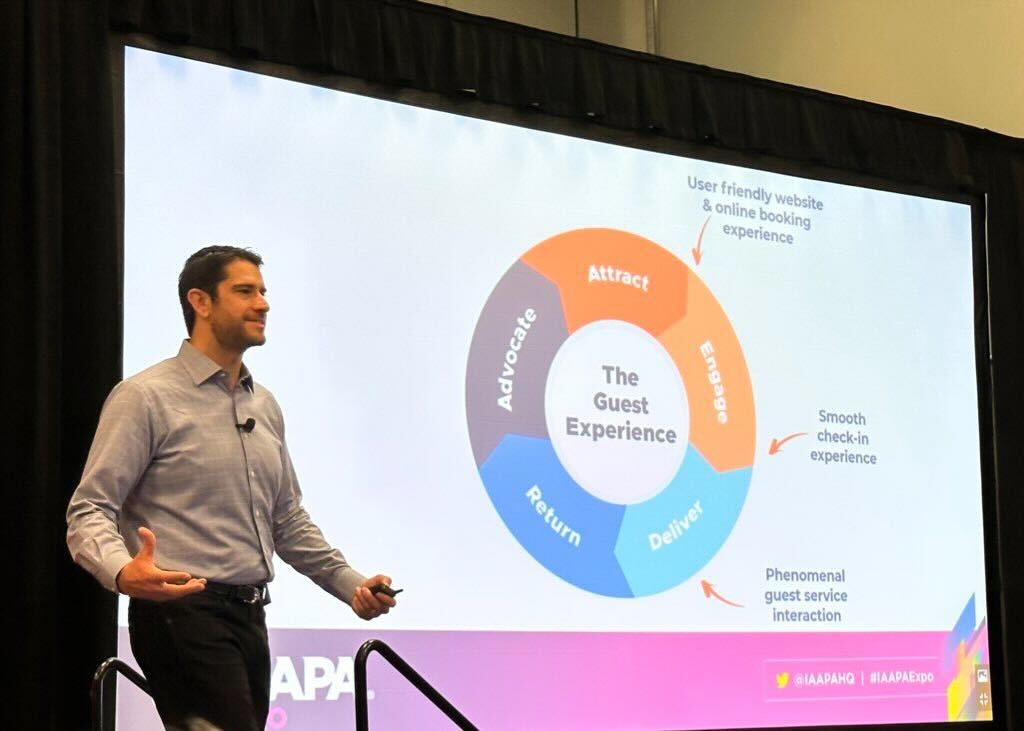 IAAPA FEC Lunches
While at IAAPA, we were delighted to have the opportunity to be Silver Sponsors of three FEC lunches. It was a fantastic opportunity to get to know attendees better.
Over three days, we had the pleasure of discussing and learning more about the following topics.
Send in the Crowds: Unforgettable Special Events and Group Bookings
During this lunch, we learned new ways to draw in big crowds. We heard how successful venues generated income in non-traditional ways, from hosting concerts to "Sweet Sixteens"!
To the Metaverse and Beyond: Creating Innovative & Cross-reality Attractions
Here we learned about how to use the Metaverse in the attractions industry.
The Metaverse creates the ability to reach wider audiences and engage with them in previously impossible ways. And we had so much fun discussing with the panel how the Metaverse and Cross-Reality Space can create immersive experiences for on-site and off-site visitors!
High Octane Growth: Boost Performance, Reduce Costs, and Increase Enterprise Value
In the final sponsored lunch, we learned some tricks to running businesses at maximum profitability during increased operating costs.
Importantly, COVID taught us that a guest's willingness to spend toward your brand directly correlates with the environment you provide them. There are so many entertainment options around, so if a guest is dissatisfied with your venue, they will move on. Worse, they will often post about a negative experience on social media too.
The lesson here? The public is part of the conversation. The best strategy is to get ahead on the front end (provide fantastic guest experiences) and recover well on the back end (action negative feedback correctly).
Read this next: How To Respond To Negative Guest Feedback & Turn It Into Business Growth
Book a meeting
If you were at IAAPA with us, we hope you had a fantastic time.
We had so much fun and learned so many things about the industry and what they want from their software. We have come away with many insights on how we can continue to improve our product to work better for attraction venue operators.
If we didn't get a chance to meet and you'd like to, please book a meeting with our team, and we'd be honored to work with you to find out how we can help your venue increase operational efficiency, reduce business risk, and continue to dazzle your guests!