As a business operator of a busy attraction venue, we know that payment processing is a large part of running your business. We also know that it can be one of the most stressful parts.
But, if you're using optimized payment processing software for your business, it doesn't have to be.
Payment processing software is the software you use to process all business transactions. There are many different payment processing systems available these days, but not all are not created uniquely.
Each system will have some differences in how you can effectively use features and offerings.

Sifting through the features of each system and ascertaining which are the most important for your business needs is how you will land upon the right software for you.
What is payment processing software?
Payment processing software uses the data from your guests' chosen payment method to credit funds into your business's account.

It is an automated system that provides certain security features, such as card verification and fraud protection. The overarching function of this kind of software is to securely and efficiently process all of your business transactions.
How does payment processing software work?
Payment processing software assists in the management of your business transactions by ensuring the seamless transfer of funds from your guests' accounts to your merchant account.
These transactions will take place in an encrypted payment processor server and follow the below pathway.
Guest billing information is verified
Accuracy of guest information is checked and if correct, the information is verified.
Further guest checks are carried out
Further checks are conducted to ascertain whether the required funds are available in the guest's account.
Funds authenticated and payment request approved
If the funds are available, they will then be authenticated. Thereafter, the payment request is approved, and the correlating confirmation number is created.
Funds transferred
The final transaction approval is given, and funds are transferred from the guest account to your merchant account first, and then into your nominated bank account.
Having the wrong solution in place could significantly affect your overall business performance. If you have old systems which do not work to help grow your business and can only process basic payments – you're missing out!
But on what exactly? With features and capabilities like advanced fraud protection, guests can pay as they want (i.e., BNPL) – and even pay completely remotely from their mobile devices.
How do I choose the right payment processing solution?
Deciding which payment processing solution to use to support your venue is a big decision to make. There are several factors that you'll want to consider when evaluating the various platforms available and whether or not they are fit for your venue.
1. Controlling costs
The following costs are usually associated with every transaction that is put through a payment processor.
Interchange fee: the fee that your customer's bank will charge
Assessment fee: the fee charged by the credit card association
Markup fee: the fee charged by the merchant bank
Processing fee: the fee charged by the payment processor
First, you should evaluate how these charges will affect your business. And then, you must also consider the volume and value of your transactions.
For example, a payment processor which charges a set fee may be more suited to businesses that bring in higher-value transactions.
2. Seamless integrations
Integrated payments
Do you hate having to click through several different pages just to complete one transaction? Does it make you want to abandon your purchase? You're not alone – your guests feel this frustration too!
With fully integrated payments, you eliminate friction from the point of purchase for your guests! They can complete the entire purchase all in one view – which also plays a huge role in improving conversions.
Integrated reporting
Integrated reporting = huge time saver.
Integrated reporting makes reconciliation easier. You will no longer be manually jumping between different systems trying to reconcile your accounts manually.
3. Boost sales with multiple payment options
Customer expectations are rising quickly, particularly post-pandemic. Guests who previously preferred in-store purchasing to online shopping are now getting their groceries online. It's just so much more convenient!

As we spoke about earlier, this shift in purchasing behavior means that non-traditional payment methods are also rising. So, a payment processor offering options such as BNPL, digital wallets, etc., is now more critical than ever.
4. Fraud protection
Unfortunately, increased online sales also increase the risk of data breaches and fraud. This risk cannot be completely eliminated; however, if the right software effectively manages your payments and data security, it will seem to you like the risk has been eliminated.
Ensure that the processor you trust with your payments can provide you with this peace of mind.
Best payment processing solutions
1. ROLLER Payments
ROLLER is a venue management software solution that works closely with venues to grow their business and improve guest experiences in the process.
ROLLER was founded in 2011, is headquartered in Melbourne, and has over 100 employees worldwide. Currently, over 1,000 venues use ROLLER to market, sell and manage their business.
ROLLER Payments is designed for the attractions industry. It comes packed with powerful, useful, and easy-to-navigate features for you, your staff, and your guests, like:
Guest ability to pay as they want
With ROLLER Payments, guests can pay in the way that is most comfortable for them! As the venue operator, you can choose which payment methods you want to accept, and activate them on your platform. BNPL and digital wallet options are also offered by ROLLER Payments.
Adding payment methods
Log in to Venue Manager
Go to

Settings > Account > Payments
ROLLER Payments provides venues with access to many payment methods, and this page enables a venue to manage the methods published, display order, and behavior.
To add and configure the payment methods you offer:
Click the Add payment methods field
Select the payment methods to be added and click Apply
Configure the display order by using your mouse to drag and drop the order of the payment methods in the list
Remove a payment method by clicking the trash can icon on the right-hand edge of the payment method
(Optional) Select Auto-expand first payment method to give prominence to the first payment method, which will expand/open that method by default.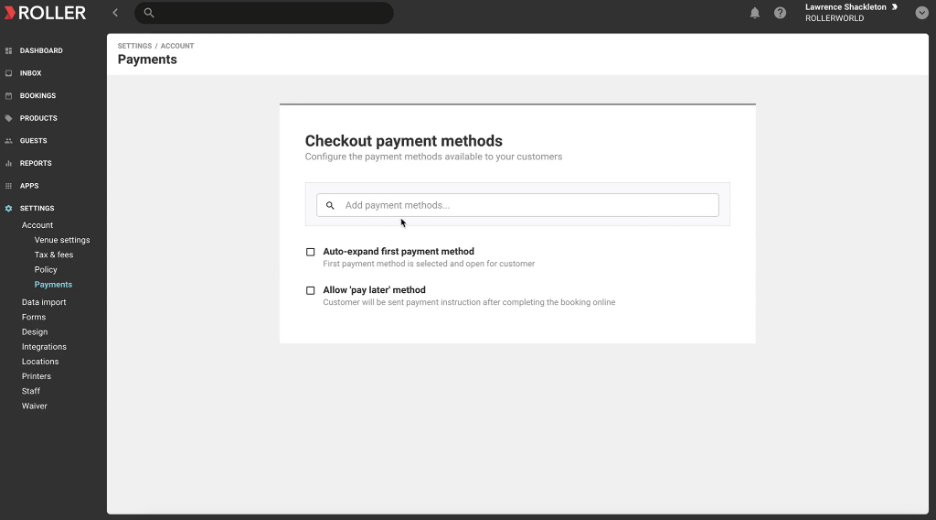 Add pay later options
You can also enable your guests to pay later for online transactions. When a guest selects this method, they receive a confirmation email and invoice they can download.
To configure:
Select

Allow 'pay later' method

Enter the

payment method name

e.g., "Pay in the park"
Add Payment instructions e.g., "Payment required in park at time of entry"
Click

Save
Payment instructions are displayed on completion of the online booking and in the confirmation email the guest receives.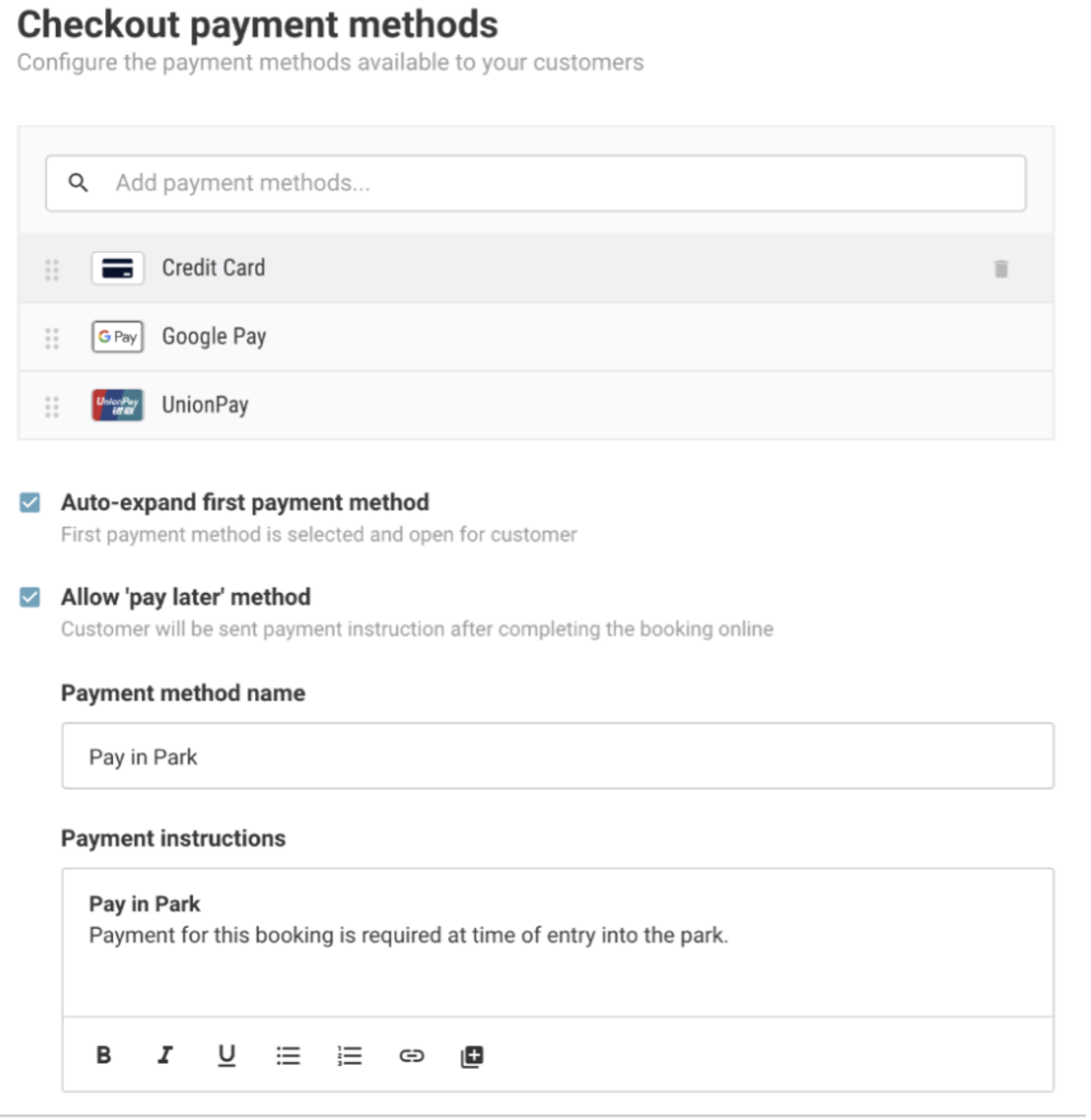 Fully integrated payment fields
Guests can complete the online purchase all in one view - improving the experience and conversions.
Below is an example of the checkout view.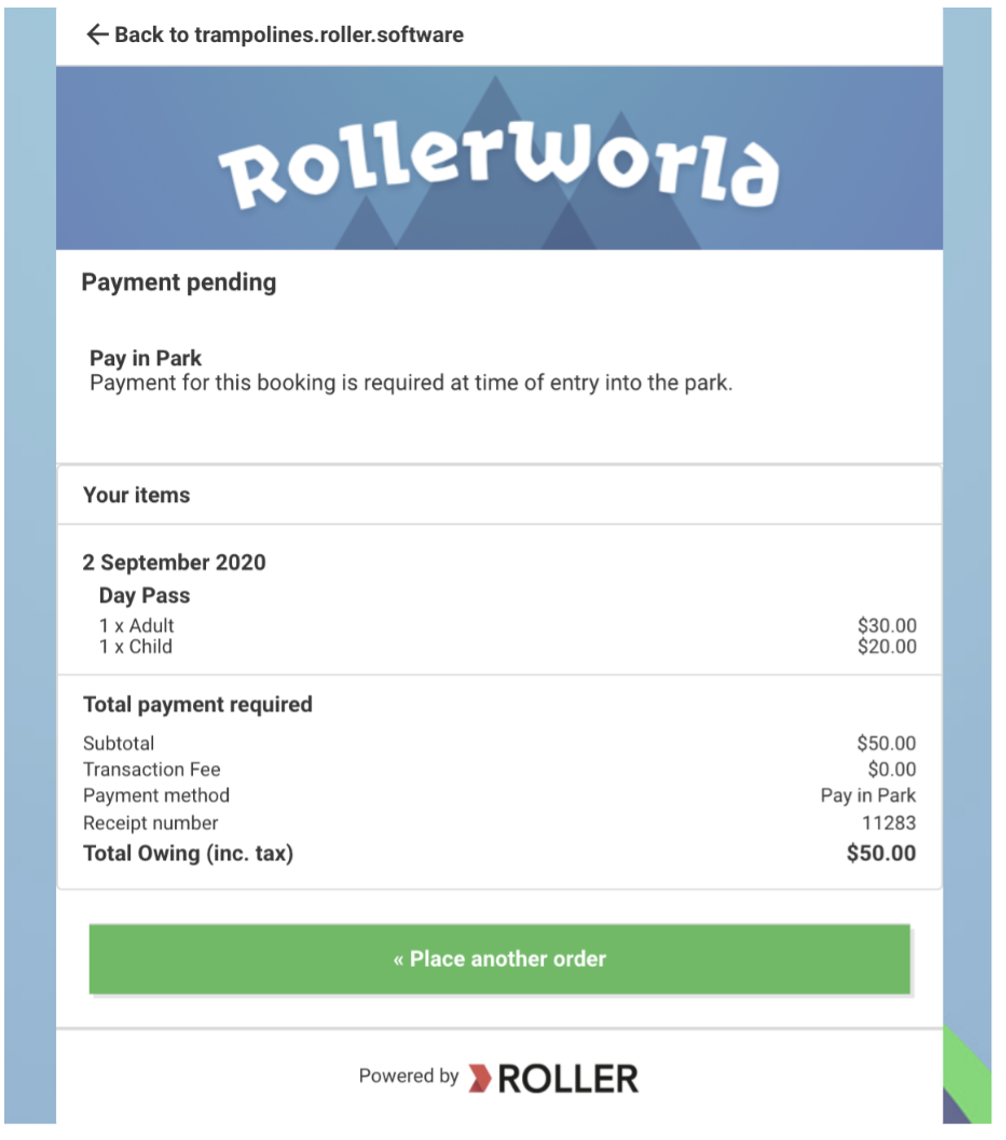 Integrated reporting
ROLLER's reporting suite allows you to match transactions directly to the funds that land in your bank account.
You can search, favorite, manage and create reports all from your venue manager platform.
Accessing the reporting homepage
Venue Manager > Reports > All reports
It will then look like this:
Once on the reporting homepage, you can either manually navigate the page to find the report you require or use the search function.
You can bookmark your favorite reports so they appear at the top of the reporting homepage and manage them all in one view.
Fraud and revenue protection
Chargebacks and fraud are two things you don't want to have to deal with. That's why we invest in cutting-edge tools that help protect against fraudsters and chargebacks.

ROLLER Payments supports end-to-end payment encryption to detect fraudulent transactions and prevent them from ever occurring in the first place. It assists businesses in managing their funds more efficiently and protects them from fraud and chargebacks by using advanced authentication tools such as Address Verification Service (AVS), card security codes (CVV), and 3D Secure 2.
Find out more here.
2. Worldpay
Worldpay is a payment processing software that was founded in 1997 and provides clients with a complete online payments service. It is headquartered in the UK, and, today, has over 5,000 employees.
Worldpay includes features such as:
Refund capability
Integrated payments
BNPL options
API, which allows users to customize their checkouts
It is a large international processor that has been around for a long time. As such, it has grown to be able to be rolled out across many industries. And although it can be used in attractions and entertainment industries, it is not purpose-built for these types of businesses.
Find out more here.
3. Braintree
Braintree is a payment processor which assists businesses by providing the global commerce tools required to grow their venues further. Founded in 2007, and headquartered in the United States, Braintree now has over 500 employees.
Some prominent Braintree features include:
Integrated payments
Integrated reporting
Recurring memberships
Outbound payment option
Braintree helps businesses enable commerce for its broad range of users, but like Worldpay, Braintree's software is not purpose-built for the attractions industry.
The primary function of Braintree's payment processing software is to operate only as a payment processor. So it is not a unified commerce platform for all areas of venue management.
Find out more here.
The best software solution for your business
There is a lot to consider when choosing the correct payment processing software for your business. The right software can make all the difference to improving your business operations and turbo-charging your guest experience.
If the goal is to give your guests the most amazing attractions experience they've ever had, ensure that you employ the systems and tools that'll not only assist you in doing this, but will make doing it feel like child's play.