Are you searching for the best ticketing platform for your venue? Look no further! We've rounded up the top platforms and compared them side by side, so you can quickly and easily find the best fit.
In our comparisons, we considered:
Who the platform is designed for
The platform's core features, and
Its pros and cons
About Accesso
Accesso provides software solutions for the attractions industry. They cover zoos, concerts, sporting events, performing arts, fairs and festivals, tours, and attractions.
Accesso provides its customers with virtual queuing technology and online and POS ticketing solutions.
Accesso employs over 500 team members and works with 1,000+ venues in over 30 countries.
Who the platform is built for
Accesso's platform is made for attraction operators and aims to:
Improve the guest experience and
Harness the power of customer data to better inform business and marketing decisions
Core features of the Accesso platform
Virtual Queuing System Technology
Accesso's LoQueue virtual queuing platform is mobile optimized and accepts mobile payments from guests, making payments and check-in much faster and more efficient.
It offers features such as:
Rides+, which allow your team to control guest ride frequency, and in effect, better manage queues, and
Ride Check-in, which validates ride reservations from wireless, handheld checkpoints
The virtual queue management system dashboard will allow you to view your analytics and performance data afterward.
Online ticketing
Guests can shop online via Accesso's Passport online ticketing system, remotely, and on any device. ​
Box-office ticketing
Accesso ShoWare is a customizable ticketing platform designed for theaters, concert venues, sports arenas, casinos, fairs, and attractions.
It features interactive seat maps, flexible packages and bundles, and promoter access.
POS ticketing
Accesso Siriusware point of sale ticketing system provides customized POS solutions for all over-the-counter sales. It is an integrated system with an easy-to-use interface.
Pros
1. Box office ticketing
This ticketing category is great for operators who run theaters, casinos, arenas, and concert venues. With associated features distinct to such venues like seat maps and promoter access, it will support 'box office' venues where they need it most.
Cons
1. Box office ticketing
However, the corresponding weakness of box office ticketing is that this feature will not be relevant for leisure and recreation venue operators, i.e., a trampoline park operator, as it is tailored for a very specific audience only.
TL;DR: Accesso vs. ROLLER vs. Convious vs. Briq Bookings
Features and functionality
| | | | | |
| --- | --- | --- | --- | --- |
| Features | ROLLER | Accesso | Convious | Briq Bookings |
| Guest ability to use preferred payment method | ✅ | ❌ | ❌ | ✅ |
| Online ticketing system ﹘accessible remotely | ✅ | ✅ | ✅ | ✅ |
| Integrated reporting | ✅ | ✅ | ✅ | ✅ |
| Recurring billing capability | ✅ | ❌ | ✅ | ❌ |
| Donations feature | ❌ | ❌ | ✅ | ❌ |
| Top-tier security and compliance | ✅ | ❌ | ❌ | ❌ |
| World-class fraud and revenue protection | ✅ | ❌ | ❌ | ❌ |
| Refund capability | ✅ | ❌ | ❌ | ✅ |
| Venue manager and payment processing all-in-one system | ✅ | ❌ | ❌ | ❌ |
| Virtual queue management system | ❌ | ✅ | ❌ | ❌ |
Support and other areas of service
| | | | | |
| --- | --- | --- | --- | --- |
| Area | ROLLER | Accesso | Convious | Briq Bookings |
| 24/7 support | ✅ | ✅ | ❌ | ❌ |
| Free trial | ✅ | ❌ | ❌ | ✅ |
Alternatives to Accesso
1. ROLLER Software
ROLLER software offers a cloud-based, all-in-one platform for venue management. Ticketing is integrated into this system so that you can sell tickets, food, drink, and merchandise online and from your POS devices.
And because ROLLER is an integrated system, you can do everything from one device. Management functions from reconciliation to reporting, all the way to selling tickets and scheduling in-venue sessions and events, can all be done from one platform!
ROLLER's chief goal with our products is to ensure that guests have incredible in-venue experiences and return to your venue repeatedly. And to do this, we have many tools in our toolbelt.
Let's delve deeper and discover what these are and how ROLLER can help your venue excel.
Who is the platform built for
ROLLER's platform is purpose-built for the leisure and attractions industry.
Venues include trampoline parks, water/wake parks, museums, galleries, zoos, amusement parks, family entertainment centers, soft play and play centers, rock-climbing gyms, wildlife parks, and more!
ROLLER's platform can be used by all staff, from management to customer-facing staff. And, with ROLLER's self-serve kiosks, your guests will also enjoy ROLLER's user-friendly interface!
And what does greater ease of use equate to? Happier staff and guests, of course!
Core features of the ROLLER platform
All-in-one ticketing software
ROLLER's platform is fully integrated so that you can do everything from one platform! You won't have to manage multiple systems for multiple areas of your business anymore!
An integrated platform means that your team will save time operating your venue's systems, and as ROLLER is built with the user in mind, they will enjoy the experience too!
Superior online checkout experience
With the ability to sell tickets online, you will be able to convert more guests online! Guests no longer need to click through to multiple screens before landing on the checkout page; it is all seamlessly integrated into one view.
The online checkout experience is often where the guest experience begins, so it is of the utmost importance that this experience is smooth and uncomplicated for your guests.
Sell tickets via POS
You will require fast and efficient POS systems for your guests who don't purchase tickets online.
Thankfully, our POS system is designed with the user and guest in mind, so it will ensure that your guests are checked in as fast as possible. And when your guests don't have to wait around in long queues, it significantly improves their overall guest experience.
Mobile check-in app
Allow your staff to get out from behind the counter and check-in guests using our mobile check-in app. It's easy to download and work, so you'll be busting lines all day AND improving your guest experience!
View capacity and redemptions
Being cloud-based means you can check your venue activity and capacity from anywhere in the world.
It also means that when you change the platform, for example, 'blocking' capacity for a session when you realize the session has reached capacity, this change automatically replicates across all of your venues' devices!
All you have to do is publish your changes, and your team and guests will all be on the same page in real time!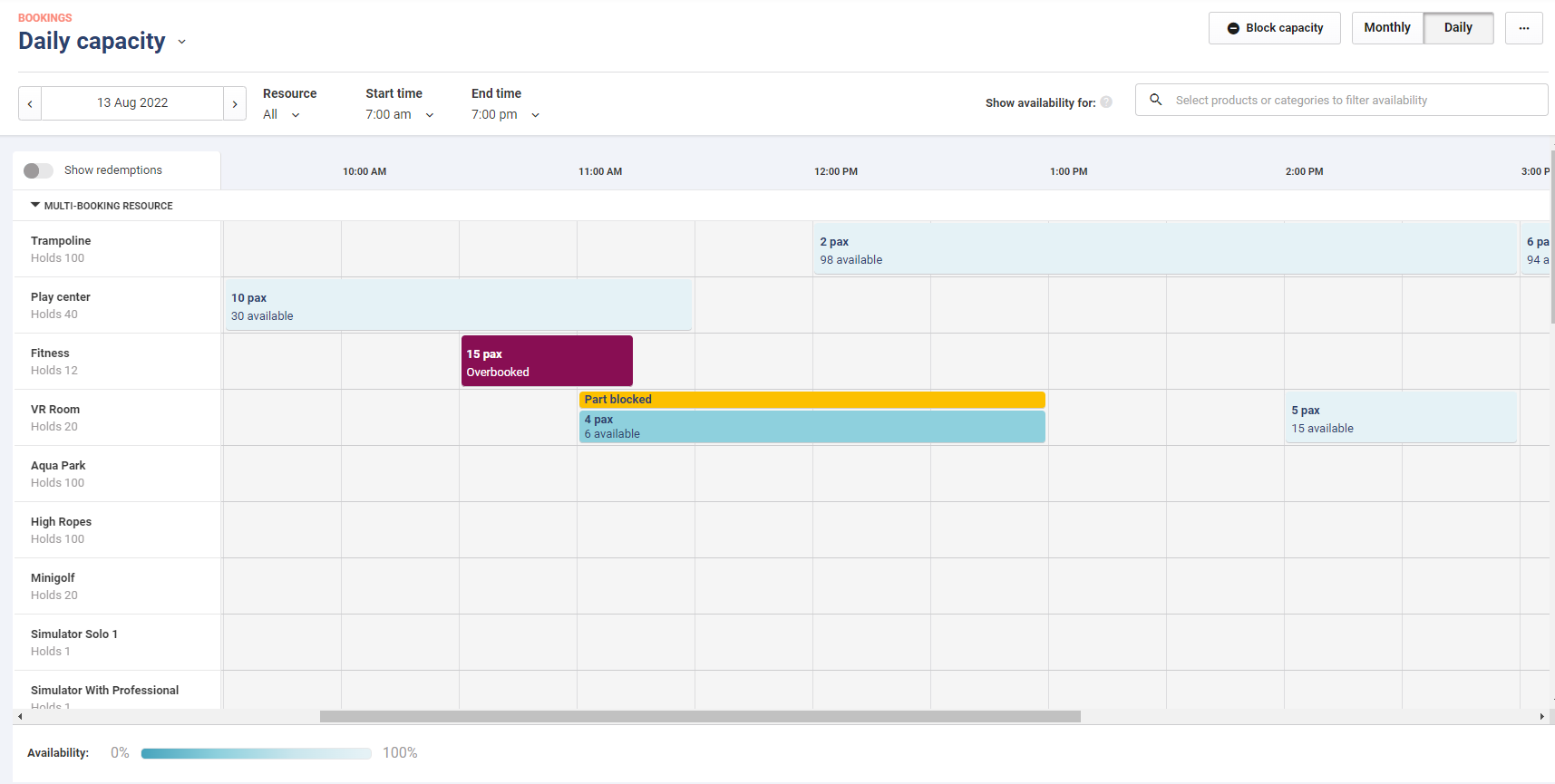 As an added bonus, you can also view your redemption data! By doing this, you can find out daily:
How many tickets have been redeemed
The total number of bookings for the day, and
Your remaining availability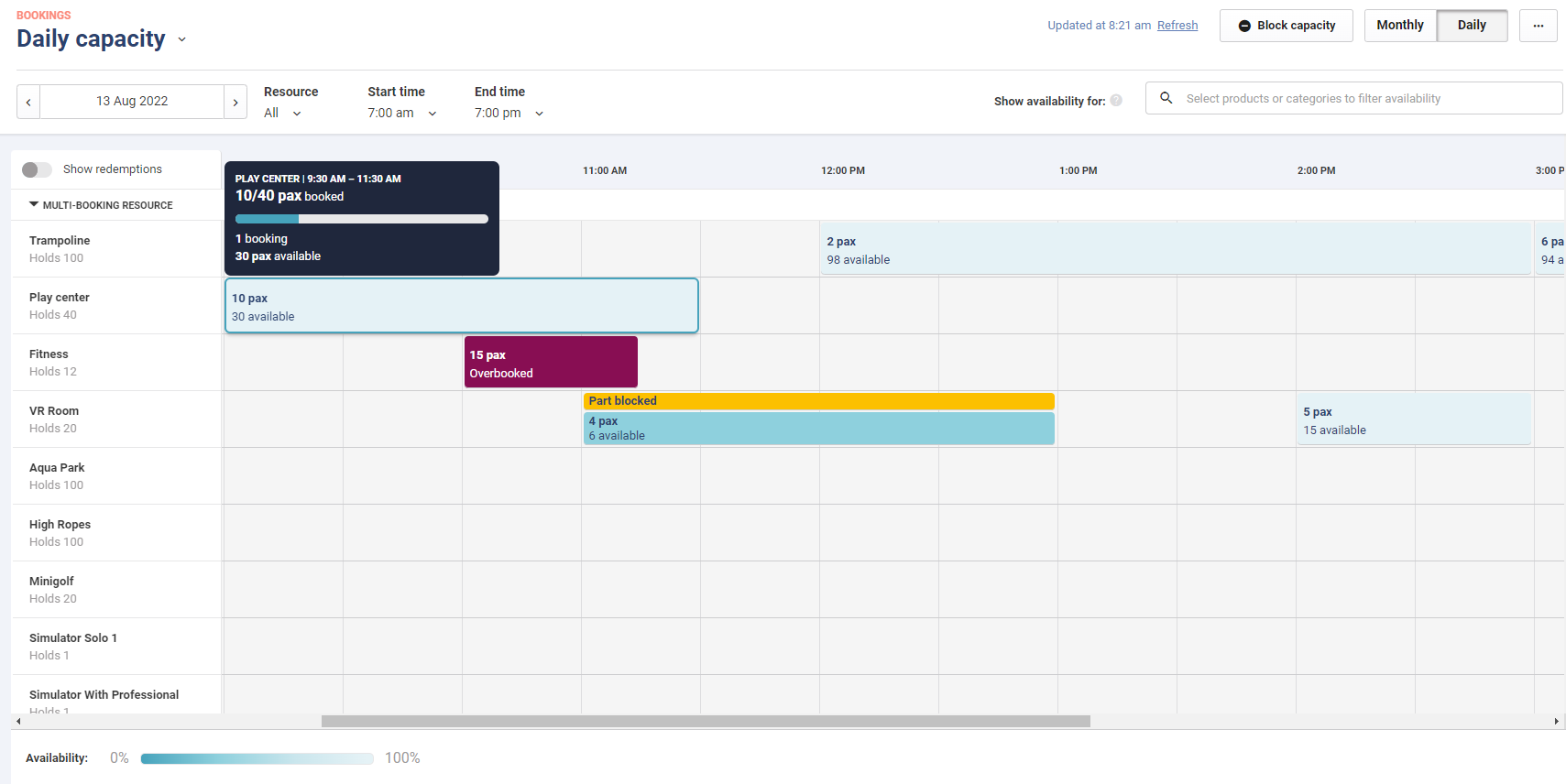 Create and edit bookings
When it comes to managing your bookings, you need a system that can give you the full picture of your availability across the day, week, and month. Only then can you organize yourself sufficiently to ensure the correct tickets are available, in the right quantities, for the right session times.
Not only do you get a clear view of your availability, our system also allows you to create views to segment larger bookings from general ticket holders and ensure your team is always on the same page! This way, there is no overlapping or double-booking, ever!
The GX Score
Our Guest Experience Score (the GX Score) offering helps you ensure that your guests return to your venue time and time again. This tool accurately measures your guests' feelings about the experience you provided and transforms this feedback into actionable insights to help your venue achieve peak guest satisfaction for all guests; on every visit.
The GX Score has been specifically designed for experience-based businesses and seamlessly integrates with your ROLLER sales and booking information. You can get guest feedback for specific experiences, products, sessions, venues, and more.
For example, post-visit will send your guests a survey about their experiences and ask them insightful questions about specific areas of your operations. This, in turn, will help you better understand where your venue is performing brilliantly and where it could use improvement. It offers many other useful functions, so click here to learn more.
Pros
1. Exceptional ticketing guest experience
Your guest experience starts from this stage. A bad ticketing experience can drive guests away and into your competitors' venues.
With ROLLERs integrated online checkout PLUS our sleek and powerful in-venue POS devices, your guests will be thrilled with their ticketing experience wherever they purchase!
2. All-in-one venue management system
Having an all-in-one venue management system that handles not only ticketing but all other areas of your venue management will significantly improve your staff AND guest experience and put you well ahead of the rest.

3. The GX Score
Before your guests set foot in your venue, they look you up online. So having systems in place that can track your guest experience is crucial.
The GX Score will help you deal with negative reviews before they go public and let you know exactly how satisfied your guests are and the areas where you can improve. Using a tool like this can go a long way in ensuring the longevity of your operations.
2. Convious
Convious works with its partners to implement its platform and train users on how to make the most out of it. The platform has been created to assist venue operators in better managing ticketing and ensuring better experiences for visitors and employees.
Who the platform is built for
Convious' platform is built for the attractions industry and aims to convert more visitors into buyers and help operators increase their profit margins. Convious strives to ensure that guests' online ticketing experiences are second to none.
Core features of the Convious platform
Ticketing
The Convious platform offers guests a wide range of ticketing options.
Passes
Day and season passes are available.
Day passes can either be dated or undated tickets. Alternatively, guests can make a one-off reservation to save their spot instead.
Payment
Tickets can be sold online or via POS. Guests also have the option to add food, beverage, and souvenir items to their POS or online orders.
Convious offers an eTicket Wallet option too. The tap wallet negates the need for physical tickets.
Discounts
Convious allows you to offer item-specific discounts, full-cart discounts, and buy-one, get-one-free options to reward loyal fans or re-convert visitors. Any way you slice it, discounts generally always mean fuller guest carts!
Marketing
Convious can assist you in your marketing efforts by providing various tools. One such tool is the 'Convious Engage Tool,' which uses personalized messaging to keep guests on your page for longer.
Convious can also provide marketing support in regards to email communication and ads.
Pros
1. Multiple tools available to assist in determining ticket prices
Real-time pricing, for example, incorporates factors such as weather, seasonality, inventory, and historical data to provide you with real-time pricing suggestions.
On the other hand, rule-based pricing automatically calculates prices based on specific inputted data such as periods and days of the week.
2. Donations and Adoptions feature
Convious can help you integrate asking for donations for or adoption of, for example, animals in need. Whatever you are asking for, or whichever cause you want to support, Convious can help you ask your questions at the right time and in the right way.
Cons
1. No help available to improve the guest experience
Convious can collect and keep track of your reviews for you but doesn't appear to have practical tools available to help you implement any required changes. Or better yet, to help you manage bad reviews before they go online.
3. Briq Bookings
Briq Bookings was founded in The Netherlands in 2017. Briq aims to create a user-friendly multi-activity booking system. The system bundles activities, services, and extras for guests.
Briq has over 250 clients worldwide and a team of 55 employees.
Who the platform is built for
The platform is built for the experiences and leisure industry. It includes a booking system, scheduling software, and online growth advice. It is designed to ensure guests have fantastic in-venue experiences and venue operators do too!
Core features of the Briq Bookings platform
Online booking system
Briq webshops are mobile-friendly, can be accessed from any device, and provide guests with the following options:
Customized bookings
Group bookings
Option to add extras to online orders
Briq Pay (the ability for guests to pay using their preferred payment method)
Guest capacity management
Briq's algorithm allows guests to choose the time slots that are most beneficial for you! Afterward, their bookings will be automatically scheduled.
Briq will automatically send the guest confirmation and, after that, send them subsequent reminders of their booking.
Activity scheduling
Briq's multi-activity scheduling software helps you to better manage your capacity by automatically scheduling multi-activity deals, saving you time!
Pros
1. Capacity management smart algorithm
Briq's algorithm does the hard work for you regarding scheduling, as it will prompt guests to select the time slots that work best for you.
Cons
1. Not purpose-built for attractions
Briq bookings does not offer established guest experience software.
Additionally, they operate across a relatively small range of industries. They cover FECs, go-karting, bowling, laser tag, zoos, mini golf, escape room, and virtual reality rooms.
Compare your options and decide which works best for your venue
The best ticketing solution for your venue will depend on what kind of venue you operate and the features which are most important to you.
Take some time to reflect on these things, compare your available options and request free trials to find which system is best for your venue.